5 Places for Gym Classes and Open Play on Long Island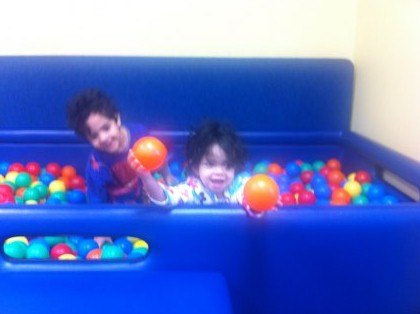 Last September, on the heels of the Olympic hype, we featured gymnastics classes. Now that the weather has turned colder, we thought it time to feature gyms with plenty of open-play sessions. If cabin fever has taken over your home as it has mine, you may find yourself in the market for a place where the kids can play every day of the week. In my case, now that my little one is walking and jumping, I need a spot that can accommodate both my  rambunctious 4-year-old as well as my toddler. Sound unrealistic? Well, this mom is thrilled to report that I have managed to find several spots fitting that tall bill. So whether you've got just one child or more, the following places will keep 'em busy and active all winter long. 
 My Gym in Huntington is offering 2 free weeks of classes for those who sign up in January (you've still got time!) and provides unlimited free play and classes. The Little Gym in Roslyn offers an annual membership option that allows siblings to join in the open gym sessions for free with a registered sibling and Julie's Gym in Patchogue offers a monthly tuition plan for a drop off play gym with timings that coincide with their mommy and me classes. M.A.T.S. has two locations in Bellmore and Syosset and a wide variety of classes while the Farmingdale Gymnastics Center is currently offering a free class for a sibling when you register one child. 
128 West Jericho Tpke
Huntington, NY 11746
631-427 GYMS
This gym is incredibly clean, the instructors are very nurturing. They are the only place I found that is offering unlimited play sessions and classes, which means you can pay for a gym class, then drop in for a karate class or an open play. Enrolled siblings can join the open play for free, otherwise pay $10./session. When we signed up for a class, my son got a poster to hang in his room and every time he accomplishes a new task he will receive a sticker to track his progress.
Little Gym Roslyn
32 Glen Cove Rd.
Greenvale, NY 11548
516-513-0600Open play is offered everyday for enrolled members at no additional cost. Those who buy an annual membership can enjoy unlimited pay for siblings, otherwise siblings receive 5 free open play passes per session. This gym is cleaned thoroughly twice a day to ensure a safe and healthy environment for all.
Julie's Gym
620 Old Medford Rd.
Patchogue, NY 11772
631-447-1389
Though not unlimited, kids ages 2-5 years can be dropped off from 1-3 days for open play gym and enjoy stories, crafts and gym time. The mommy and me classes coincide with the drop off times so mom's of siblings can enjoy time alone with one child while the other participates in an active gym class on-site.
M.A.T.S.S.
171 Eileen Way
Syosset, NY 11791
2629 Grand Avenue
Bellmore, NY 
M.A.T.S.S. offers a wide range of classes for ages 18 months- 5 years. 
Huntington Gymnastics Center
269 New York Avenue
Huntington, NY 11743
631-424-5653
Open play gym is $10. for walkers through 6 year olds. Call for schedules. 
Farmingdale Gymnastic Center
121 Carolyn Blvd.
Farmingdale, NY 11735
631-393-6669
Classes are offered for kids ages 16 months on up. They are currently offering a free class for a sibling when you register for the spring semester. The offer expires Feb. 28th 2013. Mention their website and get a free trial.