6 Holiday Break Camps and Classes on Long Island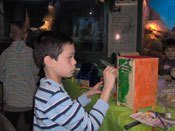 School's out for the holidays, but after a day or two, once the kids get tired of playing with their new toys, they're bored again and looking for something to do. No worries! Plenty of local venues are offering wonderfully enriching activities for kids. Whether you're looking to expend some energy or get the creative juices flowing with some art or perhaps you just want the kids to get outside more, we've found a class for you. Be sure to check your local library as well, many are offering holiday activities, crafts and movies next week. Enjoy!
These places are offering full- and half-day programs Wednesday through Friday
My Gym
128 West Jericho Tpke.
Huntingon, NY 11746
631-427-GYMS
Wednesday December 26th-Friday December 28th
1PM-4PM
This camp combines instruction in sports skills as well as arts and crafts, karate, music and yoga. The instructors are enthusiastic and well trained in meeting each participants unique skill level. There is plenty of time for free play in their state of the art facility. Themes change daily.
Theodore Roosevelt Sanctuary and Audubon Center
134 Cove Rd.
Oyster Bay, NY 11771
516-922-3200
Sanctuary Adventures
Thursday and Friday December 27th and 28th
Ages 4-12
9AM-2PM
Members $70/day Non-Members $80/day
Dress the kids for the weather in this program because they'll be spending a lot of time out of doors on this adventures. Sanctuary guides will lead explorers through ive animal presentations, arts and crafts and nature walks all centered around the themes, nature after dark(Thursday) and navigating nature, migration(Friday). Advanced registration is required.
Center for Science Teaching and Learning
Tanglewood Rd.
Rockville Centre, NY 11570
516-764-0045
Monday December 24th, and Wednesday December 26th-Friday December 28th 
9AM-4PM after care from 4PM-5PM available 
$50./day
At CSTL children get involved in hands-on science explorations. They have the opportunity to explore 17 acres of nature, visit live animals, conduct experiments and take part in science shows and demos. Each class is taught by a professional staff of science educators. 
Cold Spring Harbor Whaling Museum
301 Main Street
Cold Spring Harbor, NY 11724
631-361-3418
Pirate and Mermaid Camp
Ages 5-8 and 9-10 year olds may participate as crew leaders
Members $28/day $75/3 days
Non-members $35/day $95/3 days 
15% discount for siblings
Bring lunch for a day filled with adventure as you're buccaneer will sail the seas uncovering enchanted underwater worlds. Crafts, games and science activities are all part of the fun.
If you're looking for more flexibility, the following places are offering drop-in classes:
Not Just Art
183 South Street
Oyster Bay, NY 11771
516-922-8300
Art Studio
Wednesday December 26th-Friday December 28th
10-11:30 12:30-2:00 and 3:00-4:30
1 hour $15, 1.5 hours $22.50, $120 for a 10-hour punch card
Open art studio offers a buffet of winter-themed projects, where children can explore easel painting, sculpture, print making, beading and more. Drop in for an hour or more.  
Drop-In Music Classes
$12/class
10:15-11:00, 11:15-12:00
Sibling discounts available reservations required
Call for information on tentatively scheduled theater arts classes.
Bubble
15 East Main Street
Babylon Village, NY 
631-587-0050
Craft Bar 10-6PM
All Ages
Projects range in price from $5-$25 + $5 sitting fee
Make and create at a drop-in craft bar. Choose a project ranging from beaded jewelry, soap, candles and ceramics. On Friday, December 28, the store is hosting "A Minute to Win It," a highly interactive fitness class taught by Winkie Schultz and based on the popular TV show with the same name. (11:45am-12:45pm, $20/child, ages 5 and up)
Tags: