Best Bakeries on Long Island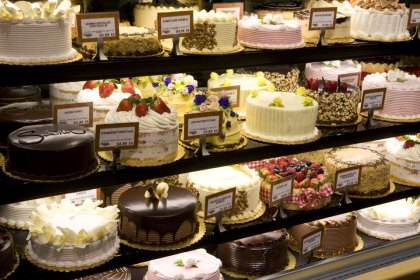 What determines a great bakery? Is it the prettiest designs on top of the cake or the delicious filling inside the cake, the creamiest cannolis, the tastiest breads, or the wide assortment of pastries and cookies? Or is it the friendly customer service that's apparent when you walk through the door? We've taken all of these variables and have narrowed it down to the best bakeries on Long Island.
Butter Cooky Bakery
217 Jericho Turnpike
Floral Park, NY 11001
516-354-3831
This bakery offers a great selection of cakes, cookies, and pastries. I can easily say everything they have to offer is delicious. This place is no secret though, so if you're planning on buying for a major holiday, be prepared to wait a little while. Nevertheless, the waiting is not too painful: The friendly staff is very welcoming and will not have a problem helping recommend something to you if you can't decide.
Dortoni Bakery
3264 Hempstead Turnpike
Levittown, NY 11756
516-796-3033
This is one of Long Island's favorite bakeries. This authentic European full-scale bakery has been in business for more than 35 years and is family-owned and -operated. It specializes in wedding cakes, custom cakes and cookies, pastries, handmade breads, and European tortes. The lines can get very long, especially on the major holidays.
Reinwald's Bakery
495 New York Ave
Huntington, NY 11743
631-424-4034
If you are looking for a bakery that mixes, bakes, and decorates all in one location, then this bakery is your golden ticket to perfection. For 25 years it ha sbeen offering the tastiest and freshest bread baked within hours of serving it, and the most delectable freshest cakes made with all-natural ingredients and no preservatives. Keep in mind it gets extremely busy come holiday time; fortunately, another location may open in in the coming future.
Malverne Pastry Shop
253 Hempstead Ave
Malverne, NY 11565
516-599-3087
Besides good service, this bakery offers an enormous selection of butter cookies, Italian biscotti, cupcakes, fresh fruit tarts, cheesecakes, European pastries, pies, specialty cakes and breakfast treats. Also on weekends it offers a full line of European pastries that are mouthwatering. In addition the shop will try to cater to special needs: gluten free, diabetic, etc.
Patsy's Italian Bakery
199 S Wellwood Ave
Lindenhurst, NY 11757
631-226-9184
This charming bakery offers incredible cakes, pastries, cookies, breads and more. They can custom make cakes and other pastries for you and accept call-ahead orders.  They also offer delicious homemade cream and water Italian ices, when in season.   Staff is always pleasant and you won't have to  spend the whole morning waiting on line to enjoy this bakery's superb quality and taste.
Front Street Bake Shop
51 Front St
Rockville Centre, NY 11570
516-766-1199
Long Islanders voted this bakery in Rockville Centre the best bakery on Long Island. This bakery is family owned and operated and has over 60 years of baking experience. It guarantees the freshest and highest-quality baked goods. It's especially known for its crumb cakes that people all over the country can enjoy. The bakery specializes in specialty cakes, occasion cakes, ice cream cakes, large assortment of cookies, gift baskets, and pastries, and we can't forget its famous pink dot cookie that every child that comes in the store gets FREE.
Marzullo's Bakery
638 Willis Ave
Williston Park, NY 11596
(516) 294-6296
From delicious cheesecakes and napoleons to mouthwatering biscotti and cannoli's, they got it all.  Their quality is excellent, their appeal is superior and the service is devoted.  I think one of the best bakeries in Nassau County.  Also has great coffee and espresso to compliment all those delicious cookies and pastries.
Blue Duck Bakery Cafe
30 Hampton Rd
Southampton, NY 11968
(631) 204-1701
56275 Route 25,
Southold, NY 11971
(631) 629-4123
Featuring two locations, proudly serving quality baked goods to the eastern end of Long Island.  The blue duck bakery cafe bakes their own signature line of artisan breads as well as the finest quality pastries and cakes.  Their bakery products are made fresh daily on premises, under great expertise and direct guidance.  Their artisan breads have no preservatives, stabilizers or dough conditioners. They are to be eaten as soon as possible after baking.  As well as being a bakery, they also have sandwiches prepared on their own line of signature breads, delicious Soups, amazing coffee, tea, cappuccino and gelato.