Birthday Party Venues for Boys on Long Island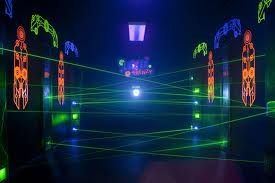 When it comes to choosing a birthday party for boys, the obvious choice might be a sporting venue, but what if you have a child who doesn't like them? I am the mother of three boys who all have varied tastes and one of them does not care for organized sports. After doing this research I was happy to see so many options and even more surprised at how fun they were!  Here are a few of our favorites. Don't forget: Our Long Island Party Guide has plenty more on putting together a great party for your child.
Karts Indoor Raceway
701 Union Tpke, Ronkonkoma
631-737-5278
This 27,000-square-foot facility with a track that has been designed by racing professionals makes this party pick perfect for your Mario Andretti! Indoor raceway electric karts have four different speeds to ensure the novice as well as the pro kart driver has fun, and they include 4-point safety belts. The Basic Package is $349 for 10 kids and comes with 2 races, 1 virtual race, your choice of a slice of pizza or hot dog, foundation soda and make your own sundae. The Deluxe Party Package is $399 for 10 kids and includes 2 races, unlimited roller bowling, virtual racing, thank-you card with picture, your choice of a slice of pizza or hot dog, fountain soda, and make-your-own sundae. The place also offers a Lazer Warz package for $299, and the Express Deluxe Package is $275 for 8 kids only and is available Monday – Thursday. The fee for each additional child in the three packages is $20.
Slots-A-Lot
1100 Hempstead Tpke, Franklin Square
516-616-7075
Children 4 years and up can experience the thrill of racing without any of the risks involved. At Slots-A-Lot raceway, kids race remote-controlled cars that reach speeds up to 100 miles per hour on 150 plus tracks in a Daytona 500 setting.  Birthday packages start as low as $220.00 and include an hour of racing and entertainment, a race director to teach the children how to drive the cars, one piece of pizza per racer, a slice of ice cream cake, unlimited drinks, party supplies and one free goodie bag for each racer.
Island Paintball
400 Patton Ave., West Babylon
631-694-2707
With more than 20 years experience in this sport, the Pennino family has made Paintball Arena the most innovative game facility on Long Island. For children ages 10 and up, a birthday party package is $300 for the first 10 players and includes a 2-hour private session.  Each additional player is $29. The second package is $400 for the first 10 players and includes a 3-hour private session and a charge of $39 for each additional player. You can add $7 per player for pizza, soda, and ice-cream cake. Jumpsuits are also available for rental to keep their clothes clean, for the price of $7. If your child doesn't meet the 10 and up requirement, the venue offers PAINTBALL LASER TAG for players who are 6 and up. The price is $250 for up to 12 people and includes 1 ½ hours of play. This is a safe and supervised paintball laser tag game without the mess. This is a great option for children that want the experience of paintball but are too young for the real game. For an additional $7 per person, the place will include the pizza, soda, and ice cream cake, and tack on an extra half hour for eating.    
Laser Tag is generally a really popular boy's birthday party. While there are many places that offer laser tag, the following are a few places that have put a spin on it:
Laser Bounce
2710 Hempstead Tpke.,Levittown
516-881-9620
If playing laser tag isn't enough, you can have a bounce-and-laser-tag-combo birthday party. The party starts with 30 minutes of bouncing and many exciting inflatables where kids can hide, climb, slide and explore. It's perfect for kids 2–12 years old. The fun continues with one game in the arena where there are targets, strobes, special-effect lighting and glow-in-the dark and blacklight obstacles. The combo birthday package Monday–Thursday is $299.95 for 10 kids and the birthday child is free.  Each additional child is $18.95. If you want the party on the weekend, the price is $399.95 for 10 kids and the birthday child is free. Each additional child is $19.95. If you don't want to bounce, you can book the Laser Tag only party, which includes 2 games in the arena instead of one. The Monday–Thursday package price is $269.95 for 10 children, birthday child free and $17.95 for each additional child. The weekend package price is $359.95 for 10 kids, birthday child free and $18.95 for each additional guest. All parties include 20 tokens per guest, 40 tokens for the birthday child, 150 redemption tickets for prizes, 2 hours of fun, pizza, unlimited soda and juice, paper goods, set up and clean up, a host or hostess for the party, invites and a special surprise for the birthday child.   
Active Kidz Long Island
200 Robbins Ln., Jericho
516-621-6600
A laser-tag party at Active Kidz is 1 ½ hours of fun! The party includes 60 minutes of laser tag, 30 minutes in the party room, invites, paper goods, pizza or bagel and drinks and a staff member to help out. In addition, you can also add Lazer Frenzy, one of the hottest new attractions in New York!  Picture Tom Cruise in Mission Impossible trying to navigate his way through a maze of laser beams. The goal of this game is to try and get over to the other side of the room as fast as you can without touching any beams. Laser Tag parties at Active Kidz are $419 Monday–Thursday for up to 10 kids and $19.99 for each additional child, and $449 on the weekends and $21.99 for each additional child. The birthday child is free. Adding Lazer Frenzy costs an additional $100.
Lazer Land of Long Island
54A Vanderbilt Motor Pkwy., Commack
631-543-8300
With a 5,500-square-foot multilevel arena, Lazer Land offers the most progressive laser-tag facility on Long Island, available for children ages 6 and up. There is also a sports stadium where dodge ball, soccer, t-ball, kickball, and Nerf hockey can be played, and if that isn't enough to keep you entertained, they have an arcade. Mission to Mars is one of the party packages you can choose from. For $359 you get 1 hour and 45 minutes of fun for 10 kids and the birthday child is free. Each additional child is $21. Two twenty-minute sessions of laser tag await you, along with a $5 arcade card per guest, a free T-shirt for the birthday child, 6 parents play for free, a party host, a laser tag referee, pizza, unlimited soda and juice, paper goods, set-up and clean-up, and invites. The other choice is Space Shuttle Sports Mission and costs $329 for 11 children and the birthday child is free. Each additional child is $18. This package includes 60 minutes in the sports arena with your choice of dodge ball, kick ball, waffle ball, soccer, a sports referee, pizza, unlimited juice and soda, arcade card, paper goods, set up and clean up and invites. There are many extras to choose from, including Lazer Frenzy, a balloon entertainer, glow package and party favors.    
Q-ZAR
151 Voice Rd., Carle Place
516-877-7200
No laser-tag-party list would be complete without mentioning Q ZAR. Promising to deliver a great party within a reasonable budget, Q-ZAR has several party packages to choose from. The Weekday Party Package is Monday–Thursday and is $199 for the first 10 people. The Weekend/Holiday Party Package is $249 for the first 10 people. All packages include a personal Game Marshall, exclusive use of arena for your games, futuristic virtual reality briefing and 6 parents get to play for free. Please note that all additional guests are $18, and a food package may be purchased at $3 per person. The optional food package plan includes pizza, unlimited beverages, vanilla/chocolate ice cream cake, private party room, paper goods, and printed invites and thank-you notes.
Unlimited Sports Action 
30 Beechwood Ave., Port Washington
516-767-7675
A birthday party booked with sports unlimited includes one hour of sports/games, 30 minutes in a private party room, pizza, cake, drinks for kids, paper goods, invites, and party specialists to make sure the celebration goes off without a hitch. Pricing is $399 for 15 children and $19.95 for each additional one. Party package includes your choice of three different activities including soccer, kickball, waffle ball, t-ball, basketball, flag football, dodge ball, baseball, relay races, obstacle courses, battle pins, tug of war and running bases.
Copyright 2013 - 2014