Family Events at Historic Belmont Park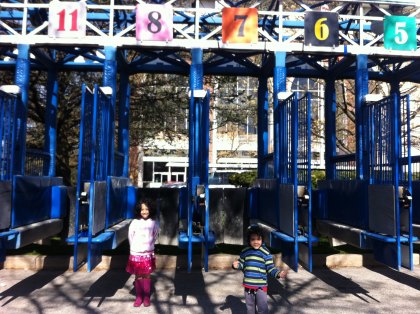 You don't have to be a fan of thoroughbred racing to thoroughly enjoy a day at Belmont Racetrack. The Breakfast at the Belmont program (that we recommended for Father's Day) is a great way to get an intimate look at all aspects of the park, before the gates open to the crowds. Belmont's backyard is equipped with a playground area, a duck pond, a concession area, and the paddock, where you see the horses just before the race. On Family Fun Days On Sundays bouncy houses, games, and activities fill the yard as themes and activities change weekly. 
Belmont Racetrack
2150 Hempstead Tpke.
Elmont, NY 11003
516-488-6000
56 racing days from April 26th-July 14th
Post Times: 1:00pm most days, 3:00pm Fridays
Admission: Adults $2; Children (under 12) free
Parking: General parking free, preferred parking $2
Breakfast At The Belmont
7:00am-9:30am
Weekends, April 27th-July 14th, 2013 except Belmont Stakes weekend
Parking and admission free
Get up early to enjoy this program. The opportunity to see this beautiful and historic racetrack before the crowds arrive is well worth the loss of sleep. Parking is free, but be prepared for a long haul to the breakfast area. It's helpful to bring a stroller with you, in case you have hungry and sleepy toddlers in tow. The entrance to the clubhouse is truly majestic with its columns and large glass doors. Once inside, ask about the quick serve breakfast option. Here you can get a similar version of what's offered at most fast food restaurants for a similar price. Outside food is permitted for those who prefer to picnic. Seating is available either inside or outside, and both options provide a nice view of the horses as they warm up for the big race.
After breakfast, proceed to the paddock show, where you can meet "pony," meaning a horse that doesn't race. The talk is incredibly informative. See and hold a racing saddle, which is, as one would guess, much smaller than a regular saddle, and a pair of jockey sunglasses. The glasses are made of about five layers of lenses, so that once one layer is covered with mud, the jockey can flip it up and have a clean pair of glasses. Young children may grow restless during this talk, but fortunately there is a big space where they can play with their own toys without disturbing the other attendees. After the talk all are invited to pet the pony.
Next, climb aboard the tram tour for a look at the entire facility. See the stables where the horses stay and see people washing and cleaning horses, as well as the occasional chicken crossing the road. 
After exiting the tram, guests can see a starting gate demonstration. Kids are invited to step inside, and when the signal is given to exit the tram takes off. 
Lastly, take a self-guided tour around the clubhouse. The upper deck provides a sensational view of the entire track not visible from the lower deck. The backyard is also worth checking out. It has two sets of playground equipment with slides and climbing structures. 
By 10:00am, the park is emptied of visitors. Those who wish can stick around for the next admission at 11:00am and pay the modest admission of $2 per adult (free for children 12 years old and younger).
Farmer's Market
Every Saturday
11:00am-4:00pm
Location: East end of the grandstand's main level 
Included with paid adult admission ($2), and free for children ages 12 and under
Family Fun Days On Sundays
Every Sunday
April through July
11:00am-4:00pm
Included with paid adult admission ($2), and free for children ages 12 and under
Each Sunday, Belmont's big backyard turns into a carnival scene where every ride, game, and activity is included in the modest admission price. Each week features a karaoke area, petting zoo, face painters, and bouncy houses. Additional activities center around weekly themes; summer 2013 themes include the following:
June 23, 2013: NASA Day - Inflatable alien laser tag, strolling magician, and a galaxy explorer inflatable.
June 30, 2013: Circus Day - 3 ring circus obstacle course, strolling circus performers, and carnival games.
July 7, 2013: Independence Week State Fair - Tub of fun ride, state fair bounce inflatable, and carnival games.
July 14, 2013: Wide World of Sports - 9 hole mini-golf, inflatable bungee throw, and sports carnival prize wheel.
Keep an eye on our events calendar for more family fun at Belmont Park!