Great Bike Trails on Long Island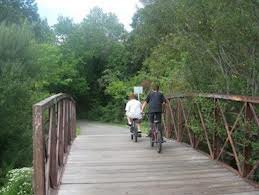 It's been a few months now since that bike saw the outside of your garage, and what better way to welcome the beautiful canvas of spring than a bike ride! Come and explore some of the many bike trails Long Island has to offer. If you're not up for a trail, then pack a lunch, bring some water and head to a park near your home and sit under one of the beautiful cherry blossom trees that are now in bloom.
Listed below are several options for trails.  From novice to more advanced, wherever you are you are sure to enjoy exploring the many splendors of spring and all its glory on Long Island.    
Jones Beach Bike Path
Wantagh Pkwy, Wantagh
This is one of the most well-known bike trails on Long Island. In-line skaters, joggers, and bikers all use the trail, which is about 4.5 miles and runs along the Wantagh Parkway. The scenery is beautiful and it never crosses a road. 
Bethpage State Park
99 Quaker Meeting House Rd., Farmingdale
There are actually two bike trails here. The mountain-bike trail is 4 miles long and the paved trail, which is for runners and hikers, is about 9 miles long. Part of the larger trail goes through the tranquil Massapequa Preserve; shown in the picture above.
Trail View State Park
25 Lloyd Harbor Rd., Huntington
This Long Island path connects the Cold Spring Harbor State Park to the Bethpage State Park where you can ride the bike trails mentioned above.  The trail view path is free and is accessible from many roads including Jericho Turnpike in Woodbury.
Eisenhower Park
Merrick and Stewart Aves., East Meadow
With so much to do at Eisenhower Park, this is a great one to bring the kids to for more than just biking. They have a lake, golf, baseball fields and playgrounds. The jogging and bike path winds around a lot of it.
Cathedral Pines County Park
Yaphank-Middle Island Rd., Middle Island
Cathedral Pines is situated along the waters of Carmans River, making this bike trail very picturesque. If the bike trail doesn't tire you out too much, you can visit Prosser Pines Nature Preserve, which is adjacent to Cathedral Pines County Park.
Eastport Conservation Area
Moriches-Riverhead Rd.
Eastport, NY 11949
 
Rocky Point Natural Resources Management Area
Rocky Point Rd.
Rocky Point, 11778
631-444-0273
Rocky Point
These two are owned by the State Department of Conservation. The Eastport Conservation Area has a 9-mile bike trail. You need a permit, but it is free. The map says part of the Rocky Point bike trail is a double black diamond for difficulty, for anyone who needs a real challenge.