Long Island Is Still Recovering from Sandy: You Can Help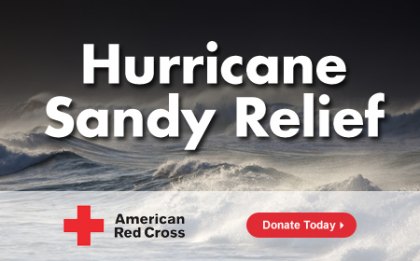 Long Island suffered a devastating blow in the wake of super storm Sandy, and parts of the area are still struggling to recover. It doesn't help that in the aftermath, temperatures have dipped into the 30s and lower and now to add insult to injury, a blanket of snow is covering the ground. There are still tens of thousands of Long Islanders without power and far too many who have been left homeless by the storm. Following are just a few ways you can help. Additionally, nearly every municipality and church has organized some kind of relief effort. Give your local town or village, community center, or church a call to ask what you can do to help. And if you know of an organization in need of volunteers and/or donations, please do share in the comments section below.
The American Red Cross has been in the trenches, offering storm victims shelter, clothing, and food right after the storm hit. The organization expects this to be a large, costly relief response across several states, one that continues for several days, and it could use your help:
Volunteer Health Professionals
We are recruiting medically credentialed individuals to support shelters. If you'd like to volunteer, please contact HealthServices@nyredcross.org.
Shelter Volunteers
Thank you for your interest in becoming a volunteer. Please click here to submit your information to our staff services department. You will be contacted with more information.  
What kind of donations are needed?
Unfortunately we are not able to accept individual donations or collections of items such as clothing, food or cleaning supplies. The cost to sort, package and distribute these types of donations to disaster victims is usually greater than the cost of purchasing the items locally, and it is logistically impossible to distribute a wide variety of individual items in a meaningful and equitable way.
The best way to donate is to make a financial gift. Visit www.redcross.org, call 1-800-RED CROSS (1-800-733-2767) or text the word REDCROSS to 90999 to make a $10 donation. Your gift enables the Red Cross to get prepared and provide shelter, food, emotional support and other assistance to those affected.
Those affected by the disaster should consider registering themselves at the Red Cross Safe and Well website to let loved ones know you are safe during this stressful time. Safe and Well is available 24 hours a day, 365 days a year, and is accessible in both English and Spanish.
The American Red Cross has opened six feeding sites in areas of Long Island that were especially hard-hit by Hurricane Sandy. Three sites are open in Nassau County and three in Suffolk County.
Red Cross workers are distributing water, snacks and personal hygiene comfort kits at each location. A total of 3,300 meals (sandwiches) will be available at lunch and dinner at each site. The hours of operation for each feeding site will be 11 am to 1 pm for lunch and from 4 pm to 6 pm for dinner. These sites are expected to be operational at least through the weekend.  
Here is the name and location of each feeding site:
Nassau County
Nickerson Beach Park        880 Lido Boulevard, Lido Beach, NY
Cedar Crest Park               3340 Merrick Road, Seaford, NY
Christopher Marley Park     500 Searingtown Road, Roslyn, NY
Suffolk County
Riverhead City Center         210 Center Drive, Riverhead, NY
H.L. Dennison                   100 Veterans Memorial Highway, Hauppauge, NY
Mastic Fire House             1080 Mastic Road, Mastic, NY
Additionally, the Red Cross will have emergency aid stations at each location with disaster mental health personnel available to provide emotional support to hurricane affected residents. Click here if you'd like to help.
The Town of Brookhaven's Department of Housing and Human Services is now accepting donations for distribution to Red Cross Evacuation Centers and Warming Centers located in Brookhaven Town, and residents who have been affected by Hurricane Sandy. Donations of towels, diapers, cleaning supplies, yard tools, masks, gloves, storm supplies, baby items, toiletries, pet supplies, clean blankets, lightly worn or new clothing, batteries, hand warmers, water, non-perishable foods, board games, crayons, coloring books, toys and more can be dropped in the lobby at Town Hall located at One Independence Hill in Farmingville. Town Hall is open Monday through Friday from 9:00 am to 4:30 pm. For more information, call 631-451-6600. 
The Mid-Island Y JCC (45 Manetto Hill Rd., Plainview) is collecting donations for hurricane victims; please bring any of the following to the JCC lobby to help aide people who lost everything due to Hurricane Sandy.
Can Openers
Granola Bars
Cereal Boxes
Cans of Fruit
Toiletries:  Toothbrushes, Tooth Paste, Soap, Shampoo, etc.
Cleaning Products:  Mops, Sponges, Cleaning Wipes, etc.
Baby Items:  Diapers, Food, Wipes, etc.
Pet Items:  Pet Food & Treats
The Village of Bellport is collecting items for the residents of Mastic Beach, which was hit particularly hard by Sandy. The residents there are in immediate need of the following items:
Diapers
Baby Formula
Blankets
Warm Clothing
Cleaning Supplies
Paper Breathing Masks
Water
Non-Perishable Food
If you would like to donate any of these items, they will be collected at the Bellport Community Center this Saturday, November 10th from 9:00am-3:00pm. Please help our neighbors!
And if you would like to help out at the community center with the collection Saturday, come on down!!!
Hofstra University will be accepting donations to help victims in Long Beach. We will begin our supply drive to assist the victims of Hurricane Sandy: We are working with the Long Beach distribution network, an informal network bringing food and supplies into central Long Beach and managed by the City of Long Beach. They are asking for non-perishable food items (that do not require preparation; pop-top cans preferred); gluten-free food; water; cleaning supplies such as air fresheners, brooms, Lysol, other  cleaning supplies; personal items such as mouthwash, cotton balls, first-aid kits, floss; and miscellaneous items such as AAA batteries, plastic storage bins.  NO CLOTHES PLEASE.  They are currently at capacity with clothing donations.  Drop-off points will be established on Monday morning at Hofstra Hall (lobby); Student Center Main Dining Room; Alumni House; Adams Playhouse; Continuing Education and Hagedorn Hall. 
The Long Island Aquarium has become a donation site for storm victims.
The Aquarium is teaming up with Long Island Cares (The Harry Chapin Food Bank) and will act as a donation site for the following bagged -items:
•   Ready-to-Eat Non-Perishable Food Items (No-cook food items: canned tuna, cereal & granola bars, etc.)
•   Personal Care Items (Unused Shampoo, Deodorant, Soap, etc.)
•   Clean Blankets
•   Clean Coats
•   Baby Items (Diapers, Wipes, Liquid Formula)
At this time, Long Island Cares does not need food items other than what's listed above and cannot accept clothing. Please drop off your donation at the Aquarium's main entrance. We thank you for your kindness and generosity.
For more information, please call 631.208.9200, ext. H2O (426). The Aquarium is open 10am to 5:00pm today and year-round (closedThanksgiving and Christmas Days).
The New York Islanders are holding a special event to help raise funds for area residents affected by Hurricane Sandy. On Veterans Day, Monday, Nov. 12, from 2-8 p.m., the team will host a free, open skate at Nassau Coliseum for the general public. Throughout the event, the team will collect monetary donations, warm clothing and other non-perishable items.
Donations are not mandatory to attend, but highly encouraged. Public skating sessions* will run every hour throughout the six-hour event on the Coliseum ice and will feature Islanders Ice Girls and team mascot Sparky, the Dragon. Fans participating in any of the sessions must bring their own skates, but spectators are also welcome to enjoy the festivities. Interactive games will also be set up around the rink for younger fans to play throughout the day. Food and drinks will be available to purchase, with proceeds helping local victims.
Proceeds generated from personal donations and concessions, as well as any clothing donated, will go directly to the American Red Cross' Hurricane Sandy Relief efforts. Island Harvest will collect all non-perishable food and beverage items to distribute to Long Islanders affected by Hurricane Sandy. Items most needed include water, diapers, blankets, baby formula and canned food.
Parking is free for this event.
*Hourly skating sessions available on first-come, first-serve basis
WHAT TO BRING:
-Your Skates! (Hockey or Figure)
- New or gently used clothing and blankets
-Un-opened baby formula and diapers
- Non-perishable food items (bottle water, pasta, canned goods)
- Direct monetary donations also accepted
-Family, friends and Long Island neighbors