Long Island Kids' Activities February 16 & 17: Valentine's Day Party, "Shout, Juba & Jive," & Glitz and Glam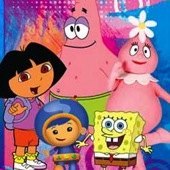 This weekend, ValleyStreamMom.Com, a website that focuses on all things happening in or around Valley Stream, is hosting its Second Annual Valentine's Day Party at the Valley Stream Presbyterian Church. "David Pleasant Presents SHOUT, JUBA & JIVE" is at the LICM in honor of Black History Month. Do your kids love the cartoon characters from Nickelodeon? Why not bring them to United Skate of America's Breakfast with the Characters where they'll get to meet Umizoomi's Geo, Yo Gabba Gabba's Foofa, Dora, and Spongebob and Patrick. If your daughter is looking to channel her inner diva, Hot Cuts Hair Salon is hosting a Glitz and Glam Party where she can get all glammed up with hair beading, makeup, and manicures.  While you're there, enjoy pizza from Novi Restaurant and some sweet treats.  Also on tap: a Winter Family Scavenger Hunt at the Sherwood-Jayne Farm in Setauket, as well as Walt Whitman High School Marching Band's Night at the Rink at the Syosset-Woodbury Ice Rink in Woodbury.  As always, please check out our events calendar every day for fun activities for the family, and don't forget our guide to winter break activities for things to do on the Monday holiday and all week long next week!
Saturday
ValleyStreamMom.Com's 2nd Annual Valentine's Day Party
Valley Stream Presbyterian Church
Valley Stream
5:00pm - 7:00pm
All ages
Children 12 to 23 months $2; 2 years and up $7
valleystreammom@gmail.com
Featuring - Picture Perfect Fun Photography: Dress your best and take a photo to commemorate the celebration. The Lanyard Ladies: Make and take lanyards, bracelets, and more. Active Academics: Make & take crafts. Sparkle Empowerment Program for Girls: Treat decorating. Oh Fiddlesticks: Author Tanji Dewberry book reading/signing. Dancing, giveaways, 50/50 raffles, and more!
David Pleasant Presents SHOUT, JUBA, & JIVE
Long Island Children's Museum
Garden City
1:00pm and 3:00pm
Ages 3 and up
$4 with museum admission. $10 theater only
516-224-5800
David Pleasant's music and movement class highlighting the percussion style of Gullah/Geechee, which originated from off the coasts of Georgia and South Carolina. Workshop will end with a percussion orchestra where kids perform on a variety of instruments.
Winter Family Scavenger Hunt
Sherwood-Jayne Farm
Setauket
10:00am - 11:30am
All ages
$8
631-581-6908
By using the clues provided, head out to the Environmental Center trails and try to fill in the blanks with nature. Registration required.
Heart Health Day
Patchogue Family YMCA
Patchogue
11:00am - 3:00pm
All ages
Free admission
631-891-1800
Camp Open House will be in the gymnasium and will feature camp activities. Sign up at the Welcome Center for Friends and Family CPR. Only 1 (2hr.) class offered at 12pm. Not a certification class. Patchogue Ambulance Company will be in the lobby taking blood pressures. Learn your target heart rate with a personal trainer in the Fitness Center. 11:30-12:30: Teen Fitness Demo and Adult Spin Demo. 12:30-1:15: Family Zumba. 1:30-2PM: Teen Fitness Demo and Adult TRX Demo.
The Three Little Pigs Out West
Take One Performing Arts Theater
Ronkonkoma
1:00pm
Ages 3 and up
$11
631-569-2148
Ticket price includes a snack and a drink. Call for reservations.
Sunday
Feeling Color With De Kooning
Long Island Children's Museum
Garden City
1:00pm and 3:00pm
Ages 3 and up
$3 with museum admission
516-224-5800
Play with the sound, feel, and story of color. Be inspired by art, poetry, and music as you brainstorm what mood you think Willem de Kooning was in when he created his abstract paintings. Create your own painting.
Breakfast with the Characters
United Skates of America
Seaford
9:30am – 11:00am
All ages
$20 adults; $15 children; kids 2 and under free
516-795-5474
Meet Umizoomi Geo, Foofa, Dora, Spongebob, and Patrick. Breakfast buffet with coffee, tea, juice, eggs, bacon, pancakes, cereal, and bagels. Advance reservations required. This is a non-skating event.
Glitz & Glam Party
Hot Cuts Hair Salon
Baldwin
1:00pm – 3:00pm
Ages 6-12
$15 in advance; $20 at the door
516-208-3280
Hot Cuts Hair Salon presents "Glitz & Glam," a party for girls to get glammed up. Includes: Hair beading with any color chosen, glam makeup, manicure, pizza from Novi Restaurant, and sweet treats. RSVP suggested.
Super Science Focus: Fishing in February
Maritime Explorium
Port Jefferson
1:00pm – 5:00pm
All ages
Free with admission
631-331-3277
Design and construct your own fishing pole for simulated ice fishing!
Walt Whitman High School Marching Band Presents Night at the Rink
Syosset-Woodbury Ice Rink
Woodbury
7:00pm – 9:00pm
All ages
$10 tickets; $4 skate rentals
asotta@verizon.net OR bpa@wwhsmb.com
Admission includes raffle ticket, music, and more. Email to reserve tickets. This is an outdoor event so dress accordingly.