Long Island Kids' Activities March 2 & 3: A Children's Program Of Irish Dancers, Chocolate World Expo, Read Across America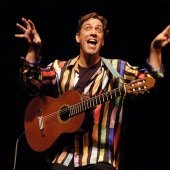 It's Read Across America weekend! You'll find celebrations at libraries and elsewhere all over the Island. Also check out the celebrations at the Long Island Children's Museum and Maritime Explorium. Calling all chocolate lovers!  The Cradle of Aviation Museum in Garden City is hosting the annual Chocolate World Expo where you can sample and purchase chocolates, baked goods, gelato, specialty foods, and more from more than 50 local and regional vendors. Advance tickets are strongly suggested. If your kids love playing with and collecting trains, they'll especially enjoy the St. James Model Railroad Club Winter Train Display at the Mills Pond House in St. James. Also on tap: a concert by Aesops Bops with the Yak Yak Band with David Gonzalez at the Landmark on Main Street in Port Washington, and a Purim carnival at the Friedberg JCC.  As always, check out our events calendar every day for fun activities for the family!
Saturday
Dissect This
Center for Science Teaching and Learning
Rockville Centre
10:00am - 12:00pm
Ages 7-12
$12 per child
516-764-0045
Spend the morning discovering what's inside a squid and more.
Read Across America Celebration
Long Island Children's Museum
Garden City
12:00pm - 4:00pm
All ages
Free with admission
516-224-5800
Celebrate Read Across America and the birthday of children's book author Dr. Seuss. Meet Olivia the Pig and the Cat in the Hat as you attend storytime throughout the day! Make crafts to inspire reading all year long.
A Children's Program of Irish Dancers
Walt Whitman Birthplace State Historic Site and Interpretive Center
West Hills
12:15pm
All ages
$8 per child, two chaperones free
631-427-5240
Performance of soft and hard shoe Irish dancing by students from the Mulvihill-Lynch Studio of Irish Dance. The dancers will teach the children Irish dance steps. Hear the history of the dances and costumes. Face painting by Miss Sue.  Performance will begin at 1 PM. Registration required.
Music Together's 25th Anniversary Concert and Fundraiser (Suffolk Co.)
Knights of Columbus Hall
Patchogue
3:00pm - 5:00pm
Ages up to 8 years
Advance tickets: $13 adult; $8 child over 8 months; free for children under 8 months. At the door: $15 adult; $10 child (over 8 months old)
Music Together celebrates its 25th year and raises funds for families affected by Hurricane Sandy. Your favorite Music Together teachers and recording artist Uncle Gerry will bring many favorite Music Together songs to life. Continuing Music Together's charitable commitment to families in need, tickets will be sold with proceeds donated to the Long Beach School District and specifically to the Music Departments at West and Lido Schools.
Sunday
Chocolate World Expo
Cradle of Aviation Museum
Garden City
10:00am - 7:00pm
All ages
Adults $15; Children $10 (Ages 2-12). Price includes museum admission. Admission to the Jet Blue Planetarium and X-Ride Experience are an additional cost
516-572-4111
Sample and purchase chocolates, baked goods, gelato, specialty foods, and more from over 50 local and regional vendors. Also included is one free ride on Nunley's Carousel. Advance tickets strongly suggested.
Family Math and Science Day
Schechter Day School
Jericho
11:00am - 1:30pm
Ages 4-10
$25 per family
516-935-1441
Highlights include math on iPads and SmartBoards, science experiments, and more. Lakeshore Learning of New Hyde Park will be demonstrating many of their math and science products as well. A light brunch will be served and every child receives a door prize! Registration required. All children must be accompanied by an adult.
St. James Model Railroad Club Winter Train Display
Mills Pond House
St. James
11:00am - 5:00pm
All ages
$2 adults; $0.50 kids
631-543-8732
See operating subway, bustling cities, circus with animated midway, fuel tank farm, haunted old west town, scratch built structures, coal mine, quaint towns, mountains, valleys, and animated accessories. Nine trains run simultaneously.
Community Purim Carnival
Barry and Florence Friedberg JCC
Oceanside
11:00am - 2:00pm
All ages
Free admission
516-766-4341
Enjoy rides, carnival booths, and food. Come in costume.
Aesops Bops with the Yak Yak Band with David Gonzalez
Landmark on Main Street
Port Washington
2:00pm
Ages 3 and up
$20
516-767-6444
Fast-paced, funny, and packed with audience participation, Aesop Bops features a potpourri of Aesop's classic stories including The Lion and the Mouse, The Fisherman and His Wife, and The Turtle's Shell. This feast of funky, physical storytelling leaves young audiences feeling like they had just performed the show too! The Yak-Yak Band rocks and rolls out the red carpet - inviting kids to join in the fun.
Saturday and Sunday
Super Science Focus: Happy Birthday Dr. Seuss!
Maritime Explorium
Port Jefferson
1:00pm - 5:00pm
All ages
Free with admission
631-331-3277
Observe chemical reactions as you make your own "oobleck!"