Seal Watching on Long Island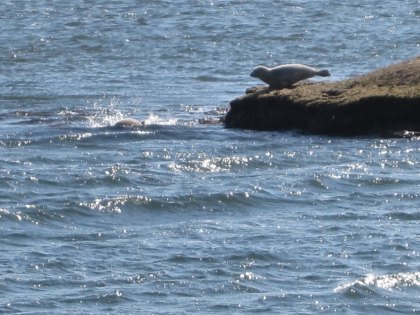 Looking for something to do with the kids this winter that is both educational and fun? The Riverhead Foundation for Marine Research and Preservation hosts a sailing exhibition in Freeport, Long Island aboard the Captain Lou Fleet to view harbor seals in their natural environment.
Expect to see anywhere from 20–30 seals swimming and sunning themselves on rocks. Egrets and herons can also be viewed, as well as eider ducks. The naturalists aboard the boat are very knowledgeable, providing you with an excellent tutorial about biology and behavior of the seals, as well as other marine life. 
Make sure you dress warm, the excursion lasts about 1 ½ hours. If you get too chilly you can step inside the boat where it is heated and purchase a hot chocolate from their small concession area.  You might also want to bring a pair of binoculars for better viewing.    
Boarding time is 12:30pm and departure is 1pm, Saturdays and Sundays from January 5th through April 14th.  Additional dates are February 18th, 20th, 22nd, March 25th, 27th and 29th.  Prices are:  $26 for adults, $22 for seniors, $22 for children 3-12, and free for children under 3.  
If you are looking to get closer to the seals, The Coastal Research and Education Society of Long Island (CRESLI) holds a seal walk every Saturday and Sunday from January through May.  You must register online to participate at  www.cresli.org. Once you have registered, they advise you to wear many layers and muted colors, along with a pair of waterproof shoes. The trip is 1.2 miles round-trip and lasts from 1-2 hours. The suggested contribution is $5 for adults and $3 for children 12 and under. There is also an unlimited Pinniped Pass available for seal enthusiasts. Once you have made your reservation, please make sure to call to confirm the trip is still taking place; unfavorable weather conditions may cause them to cancel.