South Fork Wineries With Kids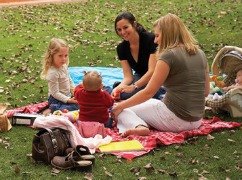 Mommy Poppins isn't exactly the place one would expect wines to be highlighted; but let's face it, aren't the best spent days when children are happy doing something that parents enjoy?  Long Island wineries earned recognition for diversity and the ability to produce high quality wines. While the North Fork is better known for its wineries, the three that reside on the South Fork should not be overlooked.
Duck Walk Vineyards
231 Montauk Highway
Water Mill, NY 11976
631-726-7555
Duck Walk Vineyards has a large tasting room with award winning wines. Don't miss the ice wine and the blueberry port. There's a nominal tasting fee to sample five wines from the main menu. There's a large patio and grassy area that is perfect for setting a picnic with the kids and grazing on favorite foods. Cheese and dips are available for purchase. Duck Walk Vineyards is a casual winery with plenty of space that offers live music to boot. Duck Walk Vineyards is open from 11 AM - 6 PM, with tastings until 5:30 PM.
Wolffer Estate Vineyards
139 Sagg Road
Sagaponack, NY 11962
631-537-5106
Step inside this winery and feel transported to a Tuscan villa. The wines have character and sophistication. It's a place to set a blanket on the lawn, kick off the shoes, and enjoy the ease of the evening. The winery hosts Twilight Thursdays from 5-8 PM with live music. The tasting room is closed during Twilight Thursdays, which is an ideal time to sit on the lawn and enjoy the music. Patio seating is also available. Set the children up with a plate of kid-friendly snacks and have them nibble on raisins, string cheese, and cheddar fish crackers. Adults purchase wine by the glass or bottle, along with a cheese and charcuterie plate. Children and parents appreciate the laid back rustic atmosphere and relaxation after a busy beach day.
Wolffer Estate Vineyards: The WIne Stand
3312 Montauk Highway
Sagaponack, NY 11962
631-537-5106
The Wine Stand is on the opposite side of Wolffer Estate Vineyards and hosts Sunset Fridays and Saturdays from 5 PM to sunset. It's the perfect place for a casual evening to enjoy wine, music, and to watch children dance the night away. No outside food is permitted and there are no admission fees. A plate of kid-friendly snacks is available for purchase.
Channing Daughters
1927 Scuttlehole Road
Bridgehampton
631-537-7224
Channing Daughters is a little winery with creative and impressive wines. Winemaker Christopher Tracy experiments with blends that intrigue and arouse the palette. Wine pourers are passionate about the winery and take part in the winemaking process, which makes a visit to the winery a worthwhile experience. Considering the space and the landscape, this is a winery to enjoy sans kids. After indulging in the tasting room, attend a scheduled event and learn more about winemaking from Christopher Tracy. RSVP is required to attend these events. There's a nominal tasting fee to sample 6 different wines. Channing Daughters is open 7 days a week from 11 AM - 5 PM.
Updated by Jill Wolfson on 7/29/13