Taking the Verizon VZ Navigator for a Spin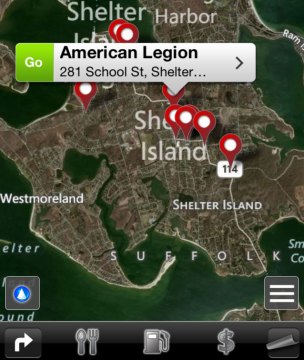 This past weekend I took Verizon's new smart phone app, Verizon VZ Navigator, out for a spin on my way from Manhattan to Shelter Island. The app was easy to download and very straightforward to operate. It could access my address book and provide maps of where my friends lived.  It also provided weather and traffic reports, and a directory, almost a complete yellow pages, for all sorts of useful information based on my location.  I could find movie and concert listings, restaurants by cuisine, banks, stores, lodgings and much more all neatly organized by type of venue.  Very handy indeed.  Alas, I then discovered that the "premium" route planning and step by step navigation features only worked on Verizon phones.  Sadly I was locked into an AT&T contract.
Well, I thought, I have friends with Verizon phones who can help me test this out when we reach Shelter Island. 
So off we went... and somewhere on back roads around Ronkonkoma I realized I had passed my usual gas station and was close to running on fumes.  Fortunately I had the Verizon app, and a nine year old who is very smartphone savvy.  With a swipe of her fingers she was reading out a list of nearby gas stations and we were saved.  We had to use Garmintrude, our ancient Garmin nuvi, but the station was right where Verizon said it would be.
When we reached Shelter Island I enlisted a friend with a Verizon phone to help test the premium features out.  Shelter Island is small and has no rural postal delivery, so house addresses are often not found in map databases.  It was many years before Google got the island correctly and fully mapped and Apple still has not got it right.  The first thing the app told us when we started it up was that the compass was encountering interference, probably from the car.  It suggested waving the phone around in a figure eight pattern, which I could not have done if I had been alone in the car but which worked. We were given options to plan a route for car, bicycle or walking and we were able to specify things to avoid which included not only tolls but ferries.  We decided not to be perverse and try to force the poor thing to get us to Sag Harbor without a ferry (there are no bridges to Shelter Island).  We typed in our first destination, the South Ferry.
The Verizon Navigator came through with flying colors, its dulcet tones correctly guiding us from ferry to post office to garbage dump and then home.  The only flaws were that it had listings for only one of the island's two gas stations and two of the restaurants had changed ownership in the last year.  All in all this full-featured app does everything it claims and at $2 per month for smartphones ($9.99 per month on regular cell phones) it is competitively priced.  AT&T, Garmin and Tom Tom's offerings are all closer to $60. 
I plan to keep this app on my phone just for the wealth of useful location based information it provides. I usually zoom in on Google Maps to see what stores, banks etc are in my vicinity but this app includes more information organized in a very sensible and easy to access way.  I suspect it will replace Google Maps as my means of exploring new neighborhoods via smartphone.
This post is sponsored by the Verizon VZ Navigator. All opinions are those of the author.