Top 25 Rainy-Day Activities in the Hamptons & North Fork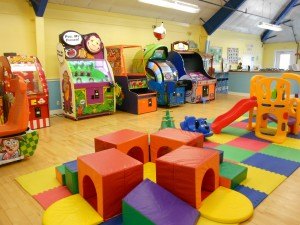 (Photo: Hampton Kids)
So, your car is all packed and you're heading out East with the kids, but the sky is gray and the forecast is rain. Don't turn your car around—embrace the weather and try one of these indoor activities. And don't turn your nose up at the cultural and historical sites! The history of Long Island is as long and storied as the drive to Montauk in Friday-night traffic.
And don't forget to check out our Hamptons and North Fork Guide for more fun things to do with the kids on the Island's East End.
Check out the first new bowling alley to open in the area in 30 years, The All Star. The All Star is much more than just bowling pins and ugly shoes.  With 28 lanes, an arcade, two bars, a restaurant and table service, the All Star is more like a lounge experience.  And in the summer, it plans to open mini-golf outdoors. RIVERHEAD
One of the more bizarre sights you'll see when driving through Flanders on the North Fork is The Big Duck.  Originally built in 1931 by a duck farmer in nearby Riverhead, it was used as a shop to sell ducks and duck eggs.  The Big Duck is now listed on the National Register of Historic Places, and a museum including artifacts from Long Island's duck farming industry is in the works.  FLANDERS
Can't go on that long-planned nature walk? Visit the South Fork Natural History Museum and Nature Center, which brings nature indoors. Grab a field guide at the front desk and take an interpretive hike that engages all of the senses. All of the exhibits are hands-on and exploratory, and there is a marine touch tank and other areas where the kids can touch live native reptiles and amphibians. BRIDGEHAMPTON
All cooped up in a small rental? Let the kids loose in an 11,000-square-foot indoor play space at Safari Adventure. Kids can slide, climb, and explore the four-level playground or jump on enormous bouncing structures. There's also a video-game room where kids can redeem tickets for prizes.  And the best part—open play, all day.  RIVERHEAD
Take a spin on the Greenport Antique Carousel, which features a glass pavilion, lovingly restored painted horses, and free rides for the lucky few who grab the brass ring.  GREENPORT
For a little slice of Colonial Americana, visit Miss Amelia's Cottage on Main Street in Amagansett. Built in 1725, this cottage stands on the property owned by the founders of Amagansett, Abraham and Jacob Schellinger. The cottage houses a museum with Colonial furnishings and on the rear of the property is the Roy K. Lester Carriage Museum. AMAGANSETT
With its short main street and kid-friendly restaurants, the small town of Sag Harbor is a great destination on a rainy day. Visit The Sag Harbor Whaling Museum and learn how Sag Harbor became one of the busiest ports in the Northeast during the 19th Century.  SAG HARBOR
Museums can sometimes be a bore for kids, but The Parrish Art Museum in Water Mill offers Family Gallery Talks, workshops and open studio time for children, caregivers and families.  Drop-in sessions are free with museum admission.  WATER MILL
If you are heading to a movie in East Hampton, or just looking for a sugar rush, hit Dylan's Mini Candy Bar for a sweet treat.  Don't let the name fool you….it may be smaller than the flagship in Manhattan, but you can still find thousands of different types of candies, fudge, popcorn and frozen treats.  Hope you packed your toothbrush.  EAST HAMPTON
Have a budding artist but don't feel like cleaning up a paint mess?  Stop by the cozy Studio Art in Water Mill. Drop in to paint, create, and design. In addition to the usual craft studio fare, kids can make their own painted sneakers or fuzzy boots.  WATER MILL
No need to drive all the way out to Old Mystic or Sturbridge Village for a taste of history. Rogers Mansion and the Thomas Halsey Homestead provide an intimate look into like in Long Island in the 17th and 18th century.  The complex is home to 12 historic structures, and kids can see the blacksmith's shop, a cobbler's shop and experience a one room schoolhouse.  They won't complain about their class size ever again. SOUTHAMPTON
An all-day adventure awaits at The Long Island Aquarium in Riverhead.  The interactive exhibits allow kids to feed a stingray, watch a sea lion show, ride in a submarine simulator, hold some marine life in the touch tank and get up close with penquins. There's even an arcade to blow off a little steam once you've had enough of fish.  RIVERHEAD
Frustrated with the lack of enrichment opportunities in the Hamptons for their kids, seven mothers got together in 1997 and decided to open a children's museum. Their vision became the Children's Museum of the East End, which opened its doors in 2005. The permanent exhibit is a wonderland of interactive fun, climbing, exploring and experimentation.  Temporary exhibits, like "Fun to Be Fit" promote wellness and physical fitness.  BRIDGEHAMPTON
If you have a future fire-fighter or police officer, pay a visit to two small museums in Sag Harbor.  The Sag Harbor Fire Department Museum and the Sag Harbor Jail House (located on Division Street next to the Police Station) feature memorabilia and old photos.  SAG HARBOR
An old-fashioned bowling alley with the added bonus of DJs, karaoke, and glow-in-the-dark bowling? Sign me up. East Hampton Bowl is just good, clean fun.  EASTHAMPTON
Before the fancy restaurants and expensive homes, the East End of Long Island was home to native Algonquin people. Their descendants, the Shinnecock Nation, is a tribe with more than 10,000 years of history on Long Island. The nation's newly remodeled Museum and Cultural Center features exhibits and children's workshops on hunting and fishing, including its main exhibit, "A Walk with the People." SOUTHAMPTON
If you have a Thomas the Train nut, a stop at the Railroad Museum of Long Island is a rainy-day must-do.  With two locations—Greenport and Riverhead—the museums are filled with toy trains and memorabilia. Museum buildings are old freight houses which have been lovingly restored.  All aboard!  GREENPORT & RIVERHEAD
Not many historic sights can boast that they were authorized by President George Washington, but the Montauk Point Lighthouse Museum can. The oldest lighthouse in New York State is still an active aid in navigation.  Climb the spiral staircase 86 feet to the watch deck and take in the view.  You'll feel like you are on top of, and at the end of, the world.  MONTAUK
Drop in to Hampton Kids, grab a coffee in the parent lounge and let your kids go crazy for a few hours. The 10,000-square-foot indoor complex features arcade games, a karaoke room, bounce houses, an Xbox room, a preschool play area and arts and crafts.  This place is fun for every age, and drop-in care is available for the little tykes.  WAINSCOTT
Sometimes I feel like my 5-year-old creates some decent Abstract Expressionism, but if you want to learn about the master of the form, visit the Pollock-Krasner House and Study Center. The coolest part is seeing the studio floor, with ample evidence of Pollock's signature paint-splattering style.  Be sure to warn the kids about not trying this at home.  EAST HAMPTON
When you call the "rainy-day hotline" at the Goat on a Boat Puppet Theatre, you'll hear the sweet tones of Billy Jack the goat "bleating" his welcome. Tucked on a side street near the seaport in Sag Harbor, Goat on a Boat is more than just weekend puppet shows. With talent shows, drop-in tot art workshops and playgroups, this is one-stop shopping for all things puppets. SAG HARBOR
With concerts, theater, movies, art exhibits, and workshops, Guild Hall in Easthampton is a hub of activity.  Celebrating its 75th anniversary this year, the calendar is jam-packed with cultural events that appeal to young and old.  EASTHAMPTON
A good science museum can keep little minds busy for hours. The Long Island Science Center is not just good, it's great. With the philosophy "learning by doing," the Science Center promotes the knowledge and love of science, technology, engineering, and math through exciting hands-on experiments and demonstrations. Who said a rainy-day activity can't be fun and educational?  RIVERHEAD
How about a good read for a rainy day?  Rogers Memorial Library is so much more than quiet rows of books. With special events for adults, kids and teens, a rotating art exhibit and classes like cooking, Zumba, and yoga, it's more community center than stuffy library.  SOUTHAMPTON
Last but not least, the ultimate rainy-day activity….a good old-fashioned afternoon at the movies. Get your popcorn and candy, and grab a seat at the local multiplex to catch the latest superhero or cartoon adventure.  Hampton Bays United Artists is located right on Montauk Highway and features all new releases.
Written by Natalie Silverstein