Top Kids' Birthday Party Venues on Long Island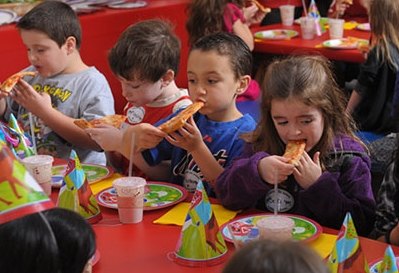 Birthday parties have morphed into an entity all their own. Each year's celebration has to be bigger and better than the last, but where to start? Don't worry--we've rounded up a list of some of Long Island's best venues for parties for both boys and girls, toddlers and tweens. The only hard part is picking just one!  Please call each venue for up-to-date pricing info. And be sure to check out our Long Island Party Guide for everything on planning the perfect party for your child.
ADVENTURELAND
2245 Broadhollow Rd., Farmingdale
631-694-6300
"Best party ever!" was heard exclaimed at the birthday party one Mommy Poppins staffer threw for her daughter here. Adventureland has been welcoming Long Islanders to its park since 1962. Packages include one hour of unlimited rides in the outdoor amusement park, a choice of meal options and beverage, party hats, candy, tablecloth, and napkins.   
DARLINGS & DIVAS
65 Merrick Road, Amityville
631-608-4710
If you've got a girl, she will LOVE this place! Mommy Poppins Long Island editor Dara held her daughter's fifth birthday party here (complete with all of the boys in the class, who may have had a better time than the girls!), and her daughter (and her friends) still raves and gushes about that party. From the fabulous dress-up room to the dance floor and stage, there's something at Darlings & Divas for every girl to make her feel fabulous. The DIVALICIOUS party package includes two hours of fun in the café, dress-up lounge and salon for 10 children, and includes invitations, paper goods, a choice of lunch items and a beverage. Boy party guests can be accommodated with pirate and superhero dress-up clothes and face painting.  
WHITE POST FARMS
250 Old Country Road, Melville
631-351-9373
Two words: pony rides. Having your young child's birthday party here will definitely put you in good standing with them for some time. White Post Farms offers multiple packages; all include admission, a party host, a pony ride, hand and bottle feeding of the animals, pizza and juice, paper goods, balloons and use of a party room for 1 ½ hours.   
KZAM
38 Sea Lane, Farmingdale
631-393-0801
With three levels of fun, including the Grand Play Arena, which contains 1,000 foam balls that move through tubes, shoot out volcanoes and ball blasters until they get sent down a giant tipping basket, this is just the beginning. Kids can even climb through the enormous structure!  Your event room includes a DJ, lighting and a gaga pit, along with several options for party packages, making KZAM one of the most unique party places on Long Island. 
BOWLMOR
895 Walt Whitman Rd., Melville
631- 271-0051
Each birthday package comes with two hours of bowling, shoes for each guest, and a party attendant to make sure your day is special. There are three packages to choose from:  Strikingly Cool includes pizza party and fountain drinks.  Strikingly Awesome includes choice of two items from the food menu and fountain drinks, and the Strikingly Perfect Package includes choice of two menu items, fountain drinks, plus a cookie cake flavor of their choice. The birthday child receives either a filled pin-shaped water bottle or a Tommy Ten Plush Toy.
THE LITTLE GYM
2890 Hempstead Turnpike, Levittown
516-520-4455
Parents magazine has named the Little Gym the #1 place to host children's birthday parties, but if that's not enough for you, here is some more information that might help you choose. Your group will have the entire gym to yourselves with games, music, and fun. A trained instructor will lead the party, and the Little Gym will handle set up and clean up for you. Parties are 90 minutes long. All packages include invitations, which are addressed, stamped, and mailed for you, Little Gym t-shirt for the birthday child, pizza and juice and/or water.
LONG ISLAND CHILDREN'S MUSEUM
11 Davis Avenue, Garden City
516-224-5871
The Long Island Children's Museum offers several different party themes to choose from, including Tot Spot, Messy Merriment, Story Art, Museum Explorer Party, Happy Bug Day, Superhero Party, Weird Science and Spy School. Each party includes 90 minutes of exploring the museum with a staff member, invitations, paper goods, set up and clean up and a T-shirt for the birthday child. Members receive a 10-15% discount, depending on your type of membership.
LONG ISLAND AQUARIUM
431 East Main Street, Riverhead
631-208-9200 ext. 186
If you're looking to make a real splash, you can have your child's birthday party here. The Long Island Aquarium offers several party options to ensure your child has a memorable day--and they're pretty affordable too! All packages include full-day admission, a guided tour of the aquarium, invitations, aquatic-themed party ware, and a party host. There are also many upgrades to choose from, including a photo of a sea lion kissing you and hand-feeding stingrays and bamboo sharks.
MONSTER MINI GOLF
410-C Commack Rd., Deer Park
631-940-8900
Monster Mini golf is an 18-hole glow-in-the-dark indoor facility that includes three-dimensional props, monsters, and fluorescent golf balls. Video, Skee-Ball and air-hockey tables are just some of the games offered in its arcade. The party packages include 1 hour and 30 minutes in the private party room where you can eat pizza and cake, followed by 18 holes of golf. 
SAFARI ADVENTURE
1074 Pulaski St.
Riverhead, NY 11901
631-727-4386
Offering four private party rooms, perfect for your next party, Safari Adventure sets up, cleans up, and handles all the details including food and beverage, cake, invitations, thank-you cards, and a party guide to assist you. 
Copyright 2013 - 2014