7 Awesome Amusement Parks on Long Island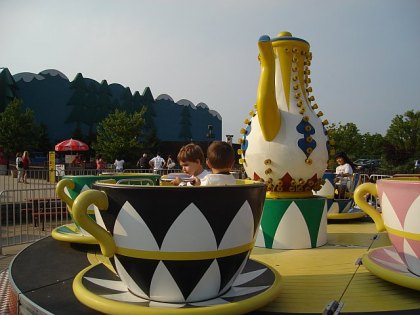 Trips to Great Adventure, Sesame Place, Hershey Park, and the like are fantastic summer destinations for families, but are not the only options in amusement parks for us Long Islanders.  We've rounded up seven fun local amusement parks that are an easy drive from most points on the Island. Save yourself some time and money and stay close to home this summer for fun-filled days spinning on teacups, spiraling down water slides and soaring on roller coasters. And for more ideas on what to do with the kids, check out our Summer Fun Guide, as well as our Long Island Events Calendar.
Most parks we've highlighted below offer coupons by signing up for their newsletter, "liking" their Facebook page or simply printing from their website. Facebook pages will also provide up-to-the-minute information regarding park closure in the event of inclement weather so check them out before embarking on your adventure to one of Long Island's awesome amusement parks!
Adventureland
2245 Rte 110, Farmingdale
631-694-6868
Moms and Dads who grew up on Long Island may very well hold fond memories of days spent soaring through the sky on the roller coasters and Ferris wheels of Adventureland. 2012 marks Adventureland's 50th year of providing families with memorable days packed with action, adventure, and fun! Pay-one-price bracelets are available and provide access to unlimited use of classics, such as bumper cars, Ferris wheel, and roller coasters as well as water flumes, lots of kiddie rides, and much more! Attractions such as  bungee jumps, face painting, water wars, and a sky trail are not included with the P.O.P. bracelet. Group rates, birthday parties, and season passes are available. Make sure to sign up for Coupon Club to receive savings via email.
Splish Splash
2549 Splish Splash Dr., Riverhead
631-727-3600
Take the LIE to the very end and you'll be transported on an instant vacation right here on Long Island. Splish Splash is more than 96 acres full of fun water attractions including 12 tube and body slides, wave pools, lazy river, a wading pool for little ones, interactive pools with water cannons, slides, and climbing ropes. Similar to a "fast pass," limited numbers of H2Go passes can be purchased to limit time spent waiting on line and maximize time spent having fun! There is a sit-down diner on premises as well as snack shacks for a quick bite.  Outside food is not permitted, but there are picnic tables outside the entrance your family can use to eat a packed lunch. Would you believe you can squeeze in some time to relax at a water park? Cabana rentals are available and provide shade, tables, and chairs and even lounge chairs. Depending on the package you select, cabanas offer wait service, refrigerators, ceiling fans and lockers. Group rates, birthday parties, and season passes are available. Follow Splish Splash on Facebook for special coupons for Facebook fans. 
Boomers
655 Long Island Ave., Medford
631-475-1771
Boomers has all the attractions of a major theme park for a fraction of the price: rides, go-karts, bumper boats, minigolf and batting cages, not to mention a game room with lots of current arcade games. Boomers offers great promotions like "Play Free on your Birthday," where kids can receive a free unlimited pass on the day of their birthday and "Celebrate Your Good Grades with Us" where kids will receive game tokens for A's and B's. See site for rules and restrictions. New coupons are available every month to Facebook fans. Group rates and birthday parties are available.
Bayville Adventure Park
8 Bayville Ave., Bayville
516-624-RIDE
Set right off the beach in Bayville, Bayville Adventure Park offers minigolf, indoor rock climbing, bumper boats, Jungle Treetop Adventure, Bungee Bounce Dome, Wild Water Balloon Wars and an arcade. Top off the day with a trip to the on-site old-fashioned ice cream parlor for lunch or a sundae, or stop by beautiful Bayville Beach for some more fun in the sun. Birthday parties available as well. 
Country Fair Entertainment Park
3351 Rte. 112, Medford
631-732-0579
Your kids won't know where to start their fun-filled day at  the picturesque Country Fair. There's outdoor laser tag! There are go-karts! There's minigolf! There are batting cages, a golf driving range, and an arcade! Birthday parties and group rates available. Sign up for Country Fair newsletter to receive coupons.
Tiki Action Park
1878 Middle Country Rd., Centereach
631-471-1267
Say "aloha" to a fun-filled day at Tiki Action Park where your family will enjoy Hawaiian-inspired minigolf complete with waterfalls, caves, streams, Hawaiian music, and even a 10-foot Tiki fountain! "Mission Impassable" is a fun, new game within Tiki Action Park's arcade that allows participants to try to pass through the web of laser lights. Go-karts, rumored to be the fastest on Long Island, are just another favorite sure to add to a fun and memorable day for the whole family. Visit website for info on "Two-For-Tiki-Tuesdays" which allows kids under 12 half-price arcade games, "Play on Your Birthday for Free," which allows the birthday kid lots of free treats.
Out East Family Fun
1716 Old Country Rd., Riverhead
Out East Family Fun has good ol' classics like minigolf and batting cages. You'll also find contemporary favorites such as a "Water Wars" station, where kids will launch water balloons at each other, and "Jumpshot Basketball," where kids can practice their slam-dunk skills with the aid of a trampoline. Both of these are sure to be crowd pleasers, but I suspect much of your time will be spent relaxing at a picnic table in the shade of a big red market while your kids enjoy the Hippo! Said to be the largest inflatable water slide in the world, the Hippo is a three-story water slide bound to provide a couple hours of pure fun. Group rates and birthday parties available.
Updated June 6, 2014