10 Super Sprinkler Parks on Long Island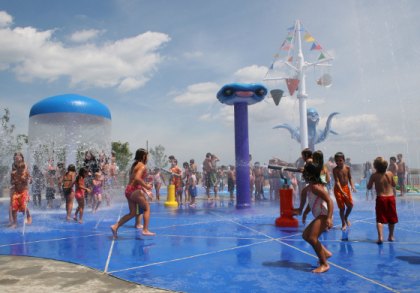 (Photo: Town of Babylon)
It's hot out there, and the best way to cool the kids down is to get them wet! Pools and beaches are great, but may be a bit much for the little ones. Not to mention that some sprinkler parks on the Island are free, which sure beats any municipal pool.
You might also want to take a look at our roundup of Beach Playgrounds, as well as a look at some of the Best Playgrounds on LI. And for more kid-friendly activities, check out our Summer Fun Guide.
Eisenhower Park
Merrick and Stewart Aves, East Meadow
The park at Field 2  offers a playground with sprinkler area. FYI: The Park is currently having plumbing issues and will be closed for several weeks. 
Grant Park
Broadway and Sheridan Avenue, Hewlett
This is a 35-acre park that offers a spray park as well as roller and ice-hockey rinks.
Blumenfeld Family Park
Main St., Port Washington
The park offers a spray pool are and large lawn for play, plus playgrounds.
Shipwreck Cove Spray Park
Bay Shore Marina
There's one large play structure with a several slides, various sprayers and a rope climb plus the giant dumping water bucket that sends kids into a frenzy.
Venetian Shores Park
Granada Pkwy, Lindenhurst
This interactive spray park is open to Town of Babylon residents only and requires a resident recreation permit to enter.
Tanner Park
Kerrigan Rd., Copiague
The Town of Babylon's other interactive spray park's daily fee without recreation permit.
Phelps Lane Pool
Phelps Lane, North Babylon
There's a large interactive spray pool here for Town of Babylon residents only.
Hoyt Farm
200 New Hwy, Commack
Hoyt Farm has a small spray park play area adjacent to two playgrounds. Smithtown township residents only with sticker or license.
Cantiague Park
West John St., Hicksville
The pool at Cantiague Park has an interactive water play area.
Tobay Beach
Ocean Parkway, Oyster Bay
The spray park was updated after Sandy, complete with a new snack shack and separate picnic area above the sprinkler area. Town of Oyster Bay residents can buy a seasonal pass to the beach and park; non-residents will pay a daily fee.
This was updated June 6, 2014