Martin Luther King Day 2015 Celebrations for Kids and Families on Long Island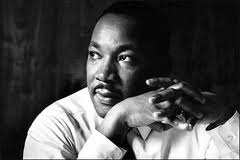 Martin Luther King Day is approaching, and while most kids will be excited about the day off from school, many may not even be aware of the tremendous contributions of Dr. King.
You can learn more about Dr. King at your local library, where they are sure to have plenty of age-appropriate books on display, and you can visit the King Center website to learn more. 
Be sure to check out our Wee Work Craft: Martin Luther King Jr. Dream Mobiles.
Saturday, Jan. 17
Black Wall Street
African-American Museum of Nassau County
110 North Franklin St., Hempstead
516-572-0730
7pm
The play Black Wall Street by Celeste Bedford Walker will be presented starring Michael Green. Suggested donation is $5, seniors and students with I.D. free. For more information, contact Joysetta Pearse at 516-379-5466.
Sunday, Jan. 18
Introspective of a Dream With Shenole Latimer
Elmont Memorial Library
700 Hempstead Turnpike, Elmont
516-354-5280
2pm
Free
Bring your family to the library for a reflective look in to the thoughts of Dr. King during the Civil Rights Movement through the talents of Shenole Latimer, award winning saxophonist.
Peaceful Paintings
Long Island Children's Museum
11 Davis Ave., Garden City
2pm
Ages 5+
The white dove is a universal symbol of peace, love and harmony. Pay tribute to Dr. King's message of peace by creating a colorful painting on canvas of this symbol.
Monday, Jan. 19
Commemorative March
Long Beach Martin Luther King Center
Marchers are asked to gather at the corner of Laurelton Boulevard and Park Avenue in Long Beach at 11am. The March will begin at 11:30am. Participants are encouraged to bring banners and posters and don any organization/school-affiliation colors.
Dreaming with Dr. Martin Luther King Jr.
Long Island Children's Museum
11 Davis Ave., Garden City
11am and 1:30pm
Ages 5 and up
$3 with museum admission, LICM members $2.
Artwork has long been used to record historical events. Draw inspiration from the life and works of Dr. Martin Luther King and create your own inspired artwork to take home.
I Have a Dream
The Whaling Museum and Education Center
279 Main Street, Cold Spring Harbor
12:30pm and 2:30pm
Grades 1-6
Celebrate this special day by learning about the contributions African-American made aboard wheelships as boasteeerers, captains, cooks, blacksmiths and seamen. Touch a harpoon designed by Lewis Temple, an African-American inventor and create your own I Have a Dream catcher to take home. Cost: $8 child. 
Originally posted on January 15, 2013