Sleepaway Camps on Long Island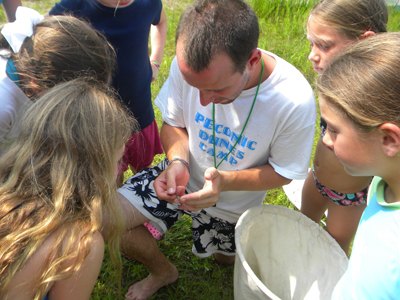 Long Island has a bounty of day camps in Nassau and Suffolk Counties, but it's also got its share of great overnight camps out east that offer a wide range of programs and options, including horseback riding, swimming, rock climbing, canoeing and kayaking, arts and crafts, and all kinds of sports and activities, for when the kids want to go away for a couple of weeks (or you want them to go away for a couple of weeks), but you still want them near. Check out our roundup.
Dorothy P. Flint Nassau County 4-H Camp

3186 Sound Ave, Riverhead

Entering grades 4 - 10
This ACA-accredited co-ed sleepaway camp is operated by the Cornell Cooperative Extension of Nassau County and is located in Suffolk County near Riverhead. The camp offers a wide range of programs including climbing, archery, dance, drama, kayaking, farming, fishing, swimming, tennis, arts and crafts, horseback riding (additional fees apply), rocketry and more. Lodging is in log cabins. Campers are dropped off on a Monday and picked up on a Saturday with the option of staying over the weekend for an additional fee. Sign up for one week or all eight. The cost for non-Nassau residents for one week is $605 and residents $590, with discounts before April 1. For more information, visit the website, download their application or call (516) 292-7990 ext 11.
Peconic Dunes 4-H Camp
6375 Sound View Ave, Southold
Ages 8 - 16
This co-ed full day and overnight camp on Long Island Sound is operated by the Cornell Cooperative Extension of Suffolk County. Camp activities include swimming at the camp's beach on the Sound, archery, fishing, kayaking, canoeing, sailing, sports, arts and crafts, photography and videography, and environmental sciences. Cost for one week (M-F) of overnight camp is $580. The camp also offers a series of weekend extender trips available only to overnight campers at an additional cost. Peconic Dunes will also host a two-night weekend rookie camp May 31–June 2 for children who have not experienced a sleepaway yet. Cost for this weekend is $239 and it is limited to 40 children. For more information on all of their summer programs visit their website or call (631) 852-8629.
Blue Bay Girl Scouts Sleepaway Camp
East Hampton

Entering grades 1-11
Camp Blue Bay is a sleepaway and day camp run by the Girl Scouts of Nassau County and is for girls only. The camp is located on 179 acres along the shores of Gardiners Bay in East Hampton. In the sleepaway camp, girls have a traditional camping experience complete with campfires and campfire songs and the fun of sleeping in a tent (a dormitory house is also available). All girls participate in a mix of general camp activities such as swimming, boating, crafts and natural history. Specialty programs are also available. The camp is ACA-accredited and runs from the second week of July to the third week of August.  Campers can register for one- or two-week sessions. For more information click HERE or call 516-741-2550, ext. 275. Cost for non-Girl Scouts per week is $655 with a discount if registered for more than one week. There will be a meeting where you can learn more about the camp held in Garden City on March 5 from 7:30-8:pm, and an open house at the camp May 4th and 5th from 10am to 3pm. To register for the open house, call (516) 741-2550 ext. 275.
Camp DeWolfe Sleepaway Camp
Grades 3 -11
Camp DeWolfe is a summer camp run by the Episcopal Diocese of Long Island and programming does have a general Christian theme. It offers children the opportunity to enjoy a traditional sleepaway camp for one-week sessions, Monday–Friday. The camp is situated on 26 acres of mixed woodland and beachfront property on the North Shore of Long Island. Activities include sailing, swimming, canoeing, archery, arts and crafts, sports, and, of course, nature hikes and campfires. Lodging is in cabins, and the camp is ACA-accredited. Costs are $495 per week before May 1st and $595 thereafter. Partial financial assistance is available based on need. For more information visit their website, download a brochure, or call (631) 929-4325.
Camp Quinipet
99 Shore Rd, Shelter Island
Entering grades 2 - 12
Camp Quinipet sits on a large partially wooded peninsula with wonderful water views from almost everywhere on the property. There is no swimming pool, but there is a sandy beach and a dock with all sorts of watercraft. The camp offers a sleepaway program, a day camp, and a sailing school. Quinipet is more rustic than fancy, it does not have huge air-conditioned classrooms or pools with fountains and water slides. But it does have comfortable lodgings, up-to-date facilities, and it is situated in one of the most beautiful places on Long island. The staff is wonderfully friendly and very professional. My daughter attended Quinipet's day camp from  3 1/2 to 7, and she and I have participated in the sailing program. The camp is ACA-accredited and is owned and run by the United Methodist Congregation and does include some progressive Christian programming, although it welcomes children of all faiths. The camp costs $550 per week. For pricing and more information, call (631) 749-0430. The camp is hosting an open house on May 5; tours begin at 1pm. Register here.
North Shore Holiday House
74 Huntington Rd., Huntington
Girls ages 7-11
631-427-7630
This camp is free and open to those meeting USDA requirements for free lunch. It is accredited by the American Camping Association and run by a nonprofit established in 1914 by a local group of women to serve and empower girls coming from low-income families. According to its website, "When you change a child, you change the world." The camp offers small group sizes and an array of activities. For more information, call 631-427-7630. Those interested in giving opportunities should check out the site.