The Best Outdoor Ice Skating Rinks on Long Island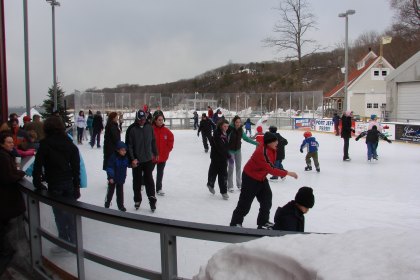 Button up your overcoat--or just wear a furry animal hat--because it's time for outdoor ice skating!  Enjoy the crisp winter air and a delicious cup of hot chocolate when you're done.We've compiled a list of the best outdoor skating rinks on Long Island.
Keep in mind that there are also quite a few Indoor Rinks around LI, so if the weather is simply too cold or if it's the off-season, you can still strap on some skates and have fun. Happy Skating!
Christopher Morley Park
500 Searingtown Rd., Roslyn-North Hills
The picturesque rink at Christopher Morley Park has been a community fixture since 1966, and was named best outdoor rink on Long Island by News 12 Long Island viewers. Open skate sessions are offered six days a week, and individual or group skating lessons are offered as well. To warm up, take a seat inside in front of the fire with a cup of hot chocolate. 
Syosset-Woodbury Community Park Ice Rink
7800 Jericho Tpke., Syosset
With a location you cannot beat (just off all major highways and the expressway, as well as Jericho Tpke), this outdoor rink also offers free skating for kids 2 and under. The park itself is beautiful, and the rink sits just inside it. After a fresh snow, we love to visit for a true winter wonderland. There is a snack shop that serves seasonal favorites like hot cocoa open on the weekends and sporadically during the week. 
The Rinx at Harborfront Park
101 A East Broadway, Port Jefferson
If you live in Eastern Suffolk County, this is a great spot to visit. Located right on Port Jeff harbor, Harborfront Park offers a small rink with a big view. For a reasonable fee, you can skate for an hour and a half any day, seven days a week. It also offers rink rentals for parties. The park is located right in the center of Port Jefferson Village and within walking distance you'll find great eateries and spots to warm up with a nice cup of hot cocoa afterward. 
Tanger Outlets
152 The Arches Circle, Deer Park
Though the only surrounding scenery is stores and restaurants, this still makes the list for great outdoor rinks for kids. Open seven days a week for public skating, Mom can do her shopping at the mall while Dad takes the kids skating (or vice versa). 
Grant Park Rink
Broadway and Sheridan Ave., Hewlett
This rink, nestled in a picturesque park, ­overlooks a small pond. There are public sessions Wednesday through Sunday. 
Mitchell Park Ice Skating Rink
115 Front St., Greenport
Located in beautiful Mitchell Park, this rink sits on the village's waterfront and offers daily public sessions. 
Marjorie R. Post Community Park Ice Rink
Unqua and Merrick Rds., Massapequa
This outdoor rink offers public skating about four days a week. 
Bayville Winter Wonderland
8 Bayville Avenue, Bayville 
This seasonal winter holiday park is a wonderland of fun activities, like a train ride, fun house, visits with Santa, rock climbing, an arcade and skating in the "Blizzard Bay Arctic Adventure." Skate on real ice with holiday characters and enjoy hot chocolate with marshmallows at the outdoor fire hearth. Open until mid-January. 
Photo courtesy of Rinx.