The Cole Brothers Circus: The Circus Is Coming to Town!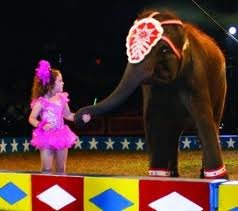 (Photo: The Cole Brothers Circus)
The circus is coming to town! The 128th Cole Brothers Circus of the Stars will be traveling across Long Island this July, pitching its big-top tent in fields and malls; amazing audiences with its colorful, classic acts. There will be acrobats, daredevils, elephants, tigers, and of course clowns. It's a classic three-ring traveling circus that began life in 1884 as W.W. Cole's New Colossal Shows. It is exciting, inexpensive, and very intimate. Every summer since I was a child the circus has come to my town in Greenport. This summer will be no exception.
At 5 am the circus will roll into town, and by 11 am the gaily striped red-and-yellow tent will be up under blue summer skies. By evening the air will fill with the enticing scents of sawdust, popcorn and cotton candy.  My daughter will whisper that this year she won't be afraid of the human cannon ball, and  I will promise that we can scoot outside when the cannon rolls in, keeping my fingers crossed that this year I will finally get to watch a man shoot out of a gigantic gun.
This is the kind of circus you read about in childhood tales.  I wouldn't miss it for the world.
PRESHOW
If you don't mind spending some extra cash, come to the circus about half an hour early. Outside the tent there will be clowns and face painters.  Inside there will be pony and camel rides. One year there was a chance to hold a gigantic boa constrictor. These rides will reappear during intermission but will have longer lines. There are no longer elephant rides offered on Long Island as they are now illegal in NY State.
ACTS
The approximately two-hour show this year includes a wide variety of human and animal acts from around the globe. The Cretu family from Romania performs an amazing acrobatic show where they spring through the air as if flying. Actually up in the air will be Lana from Kazakhstan who flips and twirls and drops from long silk scarves, an aerial ballet troupe, and two young women who perform whilst suspended by their hair. There will be daredevils walking on the "Wheel of Death" and riding motorcycles upside down in a tiny metal ball cage. There will be clowns and horses and amazing small dogs. There will be fierce Bengal tigers and a family of Asian elephants. For more information about the animals click here.
This is a true family circus, and circus families love to give their children a chance to perform as well. This year 7-year-old Haley will be on stage with her family and 5-year-old Val, the show's baby elephant. Suspended 30 feet above the ground by only her hair will be 14-year-old Wendy Aguiar, who has been a circus performer since she was 4, although not in this particular act. The incredible aerialist and illusionist Lana, whose credits include Cirque du Soleil, will be introducing her son Nick in her magic act. Last year there was a young motorcycle rider and a charismatic young trapeze artist as well. My daughter and the other children in the audience were thrilled and inspired by these mazing young performers. For pictures and more details on the performers click here.
PERFORMANCE AND TOUR SCHEDULE
Massapequa
Westfield Sunrise Mall
Monday, July 9 – Sunday, July 15
Center Moriches
Knights of Columbus Grounds
Monday, July 16 – Tuesday, July 17
Bay Shore
Westfield South Shore Mall
Wednesday, July 18 – Sunday, July 22
Southampton
Shinnecock Pow–Wow Grounds
Monday, July 23 – Tuesday, July 24
Greenport
Polo Grounds
Wednesday, July 25 – Thursday, July 26
Farmingville
Pennysaver Amphitheatre at Bald Hill
Friday, July 27 – Sunday, July 29
Oceanside
Firemen's Memorial Field
Monday, July 30 – Wednesday, August 1
Weekday shows at 5 pm and 8 pm
Saturday and Sunday Shows at 2 pm, 5 pm and 8 pm
TICKETS
General admission tickets: Adults $14 in advance or $19 day of show, children $14; reserved seating $3 extra, VIP section $6 extra
Tickets can be bought in advance at tickets.com or by calling 888-332-5200, but read the coupon information below before calling.
COUPONS
You should not have to pay full price for your family's tickets. Each adult may bring in two children free if you print a child's ticket from Gotothecircus.com, or pick up the free tickets at Carvel Ice Cream stores or other local merchants. If you have children over 12, there is also a buy-one-get-one-free adult coupon offer.
SEATING
There are three main seating sections: VIP, Reserved Seating, and General Admission (seating chart). The seating area is essentially a rectangle. VIP seats are at the short end facing the performers' entrance. Reserved seating occupies both long sides of the oval and arguably has the best views. General Admission tickets do not have assigned seating and are located on the short side to either side of the performers' entrance and thus do not have a perfect view. However, the view is by no means bad and if you sit close to the stage entrance you can even look down on the performers and elephants as they enter and exit. You will want to arrive early to get decent General Admission seats as this is the smallest seating section and first-come, first-served and fills up quickly with large families.
Seating is on fairly steep risers. This is great for visibility, but there are gaps for things to fall onto the ground below. If you are juggling a lot of child-related paraphernalia it is good to keep this in mind. Losing a sippy cup may not be a tragedy, but dropping a comforting stuffed friend can be a problem, although the circus staff is really quite helpful and understanding when this occurs—and I speak from experience.
FOOD AND VENDORS
There is a food truck parked outside the tent that sells everything a circus should: hot dogs, corn dogs, pizza, nachos, French fries, funnel cakes, candy apples, peanuts, soda, and popcorn. As you enter the tent, you will pass by stands selling enticing light-up wands and swords and various inflatable plastic dolls and animals on sticks. During the show, vendors of drinks, cotton candy, sno-cones, and popcorn will travel from row to row offering their wares. Tickets are extremely reasonable, the food and souvenirs, on the other hand, are not. Be prepared for everything to cost much more than you think it should. I suspect that the concessions are where the circus makes much of its money.
OTHER IMPORTANT INFORMATION
There are always abundant Porta–Potties lined up near the big top. While these are never a pleasant experience, Cole Bros. does keep them quite clean. Indeed, Cole Brothers does an excellent job of keeping everything quite clean – not an easy task in a field.
There are fans to cool the tent a bit but it is a tent, there are big hot lights shining down, and it can get quite hot so be prepared. Later shows are naturally a bit cooler.