Awesome Art Classes For Kids On Long Island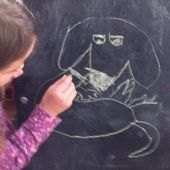 Long Island has fantastic art classes for kids, with something for every age and interest. From painting and drawing, to themed classes such as cartooning and jewelry making, the options for artistic expression are endless. Art classes not only encourage creativity, but are great for developing basic skills such as concentration and hand-eye coordination. We rounded up six spots for the budding young artist. For additional class suggestions, see our Classes and Activities Guide for Long Island Kids.
Art League of Long Island
107 East Deer Park Road
Dix Hills, NY 11746
631-462-5400
Conveniently located for both Nassau and Suffolk residents, the Art League of Long Island is a wonderful resource for artistically-inclined children. Drop-off classes are offered for kids ages 6 years and up. There are also special adult/child partner classes for kids ages 4-6 years. The Art League of Long Island has a variety of options, where kids choose from courses in cartooning, clay, or painting. The class options change from season to season, so check the website for the latest offerings. If enrolling for multiple sessions or even adult classes, become a member to receive discounts on all of the sessions.
A Gathering of Artists, Inc.
322 Hillside Avenue
Williston Park, NY 11596
516-739-8715
Have a little Matisse in the family? This art school offers mommy and me classes for children ages 2-3 years. These introductory sessions provide basic skills such as painting and drawing, while developing hand-eye coordination. Children ages 4-5 years enroll in pre-k classes. After school programs are also available for children ages 6 years and up. Choose from art studio, fashion design, and cartooning classes, all designed to foster creativity. Birthday parties are offered by the school too, and all guests leave with an art project to take home.
670 Montauk Highway
Water Mill, NY 11976
631-683-4267
22 Sunset Avenue
Westhampton Beach, NY 11978
631-998-0563
Preschoolers enroll in a variety of classes, such as Creative Expressions or Pint-Size Picasso. Older children take special themed classes like sewing or duck tape, plus there's a designated Teen Night for extra fun. Afterschool programs, birthday parties, and camps are also available. Check the website for schedules and registration information.
Gymboree Play & Music
Locations throughout Nassau and Suffolk Counties. Check the website for the nearest location.
Art classes begin at 18 months of age and continue through 5 years of age. Early courses introduce the idea of art and exploration, alongside mommy or daddy. Gradually, the young students become more independent participants. The classes include stories and singing, as well as painting, sculpting, and collage making. Contact a specific location to get schedule information, and to signup online for a free sample class.
Smithtown Township Arts Council
660 Route 25A
St. James, NY 11780
631-862-6575
From printmaking to jewelry making, the class selections go a bit beyond the ordinary art class. Class offerings include basic options such as watercolor and sculpture. Children enroll in classes beginning at 4 years of age. Special events including Kids Night Out are planned throughout the year. Check the website for schedules and to obtain registration information.
Haven Art [closed]
29 Haven Avenue
Port Washington, NY 11050
516-944-6765
This unique venue is actually a collection of studios with an open floor plan, housed in a 5,000 square-foot warehouse. Children's class options include Drawing & Painting, Pottery Wheel, Clay Hand Building, and Mixed Media. These programs are a great way to build a child's hand-eye coordination and to foster self-esteem. Classes are offered for children ages 4 years and up. Check the website for schedules and registration information.
Originally published on 10/3/11. Updated on 7/29/14