Hanukkah Celebrations for Kids and Families on Long Island: Festive Parties, Activities and Menorah Lightings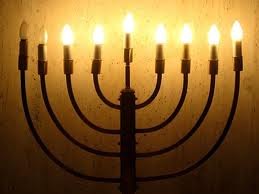 Hanukkah festivities, crafts and activities are underway across Long Island. Giant menorahs will be lit, dreidels spun, and latkes devoured.
You'll also find car parades, fire jugglers, ice skating events and more. Here are some of the most fun family-friendly celebrations, and be sure to check out our Holiday Fun Guide for more events this month. Happy Hanukkah!
Build a Menorah Workshop
Home Depot, 5025 Jericho Tpke., Commack
Dec. 14, 11am-1pm
Winter Concert & Chanukah Party
340 Wheatley Road, Old Westbury
Dec. 14, 10am-12pm
Rock out with Music for Aardvarks and taste the holidays with Bakers and Shakers. Cost: Free.
Menorah Lighting
Kennedy Plaza, Long Beach
Dec. 16-23, 5:30
Music and dancing. The lightings will continue each night of Chanukah. 
Menorah Workshop
The Whaling Museum, 279 Main Street, Cold Spring Harbor
Dec. 14, 2:30pm
Dive into the world of oil, from whale oil to olive oil.  See different oil lamps from our collection, try testing seeds for their oil content and create a wooden menorah for Hannukah. Cost: $10/child, $8/sibling.
Hannukah Party
Central Synagogue of Nassau County, 430 DeMott Ave., Rockville Centre
Dec. 14, 12-2pm
Party for all ages with story time, crafting, baking, cookies and more. 
Community Chanukah Celebration
Friedberg JCC, 15 Neil Ct., Oceanside
Dec. 14, 11am
A holiday celebration for the entire family.
Hanukkah Candle Lighting
Sid Jacobson JCC, 300 Forest Dr., East Hills
Dec. 16, 5pm
Lights, treats, crafts and songs. Ongoing at 5pm each night through Dec. 23.
Great Menorah Car Parade and Menorah Lighting
Dec. 16, 6pm
Procession begins at the Chabad Center for Jewish Life parking lot; 2174 Hewlett Ave., Merrick Menorah lighting at the Merrick LIRR station
Join the Menorah Car Parade, led by two limos with car menorahs. The parade will be followed by a lighting of a 12-foot menorah. There will be hot latkes, music and dancing.
Menorah Lighting
Veteran's Memorial, Corner of Broadway and Bedford Ave., Bellmore Village
Dec. 17, 6pm  
This year's celebration will include the singing of traditional Hanukkah songs. There will be chocolate Hanukkah gelt and giveaways compliments of the Chamber of Commerce of the Bellmores.
Light Up the Night 2
Merrick Jewish Centre, 225 Fox Boulevard, Merrick
Dec. 18, 7pm
Merrick Jewish Centre will host Light the Night 2, when more than 1,000 people will join to light more than 1,000 menorahs and 4,000 candles to restore the Guinness Record. All are invited to attend. Bring your own Menorah. Cost: Free.
Chanukah Play & Dinner
Suffolk Y JCC, 74 Hauppauge Road, Commack
Dec. 18, 5:30pm
"It Cant Get Any Better' based on the novel, It Could Always Be Worse" by Margot Zemach Menorah lighting, dinner, latkes, dreidels, donuts. Cost: $10/ticket, ages 10+.
Chanukah on Ice
Long Beach Ice Arena, 150 W Bay Ave., Long Beach
Dec. 21, 6pm
Watch the sculpting and lighting of the largest Ice Menorah in New York.  Ice rink will be open exclusively to Chanukah on Ice participants. Pizza, dinner, hot latkes, donuts and chocolate gelt for all. Cost: $16 at the door per person or $80 per family (includes skates and dinner).
Chabad of Mid Suffolk Menorah Lighting
H. Lee Dennison Building, 100 Veterans Hwy., Hauppauge
Dec. 22, 6:30pm
Glow in the dark Menorah lighting. Latkes, doughnuts, fire jugglers, give aways and more.
Originally published on 12/5/12