Long Island Kids' Activities Columbus Day Weekend, October 6-8: Rise of the Jack O' Lantern and lots of Fairs and Festivals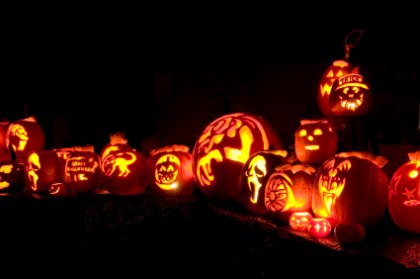 Photo: Rise of the Jack O' Lantern
Ready? There is so much going on on Long Island this weekend, there's no time to be bored. In addition to pumpkin and apple picking and all kinds of farm fun, Rise of the Jack O' Lantern—a cool not-so-spooky walk at Old Westbury Gardens—starts this weekend, and there are so many fairs and festivals going on, no matter where you live, you're certain to find one right near you. Have a great weekend!
Saturday
First Annual Oyster Festival
West Hampton Beach Municipal Marina
rain date Sunday, October 7
10am–6 pm
Free admission
This sea harvest festival promises children's rides, a touch tank, bounces, and of course clams, oysters, chowders and other delicious food. The goal is to raise awareness of our waterway ecosystems and there will be several interesting educational exhibits. 
5th Annual Plant and Sing Festival
Sylvester Manor
Shelter Island
6am–6pm (yoga 6am, planting 9am, festival begins 12 pm)
Admission: Adults $25, Students 8 to 21 $10, Children age 7 and under free
Visit historic Sylvester Manor on beautiful Shelter Island for traditional music, farming and play. On Festival Day, Saturday, October 6, there will be music, kids activities, pony rides, nature hikes, contra dancing and yummy farm–to–table culinary experiences. On Farm Day, Sunday October 7th, lend a hand planting garlic and harvesting the sweet potatoes to music. 
Brightwaters Outdoor Movie Night
Wohseepee Park
6:30pm
Free      
The Lorax
Sunday
Fall Festival at Sagtikos Manor
Bay Shore
11am – 4pm
Festival features: hands-on children's crafts, old-fashioned games and prizes, petting zoo, pony cart rides, pumpkin painting, historic presentations and demonstrations, Colonial crafters, music and dancing, demonstrations and instructions, 1775 Revolutionary War Regiment, cemetery tours, and self-guided house tours. $7 per person, ages 3 and under free. Some activities are at an additional cost.
37th Annual Riverhead Country Fair
Main Street along Peconic River
10am–5pm
This is a large festival with enough going on to entertain a family for a full day. There will be a full midway carnival, tractor rides and tractor pulls, agricultural displays, a vegetable decorating contest, farm animals, pony rides, farmers market, folk music and live entertainment, and more than 400 crafts vendors. There are agricultural, homemaking and needlecraft competitions. 
Monday
Columbus Day Film 'n' Fun: Dolphin Tale
Cold Spring Harbor Whaling Museum
11:30am
Free with paid admission             
Learn about the world of dolphins and create your own dolphin craft. Then enjoy a showing of the film Dolphin Tale. Free snacks.
Disney Princess Party
The Cupcake Corner
Garden City
12:00pm - 1:30pm
$35/child             
Your child can dress up as their favorite princess or superhero and have a great time with Cinderella, Ariel, and Belle—creating themed crafts, enjoying delicious snacks, great games, awesome prizes, and fun! Reservations and prepayment required.
Ship Signals
Long Island Children's Museum
Garden City
2:30pm - 4:30pm
Free with museum admission   
Modern technology now allows us to use radios to send messages faster and clearer, but many ships still use maritime flag signals to communicate across long distances. Discover common signals that are used today and create a flag signal collage that has special meaning for sailors.
Saturday and Sunday
Montauk's 31st Annual Fall Festival
"On the Green"
11:00am - 7:00pm
Free admission
Both days will include many activities for children, such as a free 30 horse Carousel, inflatable rides, face painting, pumpkin decorating, crab races and more.  For adults there will be live music, a farmers market and plant sales, along with raffles, October-fest style food, clams and oysters. Long Island wines and beer will be available. Live music will be featured on Saturday by Nancy Atlas and the Uncle Susie Band from 2-5 PM. On Sunday the Festival continues with additional activities under the tent including the Annual Chinese Auction by the Montauk Playhouse. Live Music by the 3 B's will be featured on Sunday 11-3pm. At the conclusion of the festival, the Cash Catch (a minimum of $15,000 in cash prize money will be awarded) winners will be announced along with the winners of other raffle prizes. 
Grucci fireworks Saturday at 7pm.
51st Mill Neck Manor Fall Harvest Festival
Mill Neck Manor
Mill Neck
9am–5 pm
Mill Neck Manor is a historic old Gold Coast estate, and the grounds make a lovely setting for this event. There is a special children's area with face painting, pumpkin carving and many more games and activities. For grown-ups there is a cheese house selling homemade cheeses, a country store with fresh baked goods and meat and bacon products. There will also be a farmers market, fresh apples and bratwurst, and a craft sale. 
Fall Festival at Deepwells Farm County Park
St. James
10am–5 pm
Admission: adults $5, children $1
Celebrate fall on the grounds of the historic Deepwells Manor, built in 1845. There will be a pumpkin patch and pumpkin painting, hay jump, pony rides, petting zoo, hayrides, games, crafts and food for sale. 
Rise of the Jack O' Lanterns
Old Westbury Gardens
6:00pm - 9:30pm
Adults $16, children 5 to 17 and seniors $14, children under 5 free            
More than 5,000 artfully carved jack o' lanterns take over Old Westbury Gardens.
Saturday–Monday
Long Island Fall Festival
Heckscher Park
Huntington
Saturday and Sunday: 11am–10pm; Monday 11am–5pm
This gigantic fall festival claims to be the biggest fall fair in the Northeast, It includes a full-sized carnival, four entertainment stages, hundreds of arts and crafts vendors, international food courts, a beer and wine tent, and a farmers market. There are many activities for children, aside from the carnival rides. This year they are advertising a Home Depot Kiddie Workshop among other things. There is free parking and a $1 round-trip shuttle from the Huntington LIRR station. For more information call 631–423–6100.