Cooking Classes For Kids On Long Island: Delicious Fun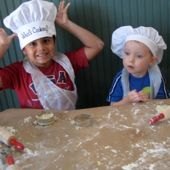 Cooking classes are semester-long classes. Kids learn how food connects to culture, the proper way to handle food and kitchen tools, as well as how to measure properly and follow a recipe. Classes for young children include stories and songs, while older children learn about multicultural food and nutrition. Classes range from cookie and cake decorating to four course meals. Nothing cures a child with a picky palate more than involving them in the process. Don't be surprised if a fussy eater is suddenly offering to help plan family meals. Classes discuss proper table etiquette as well. For additional class suggestions, see our Classes and Activities Guide for Long Island Kids.
Bubble
15 East Main Street
Babylon Village, NY 11702
631-587-0050
Children ages 3 years and up learn how to cook while gaining literacy skills. Recipes are mapped out on a chart to assist with comprehension, and New York State certified teachers incorporate storytelling and songs into each session. Classes run for six weeks. Menus are organic and healthy.
Little Chefs
9 Soundview Market Place
Port Washington, NY 11050
516-767-7633
Little Chefs offers classes for kids 2 to 15 years of age. Classes include mommy and me cooking and international cooking. Little Chefs believes that the best part of learning how to cook is having fun. All classes are ten sessions long. Birthday parties are also available.
Celebrations in the Kitchen
63 East Old Country Road
Hicksville, NY 11801
516-396-2193
Celebrations offers pie, cake baking, and decorating classes, as well as holiday workshops. Classes are taught in a working bakery. There are ample opportunities for kids to get their creative juices flowing. Single session classes are offered throughout the year.
Kitchen Time
691 Broadway
Massapequa, NY 11758
516-795-4980
For over 25 years, Kitchen Time offers monthly classes and private classes for children of all ages. Offerings include Halloween inspired cooking, Thanksgiving dinner, and gifts from the kitchen, along with birthday parties. Call to register and for birthday party information.
What's Cooking?
30 East Main Street
Oyster Bay, NY 11771
516-922-2665
What's Cooking offers classes for children 2 to 15 years of age, cooking clubs, birthday parties, and summer camp. Children learn cooking skills, along with recycling and proper etiquette. Each class is ten sessions long.
Elegant Eating
739 Smithtown Bypass
Smithtown, NY 11787
631-360-2211
This is an offsite caterer that offers cooking classes of all types. Among its offerings for children are Celebrate Grandparents Day, Lunch With Your Kids (11–16 years old), and Take Your Kid To Brunch Day (6–12 years old), with menu items like scrambled green eggs and ham, and ants on a log.
A La Carte Culinary Services
32 Atlantic Avenue
Lynbrook, NY 11563
516-599-2922
This cooking school offers classes for high school students, and birthday parties for kids 8 years of age and up.
Cook with Class
For a different twist, Chef Rob offers private, at home cooking lessons for kids ages 5 years and up. Chef Rob is from NYC and arrives with all of the equipment needed for a fun and educational class. He shares helpful hints and food information for parents on his blog, The Delicious Truth. To book a lesson, call 917-704-9056.
OMG! Oh My Girls
140 Jericho Turnpike
Syosset, NY 11791
516-802-5800
This unique health club has girls ages 8–18 years creating meals that are both healthy and delicious. Girls have the opportunity to learn from some of Long Island's top chefs. A do-it-yourself smoothie bar is also available onsite and features natural and organic smoothies. Classes run for 10-weeks, with options like cake decorating and full meal classes.
Sugar and Spice
45 New Hyde Park Road
Garden City, NY 11530
516-488-1008
Classes for children ages 8–13 years range from an introduction to baking sweets, to planning and cooking an entire meal. Classes are 2.5 hours long. 
Photo Credit: What's Cooking?
Updated on 7/29/14