Free Outdoor Movies on Long Island: Family Fun for Summer Nights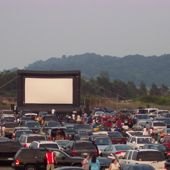 If your kids are anything like mine, they are not falling asleep so easily, despite days of swimming and summer activity. Don't fight it, take charge and take advantage of what your summer parks have to offer. Grab a blanket or some chairs, pack the bug spray and some snacks and head to one of these free outdoor movies. You can create some great family memories, enjoy the sunsets and entertainment, and you never know, the kids might even fall asleep in the car on the way home. Here's our summer 2011 list of outdoor movie screenings at a park near you.
Free Outdoor Movie Screening at Hoyt Farm
Hoyt Farm Nature Preserve
Commack, NY 11725
(631) 543-7804
FREE
As part of their Family Concert Series, the Smithtown Recreation Department will be showing The Wizard of Oz on the big screen in the park for your nostalgic pleasure, and your kid's delight, on Friday, August 5th starting at 8:30 pm. Check their site for a raindate.
The music concert part of the Rec Department's free Family Concert Series features six concerts during July and August, with music styles ranging from a Journey Tribute Band to an eight piece band with a three piece horn section. Additionally, there will be a Friday night "Kids Concert" especially for children in the elementary grades, on Friday, July 8th from 7:30pm-9pm where your kids can rock out to the songs of Didi Maxx.
(This is a Town of Smithtown park for residents of Smithtown only. Non-residents would need to find street parking after 5 p.m. and then walk into the park.)
Movies on the Harbor
Port Jefferson Village Center
101-A E. Broadway, Port Jefferson
413-473-4777
FREE
All movies begin at dusk on the lawn of Harbor Front Park.
Port Jefferson promises an excellent sound system and a large screen for good views. Bring your blanket or lawn chair, pack a picnic dinner, and enjoy the sunset over the harbor just before your movie starts.
July 12-Despicable Me
July 19-Eat, Pray, Love
July 26-Iron Man 2
August 2-Inception
August 9-Tron Legacy
August 16-Tangled
August 23-Secretariat
August 30-Twilight Saga-Eclipse
Movies on the Lawn
This is a moving movie venue, read on for details. All movies are rated PG, and begin at darkness. If the weather is not cooperating, performances will be held inside at Elwood Middle School at 7:30 pm. If the event is at the town's own created 'drive in', bring chairs in case the drive-in lots fill up early. There will be overflow parking with bus service to the beach available. Check the website for up to date info.
More info: 631-351-3112
FREE
'Flipped' will be showing as a drive-in on Wednesday, July 20th at Crab Meadow Beach, off Waterside Ave, Northport.
'Megamind' will be showing on Monday, August 1 at Dix Hills Park, Vanderbilt Parkway, Pool Parking lot, Dix Hills.
'You Again' will be showing as a drive-in on Wednesday, August 24, Crab Meadow Beach, off Waterside Ave, Northport.
Eisenhower Park Lakeside Theatre
Eisenhower Park
East Meadow, NY
near parking fields #6 and #6A
Phone: 516-572-0252
Movies are free and begin at dusk.
Use parking Fields 6 & 6A to park.
516-572-0200
FREE
This summer movie series is open to the public. Films begin at dusk. There is no formal seating at Lakeside Theatre, so you should bring chairs and blankets. If weather looks iffy, call after 7 pm to confirm the showing.
July 14, Megamind
July 21, Despicable Me
July 28, How to Train Your Dragon
August 4, Justin Bieber Never Say Never
August 11, Wizard of Oz
August 18, Green Hornet
August 25, Iron Man 2
September 1, Twilight