Top Ballet Classes And Lessons For Kids On Long Island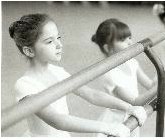 Many families move to Long Island for its wonderful amenities, such as ample backyards, beautiful parks, and great schools. So it shouldn't come as any surprise that many cultural resources for kids exist here too. Looking to enroll a budding dancer in a great ballet class? Long Island is home to several schools, which are founded by professional dancers. These schools offer a variety of excellent programs for children of all ages. Here is a list of the most notable schools. And for more classes on Long Island, check out our After-School Programs, Classes and Activities Guide.
Lynch School of Ballet
237 East Main Street
Huntington, NY 11743
631-470-9711
The Lynch School includes a ballet academy and an open dance program, so it's perfect for serious students, as well as those who are just starting out. Introductory classes for preschool age children teach basic movement while encouraging creativity in young dancers. More experienced students enroll in academy classes at various levels to continue developing their technique. Nutcracker and Swan Lake Camps are offered during the summer months.
Seiskaya Ballet
7 Flowerfield
St. James, NY 11780
631-862-6925
Out East in St. James is Seiskaya Ballet, which offers two programs: one for casual lovers of ballet and another for career-oriented dancers. This is one of the most prestigious programs in the area, which boasts several professional dancers as graduates. Open classes for children of all levels are held every weekday evening at the studio, in addition to Saturday sessions. Academy classes are only available to students who auditioned and are accepted to the program.
The Frank Ohman School of Ballet
60 Calvert Avenue
Commack, NY 11725
631-462-6266
The Frank Ohman School of Ballet is a non-competing and non-recital program, with the exception of its annual Nutcracker performance. For parents who want to see their kids perform on stage at year-end, please keep this in mind. The Frank Ohman School of Ballet is regarded as a training ground for promising professionals. It boasts a large and impressive list of student acceptances into summer training programs across the country. Creative Movement and Introduction to Ballet classes are offered for beginning dancers 4-6 years of age.
The Eglevsky Ballet Company
700 Hicksville Road
Bethpage, NY 11714
516-746-1115
Bethpage is home to The Eglevsky Ballet Company, the only remaining professional ballet company on Long Island. Ballet technique is taught at primary, intermediate, and pre-professional levels. Students enroll throughout the year and are entered into the appropriate level, based on a placement class. A unique feature of this school is the live musical accompaniment for most classes.
Originally published on 9/9/09. Updated on 7/29/14