Turkey Farms on Long Island You Can Visit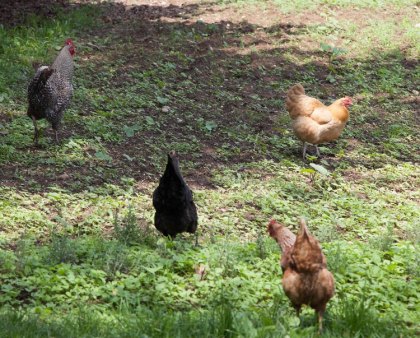 With a shift towards GMO-free, fresh and organic foods, consumers want to know where their products come from and if/how they are processed. Thanksgiving dinner is no exception! Luckily, there are several farms on Long Island where you can visit and select your Thanksgiving bird first-hand. This way, you know you're getting the freshest turkey possible. And for more holiday planning tips and fun, be sure to check out our Long Island Holiday Guide.
Makinajian Poultry Farm
276 Cuba Hill Road, Huntington
631-368-9320
Tucked just north of the Jericho Turnpike in Huntington is this four-acre farm. Ducks, geese and chickens can be seen scampering around the property. Turkey, turkey breast, duck, goose, capon and Cornish hens are all available for Thanksgiving orders. Turkeys are $4.39/lb. The country store sells delicious rotisserie chicken, as well as fresh eggs and select vegetables.
Miloski's Poultry Farm
4418 Middle Country Road, Calverton
631-727-0239
There's no need to call ahead here. Just show up, place an order and while enjoying the nostalgia of an old quaint farm, the turkey will be prepped and packed. How's that for fresh? No pre-orders are taken, but turkeys are available on a first-come, first-served basis. Fresh turkeys are available the Saturday before Thanksgiving. Turkeys are $4.85 per pound. Please call in advance. Cash only. Miloski's also sells other products, such as duck, sausage, bratwurst and buffalo.
North Sea Farms
1060 Noyac Road, Southampton
631-283-0735
In addition to Thanksgiving turkeys, North Sea Farms offers baked goods, seasonal produce and fresh eggs. Stop by in the morning to sample their delicious breakfast treats. Fresh turkeys are available in three size ranges and can be ordered in advance; call ahead to place an order.
Raleigh's Poultry Farm
335 Manitou Trial, Kings Park
631-269-4428
Raleigh's Poultry Farm is a wonderful place to find fantastic turkeys for this year's Thanksgiving meal. Their country store also offers fresh organic vegetables, free-range eggs, an assortment of baked goods and even health remedies. Turkeys are available from 10 to 30 lbs.
Kerber's Farm
309 West Pulaski Road, Huntington
631-423-4400
Founded in the early 1940s as a poultry farm, this farm has been well-known for its yummy baked goods, chickens, eggs, ice cream and fresh produce. After falling into disrepair a new owner gave this farm a fresh look in 2013. This year, fresh, farm-raised, all natural, non GMO and hormone free turkeys are available from 12 to more than 30 pounds Homemade side dishes such as whipped sweet potatoes with marshmallows and butternut squash soup are also available. Regular fruit, gluten-free apple and sugar free peach pies are also sold here.
Main photo: Courtesy of Kerber's Farm
Originally published 11/12/13; updated on 11/3/15