Where to Donate Gently Used Toys on Long Island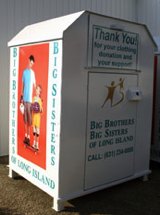 If your kids are anything like mine, their Christmas or Hanukkah wish lists are filled with requests for new toys. And once the holiday comes--and they're happily playing with their gifts--what do you do with all of the old toys that are cluttering up the house, but still in great shape? It's a waste to simply toss them (not to mention bad for the environment), but it seems like fewer and fewer places are accepting gently used toys for safety reasons. But before you put those toys out on the curb, take a look at these Long Island places that will accept pre-owned toys as long as they are clean, undamaged and in working order. Just remember to contact these charities for drop-off locations and to make sure they haven't reached their limit in donations. After all, this is a busy time of year for them. 
And for other seasonal activities, check out our Long Island Holiday Fun Guide.
Little Flower Children's Services of New York
2450 North Wading River Road, Wading River
631-929-5341
 
Harbor Child Day Care
700 Glen Cove Avenue, Glen Head
631-674-8395
 
Big Brothers Big Sisters of Long Island
145 Sycamore Lane, Islandia
631-273-1469
70 Acorn Lane, Levittown
516-731-7880 
Pick up scheduling available
Interfaith Nutritional Network
211 Fulton Avenue, Hempstead
516-486-8506
The Lupus Foundation of America
2255 Centre Avenue, Bellmore
800-850-9000
Pick-up scheduling available
VVA-Vietnam Veterans of America
2 Wilson Boulevard, Central Islip
631-582-0242
Pick-up scheduling available
1225 Franklin Avenue, Garden City
516-512-8922
Sports equipment donations only
128 Pine Aire Drive, Bay Shore
1420 Broadway, Hewlett
516-374-3000
201 West Merrick Road, Freeport
516-379-0900
414 E. Main Street, Patchogue
110 Bellerose Avenue, East Northport
227 Little Neck Road, West Babylon
66 Church Street, Freeport
319 East Main Street, Riverhead
992 Prospect Avenue, Westbury
211 Blue Point Avenue, Blue Point
65 Atlantic Avenue, Hempstead
888-574-2587
Pick-up scheduling available
700 East Patchogue-Yaphank road, Medford, 631-924-3082
7001 West Sunrise Highway, Holbrook, 631-589-4257
1500 Middle Country Road, Centereach, 631-698-0860
1900 East Jericho Turnpike, Huntington 631-462-4219
13 Goodfriend Drive, East Hampton
631-329-4398 
110 Front Street, Greenport
631-477-1290
71 Blydenburg Avenue, Smithtown
631-265-1674
161 Margin Drive East, Shirley
631-395-4853
790 Park Avenue, Huntington
631-427-3700
306 Community Drive, Manhasset
516-562-2572
30 W. Columbia Street, Hempstead
516-564-1523
700 Glen Cove Avenue, Glen Head
516-674-8395

One other tip: Ask your preschool child's school director, local library or church. Often, they are willing to accept used toys and books from someone they know and trust. 
Originally posted on December 16, 2012.