Mother's Day Brunches on Long Island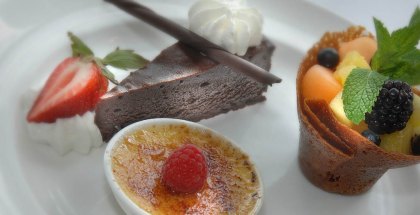 We think it should be a rule that Mom doesn't have to cook on Mother's Day. With that in mind, there are several restaurants and inns on Long Island serving brunch that include separate prices and menus for kids. Some even offer moms free goodies. Be sure to call ahead for reservations since these places tend to book up quickly! And for other family-friendly events happening during the weekend, check out our Long Island Calendar.
Nassau
The Carltun
Eisenhower Park, East Meadow
12pm
Adults $50, children $20
In addition to all of the usual buffet-brunch stations, this elegant brunch offers a fish grill, and a kids' corner with mac and cheese and chicken fingers and French fries. There'a complimentary Bloody Mary, mimosa or glass of wine in it for mom and the rest of the grown-up crew. Pricing may be at the higher end, but the ambience and the food are worth it. Afterwards, walk off the extra calories with a stroll through Eisenhower Park!
Garden City Hotel
 (Polo Steakhouse)
45 7th St., 
Garden City
516-877-9385

Seatings at noon 
and 3pm
$75 per person.
Mother's Day brunch at this restaurant inside the Garden City Hotel celebrates moms in grand style. Includes a deluxe, extended buffet with homemade pastries.
Glen Cove Mansion
200 Dosoris Ln, Glen Cove
516-671-6400
Seatings at 1pm and 4pm
$55, children 4-13 $29, children 4 and under free
The mansion offers a meal inspired by the historic menus of the Gold Coast era, including a complimentary glass of champagne or mimosa. Edible offerings include a salad, shrimp, pasta and carving stations, as well as a hot buffet and pastry desserts.
The Library Cafe
274 Main St., Farmingdale
516-752-7678
10am–3pm
$21.95, children $10.95
The Library Cafe will treat you like a queen this Mother's Day: Each table is assigned a waiter that will serve you without your having to get up for seconds. Some of the food choices on that a day are: buttermilk pancakes, eggs benedict, home fries and a decadent dessert assortment. A regular menu will also be available.
Thyme Restaurant
8 Tower Pl., Roslyn
516-625-2566
10am–2:30pm
$29 adults, $13 for children
Includes complimentary brunch cocktail or juice, fresh-baked scones and sweet rolls, choice of entree and coffee/tea. Children's menu options include Challah French toast, pasta and chicken fingers.
Mill Creek Tavern
275 Bayville Ave., Bayville
516-628-2000
Seatings at 11am and 1:30pm
$32.95, children under 12 $15.95
Enjoy an extensive brunch menu. Coffee, tea, soda, Bloody Marys and mimosas included.
Mitch &Toni's
875 Willis Ave., Albertson
516-741-7940
11:30am-3pm
$24.95, children 12 and under $12.95
Specializing in American cuisine, the Mitch & Toni's Mother's Day brunch is not to be missed.
Novita
860 Franklin Ave., Garden City
516-739-7311
Noon-3pm
$19.95, children under age 12 $9.95
Nutella French toast, banana French toast and pastas are included on this brunch menu. Unlimited mimosas, Blood Marys, screwdrivers, coffee and tea included.
Milleridge Inn
585 N Broadway, Jericho
516-931-2201
Reservations begin at 11am. An all-day brunch buffet and dinner menu served all day (price points between $36.96-$49.95). Brunch is $45.95 for adults, $19.95 children ages 12 and under. Kids under 2 are free. Kid-friendly brunch items include chicken fingers, pigs in a blanket and macaroni and cheese.
Thom Thom
3340 Park Ave., Wantagh
516-221-8022
11:30am and 1:30pm
$29.95, children 6-12 $14.95
Unlimited mimosas or sangria for moms will complement the steak and seafood specialties nicely.
Left Coast Kitchen & Cocktails
1810 Merrick Road, Merrick
516-868-5338
Brunch is served until 1:30pm at this stick-to-your-ribs brunch. Ordering is a la carte.
Suffolk
Vittorio's 
184 Broadway, Amityville
11am-3pm
631-264-3333
This brunch menu includes a raw bar and sandwiches in addition to traditional breakfast items. Ordering is a la carte and drinks are $5 each.
Danfords Inn
Seatings at 11am, 12pm, 2pm, 3pm, 5pm, and 6pm
$48.95, children 4-12 $19.95, children under 4 free
This buffet brunch offers more than 50 gourmet items, including made-to-order omelettes, carving stations, assorted cheeses, fresh fruit, and freshly-made breads and pastries.
Gurney's Inn
12pm-4pm
$34.95, children 12 and under $19.95
Gurney's offers an affordable brunch for moms. This seaside buffet brunch offers an omelette station, a waffle and cheese blintz station, a carving station, a Viennese table, and lots of hot entrees. Moms get a complimentary mimosa.
Land's End
80 Browns River Rd., Sayville
631-589-1888
12pm-4pm
$40, children 6-12 $19, 5 and under $9
Located on the Great South Bay, Lands End hosts a Mother's Day Brunch with an array of seafood, pasta and a carving board with ham, beef and turkey. There is also a cold and hot buffet and an array of homemade desserts. After brunch, be sure to take a stroll around the gardens.
Lombardi's on the Sound
44 Fairway Dr., Port Jefferson
631-473-1441
Seatings begin at 11am
$55, children 3-10 $25, children 2 and under free
A kid's buffet, pasta table, breakfast presentation table, and several traditional Italian dishes and various other delicacies will be served. An unlimited shrimp bar will also be available.
Long Island Aquarium and Exhibition Center
431 E. Main St., Riverhead
631-208-9200 ext. H2O
Seatings at 10:30am and 12:30pm
$36.95, children 3-12 and seniors over 62 $49.95, children 2 and under free
The aquarium is offering a buffet brunch in its Sea Star Ballroom, including carving stations, pastries and desserts. Brunch includes free all-day admission to the Aquarium. 
Windows on the Lake
235 Lake Shore Rd., Lake Ronkonkoma
631-737-0088
10:30am–3:30pm
$49, children 3-12 $24, children 2 and under free
Surrounded by picturesque views of Lake Ronkonkoma, this Mother's Day brunch boasts a smoked salmon display, made-to-order Belgian waffle station, breakfast and lunch selections and an international cheese display. One free bottle of wine with 6 adults, two free bottles with 10 adults.
Mac's Steakhouse
12 Gerard St., Huntington
631-549-5300
$36.95, children $12.95
Two different rooms and impressive brunch menu options. There's an incredible wine list.
Michael's Maidstone
28 Maidstone Park Rd., East Hampton
631-324-0725
10am-3pm
$35, children under 10 $14.95
Mother';s Day brunch served buffet style, including some fantastic desserts.
Molly Malone's
124 Maple Ave., Bay Shore
631-969-2232
Seatings at 10am and 12:30pm
$32.99, children 7-12 $16.99, children 3-6 $10.99
Irish-American cuisine in a friendly setting. Buffet-style brunch will be served until early afternoon.
Shandon Court
115 E. Main St., East Islip
631-581-5678
10:30am-1:30pm
$34.95, children 3-11 $15.95
Enjoy Irish-American cuisine in a family-friendly setting. Staggered seatings to avoid overcrowding.