Best Indoor Play Spaces on Long Island: Suffolk County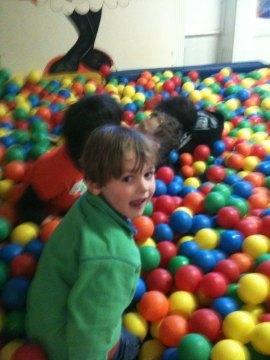 It's too cold or rainy to play outdoors and your exuberant kids are rampaging through the living room. It's time to go out and play! But where? Here are some fun indoor play spaces we've found in Suffolk County (and check out our list of places in Nassau County). Many are also party spaces, so be sure to call them before heading over to be sure they are open for public play. And don't forget your cozy socks—many of these spaces do not allow shoes, even on non-bouncing adults. And also take a look at 5 More Indoor Play Spaces on Long Island.
The Childrens Museum of the East End
376 Bridgehampton/Sag Harbor Tpke., Bridgehampton
631-537-8250
This is a wonderful place for kids to play on a cold winter's day. Entry for kids is via a hollow log. The museum features a number of themed play spaces where children can run a grocery store or an ice-cream parlor, sail a ship, play musical instruments or dress up as firemen and play on a model truck. The museum also features an arts-and-crafts room where there is almost always a project going on that kids can join. There is a special discovery area for small children and a wonderful interactive faux-potato-chip-making machine that is a delight for all ages. Although many of the areas may be best for kids 10 and under, there are certainly areas of interest for adults and older kids as well, making it a great family destination. The temporary exhibit space is currently featuring an exhibit called "Fun to Be Fit," which is designed to encourage wellness and fitness during the winter months. The exhibit includes balancing/climbing pieces, a ball pit and a swing. The museum also offers a wide array of children's programming, performances, special events and classes. It's open Monday and Wednesday through Saturday from 9am to 5pm and on Sunday from 10am to 5pm; it's closed on Tuesday. Admission is $9 per person or $95 for an annual family membership. Some local public libraries have one-day membership cards available for checkout.
Hampton Kids
175 Daniel's Hole Rd., Wainscott
631-537-4614
This is a full-featured indoor and outdoor family fun center for children in the Hamptons. It has bouncers, an arcade, an Xbox room, eight tennis courts, a preschool playroom, an art-and-ceramics room and even a parents' lounge with Wi-Fi. It also features an outdoor skating rink for kids up to age 7, outdoor ball pits, basketball courts, playground, tennis courts and a baseball field. Hampton Kids offers family membership packages or individual nonmember daily rates. One unique feature is a drop-off program where you can leave your kids for 2 ½-hour supervised play sessions while you run an errand, go out to dinner or play a game of tennis on their courts. The play center runs an after-school homework program, and offers a variety of weekend and after-school and preschool classes. It is open Monday through Saturday from 9am to 6pm and on Sundays from 9am to 4pm. Daily rates, which include eight game tokens, for nonmembers are $12 for one child and $5 each additional child on weekdays, and $18 for one child and $9 each additional child on weekends. Memberships and multi-day packages are available as well.
Safari Adventure
1074 Pulaski St., Riverhead
631-727-4386
Safari Adventure is a fun space for younger children to play. Open for play seven days a week from 10am to 7pm with no reservations required, it features a huge four-level gym maze with tunnels, slides, balls and cargo nets, as well as a smaller climbing area for little kids. There are also three big bouncers with slides and a small arcade with about 30 games and a snack bar on the premises. Admission is $12.98 plus tax for children ages 3 to 12, and $8.52 for children 3 and under. Infants and adults are free. Socks are required.
Krazy Kidz [closed]
3235 Horseblock Rd., Medford
Krazy Kidz logo is "Healthy Open Play Everyday." Its mission is to provide children with a fun, safe space where they can get their energy out, develop their gross motor skills and explore their imaginations. The oversized climbing structure will keep children entertained for hours. It features slides, bounce areas, tunnels and cargo nets galore. In addition to the climbing structure, there is also a play area that offers interactive toys for young toddlers and even children who aren't yet walking. An arcade area features a collection of video games and interactive games, such as skee ball and basketball. A cafe serves a large menu, so you and the kids can stay for lunch and dinner. There are also special activities, including teen nights and mommy-and-me Monday's. 
Bounce U
The Bounce U franchise has been popping up all over in recent years, and there are now several on Long Island. Each franchise has slightly different hours, programs and rates, so check out the website for details. Times and days for the open-bounce sessions vary from site to site. Most of the time they are reserved for parties and groups, but they do hold open-bounce sessions usually midweek and evenings. Several locations also have special bounce sessions during school holidays. Reservations are always required and should be made as far in advance as possible, especially for the popular family bounce nights and the cosmic bounce sessions for kids of all ages.
Bounce U Smithtown/Nesconset
Country View Commons
62 Lake Ave. South, Nesconset
631-265-5867
Bounce U Farmingdale
101 Carolyn Blvd., Farmingdale
631-777-5867
Bounce U Oceanside
3495B Lawson Blvd., Oceanside
516-593-5867
Kangaroo Kids Inflatable Party Center
1015 Grand Blvd. (near Tanger Mall), Deer Park
631-871-8762
This indoor bounce party space is open seven days a week and offers two-hour open-bounce-play sessions by appointment for $10 per child ages 2 to 12.
Fun 4 All Indoor Amusement Park
200 Wilson St., Port Jefferson
631-331-9000
This large indoor play space is entertaining for kids from 2 to 10. It has giant twisty slides, tunnels, climbers and bouncers, as well as areas for the littlest kids to play safely. There's even a room themed to look like the moon. Sneakers are required for play except on bouncers, where socks are a must. Parents must supervise all play. The space is open 10am to 8pm every day except major holidays.Admission is $10 per child over age 2 Mondays to Fridays and $13 per child ages 3-13 on weekends and holidays. Admission for children ages 1-2 is $5 on weekdays and $6 on weekends and holidays. Coupons are available online here.  Adults are free. There is a snack bar on the premises. 
Hop N' Bop
975 West Jericho Tpke (Morewood Shopping Plaza), Smithtown
631-265-2695
Hop N' Bop's is a bouncy playground that offers free playtime for children 5 and under most weekdays from 10am to 2pm in two two-hour sessions. Open play for all ages is offered on Friday evenings from 6 to 8pm and often for some portion of Saturdays. The cost is $10 per child. Times do change and parties can alter the schedule, so please check out the online calendar and also give a call before you go. And don't forget your socks!
Bouncers & Slydos
1835 New Highway, Farmingdale

631-752-2324

This bouncy party space features the occasional holiday all-ages open play and daily Toddler Time 
sessions for children under 5 on weekdays from 10am to 12pm and 12pm to 2pm. Cost is $12 per child. Call to reserve a spot for holidays or school vacation days.
Wood Kingdom
The Wood Kingdoms are huge indoor- and outdoor-yard-play- and gardening-structure showrooms with spaces for children to play on the equipment. Each locale also feature rooms with inflatable bouncers, and the two eastern showrooms have laser-tag areas. All three offer open-play sessions, but call the individual locations to determine prices and hours. 
Wood Kingdom West
111 Milbar Blvd., Farmingdale
631-845-3804
Wood Kingdom East (Medford)
3060 Route 112, Medford
 631-451-2200
Wood Kingdom East (Coram)
544 Middle Country Rd., Coram
631-698-0212
 
Imaginations at Play
1859 Lakeland Ave., Ronkonkoma
631-285-2855
Imaginations at Play is a brand new indoor play facility that features everything young and active minds and bodies could desire. The "Village" is divided into separate play spaces, and each one features a different theme, including transportation, art, a cafe, dramatic play, a sandbox that resembles a mini beach and an oversized water table that kids can "fish" in. There is also a gross motor section that includes a huge climbing structure, a bouncer, cars and other toys that children can manipulate. It also have a cafe where you can order lunch and make an entire day out of your visit. Special classes are offered, as well as birthday parties. Open play is every day and operates in three hour sessions. 
Air Trampoline Sports
1850 Lakeland Ave., Ronkonkoma
631-619-6000
This is another brand new indoor play facility located in Ronkonkoma. Air Trampoline Sports offers 16,000 square feet of trampolines. The space is divided into four spaces: A three-lane foam pit, a basketball court, a dodge ball section and a large, open area where kids can just run and bounce. There is also an arcade area, as well as refreshments. If you're interested in hosting a party, there are also private party spaces. 
Photo by Safari Adventure
Now go on--escape the house and have some fun!