Drama Summer Camps for Kids on Long Island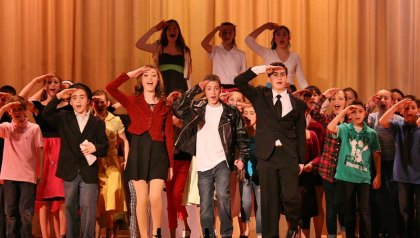 (Photo courtesy From Stage to Screen, Andy Levenberg)
Whether you have a natural ham on your hands, or a kid with a great imagination who feels a little shy, theater is a fun and involving way for kids to build confidence while having fun. Experiences in the performing arts not only builds confidence in children but can also improve verbal skills, which can prove invaluable when it's time for those daunting oral reports required in school. And when it's time for self-promotion on college entrance and job interviews later in life, those with performing-arts experience will certainly have an edge. While your child is having fun performing and building friendships now, they'll be sure to thank you later when they find themselves drawing on the skills they've developed in all kinds of ways. Here on Long Island, we are lucky to have a number of theaters and programs that are hosting classes and camps this summer for children. We've created a list of classes for you and your budding thespian here. '
And be sure to check out our Long Island Summer Camps Guide for more camps in the area.
Usdan Center for the Creative and Performing Arts
185 Colonial Springs Rd., Wheatley Heights
631-643-7900
Kindergarten–grade 12
3-week session: $2,310 plus transportation and fees; 4-week session: $2,925 plus transportation and fees; 7-week session: $3,425–$3,925 plus transportation and fees
Usdan has been around since 1968 and its reputation as a preeminent nonprofit arts spot looms large, with alumni like Mariah Carey and Natalie Portman. Campers age 6 to 18 choose a major and a minor from more than 40 disciplines including theater, dance, music, and more, and there's swimming every day. While Usdan attracts many kids who are seriously talented and super-disciplined, there are plenty of campers who are there to learn and have fun.
Huntington Center for Performing Arts
310 New York Avenue, Huntington
631-271-4626
Young Artists Camp
Ages 3-8 years
2-week sessions Monday–Thursday in July and August
$375/session
$200/session for 2 days a week--3- and 4-year-olds only
We tried a session last summer here and ended up staying for the whole summer. The camp is a mix of Suzuki rhythms and dances, along with theater arts, arts and crafts, and more. Very young children learn to tap out rhythms with their feet and by strumming a makeshift violin out of a tissue box and paint stirrer.  On the last day of each session, adults were invited to see a performance. Participants made their own masks and costumes and performed songs from The Lion King. 
Westhampton Performing Arts Center
76 Main Street, Westhampton Beach
631-288-2350
Programs for ages 5-18 culminating in a public performance. Teens ages 12-18 can join the Teen Theatre Troupe and have the opportunity to perform in a full-length play. Classes meet Mondays, Wednesdays, and Thursdays from 5 to 8PM June 24th–August 12th and the cost for the session, including the final performance is $700. Ages 5-11 can participate in weekly sessions of the performing-arts camp. Parts are cast on Day One and culminate with a performance alongside professional actors and dancers. Times and pricing vary according to age and session but range from $340/week to $400/week and include costumes. Performances vary by week and include Cinderella, Snow White, Rapunzel, The Princess and the Pea, Camp Broadway, Pinocchio and The Wizard of Oz.
Smithtown Performing Arts Council
2 East Main Street, Smithtown
Ages 7-18
9AM-3PM Monday through Friday
Session I July 8-26th Session II August 5th-August 23rd
Non-members $940/session  Members $845/session
This is an intensive theater camp. Auditions, elocution, and acting instruction are provided in a low-stress environment. At the end of the end of the three-week session students will participate in a final showcase. Parts for the showcase are chosen based on students participation in classes. 
Sid Jacobson JCC 
300 Forest Dr., East Hills
516-484-1545
Ages 7-16
Monday August 19-Friday August 23rd
9:30AM-5:30PM
Non-Members $770, members $695
Workshops during the week include musical theater, acting, dance, voice, improv, and more. Each are intended to increase creativity expand the imagination and allow students to gain confidence in a supportive environment.
Future Stars Drama Camp at Old Westbury
914-273-8500
July 8-12th choose one or two 2-week sessions
9AM-4PM
Call for pricing information
Future stars has been offering several different camp options at the Old Westbury campus and this summer they've decided to add drama camp to this list. A typical day at this camp will involve drama and performance instruction followed by role play and improvisation games, swimming and field play and a performance at the end of the day. 
Hofstra University
900 Fulton Ave, Hempstead

Grades 2–9
July 1– August 9th split into three 2-week sessions
9AM – 4PM with extended hours options
Musical theater camp provides a half day of drama workshops and a half day of recreational sports and swimming instruction. Grades 2-5 can participate in the morning sessions which include voice and improv activities and a culminating performance open to parents, friends and relatives. Campers will be highlighted in solo and/or group activities.  Grades 6-9 must join at least the last two sessions or all three so that they will be ready for a special performance on Thursday August 8th. You can find more information by calling them at (516) 463-6114. There will be a camp OPEN HOUSE on Saturday, April 7th 12:00 – 2:00 PM. Costs of all programs include door-to-door transportation from most of Nassau and from several pick-up spots in Suffolk, Queens, and Manhattan.
BroadHollow Theatre Company
BayWay Arts Center
265 East Main Street, East Islip
631-581-2700
Ages 4-15 years
Choose one or two 4-week sessions. Seven- to 15-year-olds meet for a full day of instruction, 9AM-3PM Monday, Wednesday, and Friday.
Dream Makers
2032 East Jericho Turnpike, East Northport
631-742-1164
Dream Makers's motto is "If you're not having fun, then we're not doing it right!" With this philosophy firmly in place, it offers acting, singing, comedy writing, TV and film production, as well as photography classes. I was told that it will be offering a summer camp for ages three and up, but at the time of publication no information was available. Please call  directly for details. 
From Stage to Screen
589 West Jericho Tpke., Huntington
631-423-4440
July 1–July 27th
Ages 8–18
$1575, includes a trip to NYC to see a Broadway matinee on Wednesday, July 17th; $1425 without NYC trip
This camp is a four-week intensive. At the end of the four weeks, participants will perform a musical on Friday and Saturday evening, July 26th and 27th. 
John Engeman Theater of Northport
250 Main Street, Northport
631-261-2900
ages 3-adult
This camp provides three-week sessions beginning the end of June. Camp meets on Monday Wednesday and Fridays. Choose between the full-day option 9–3PM for $975, or the half-day option 9–12PM for $675. Each session culminates with a theater production. Dates and shows are as follows:
Session I June 24th-July 12th performance: Once on This Island
Session II July 15th-August 2nd performance: 101 Dalmations
Session III August 5th-August 23rd performance: Fame
Take One Performing Arts
1021 Portion Road, Ronkonkoma
631-569-2148
Take One offers classes for children ages 18 months to 10 years. It is offering a summer camp, but details were not available at time of publishing, so  call for more information.