Inexpensive Date Night Childcare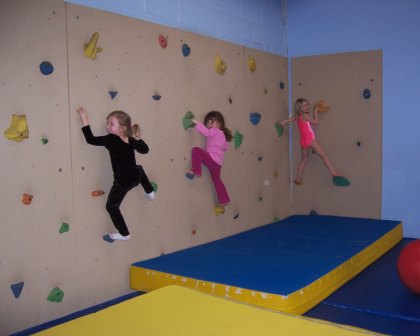 Finding affordable and reliable childcare can be an enormous challenge, but there are many options around Long Island.  Below are several well-known locations that offer drop-off options, so that your child can enjoy "date night" as much as you do!  School districts or libraries sometimes also offer these services, so be sure to look there as well.
Flips Gymnastics
Smithtown
631-863-3547
Time: Every Friday in December, but generally it is one or two Fridays a month, so call ahead.  7–10pm.
Price: $35 for members and $40 for non-members
Ages: 3 and up
Kids can enjoy the various mats and soft areas to practice their tumbling skills, or climb the rock wall, or jump on the trampoline. Flips also has the baking coach come and make a snack with the children. They will surely sleep well after an evening at Flips.
Give It Your All Sports
Ronkonkoma
631-676-4412
Time: Every Friday, 7:30-9:30
Price: $10 per child
Age: 6 and up
Although the event is called "dodgeball night," children can enjoy lots of different sports, while parents escape for an evening out.  Snacks are available for purchase.
Gymboree
St. James and East Northport
631-979-2881 and 631-368-2059
Time: First Friday of the month (St. James) and third Friday of the month (East Northport), 6–9pm
Ages: For children 5 months-6 years
Price: $30 for members, $35 for non-members, + $5 for each additional child
Children will enjoy games, crafts, snack and a movie. PJs are also welcome.
Hop N Bop
Smithtown
631-265-2695
Time: Every Friday 6-8pm
Ages: 6 and up
Price: $10 per child
This Friday night open play session is an opportunity for kids to bounce around, as well as play some organized games with staff members.  You may send in a snack for your child to enjoy.
The Little Gym
Levittown and Smithtown
516-520-4455, 631-360-7777
Time: Select Fridays and Saturdays Next offering in Levittown: December 8 at 5:30; Smithtown: December 7 and December 21 at 6pm
Price:  $40 for members, $45 for nonmembers, and there is a 20% discount for siblings of both members and nonmembers.  It is $30 for members and $36 for nonmembers in Smithtown.
Ages: 3 (potty-trained) to 12
For this "Parents' Survivial Night," kids will play gymnastics and sports related games. The gym has mats, a high balance beam, a low balance beam, uneven bars, parallel bars of different sizes and a junior bar. They usually bring out a parachute and AirTrak, which the Little Gym uses instead of a trampoline. They have bean bags, scarves, and Slo-Mo balls, too. After about an hour, the kids take a break in the party room for a snack of pizza and juice and a craft that is related to the theme of the evening. Then, they return to the gym for more fun and games. Reservations required. While you are making a reservation, be sure to ask about local restaurant discounts on the same evening
Tumbling Tunes
East Northport
631-697-0140
Time: Every Friday night and the first Saturday of the month, 6:30–9:30pm
Price: $10/hr for 1 child, $15/hr for 2 children, $18/hr for 3 children
Ages: Ages: 6 months -7 years
At "Parents' Night Out," kids can play in their craft area, pretend play space, book nook, baby corner, gymnastics area and music area. Parents may bring a snack, but no food is available or eaten in the play area. The venue offers a ratio of four kids to one adult. It also boasts a list of local restaurants that offer a discount of 10–20% for parents utilizing "Parent's Night Out."