Long Island Kids' Activities December 1 and 2: Christmas at Hallockville, Cinderella's Christmas, & Monkey Monkey Music Concert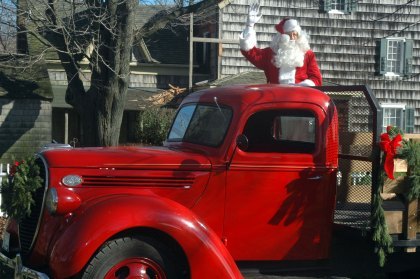 Holiday Winterfest in the Village with Tree and Menorah Lighting
Westhampton Beach Village
10:30am
Starting at 10:30 in the Hampton Arts Twin Cinema enjoy holiday movies for kids. Then, beginning at noon, enjoy a horse and buggy ride down Main Street. Come discover the year-round shops and restaurants as they host kids activity craft stations, holiday treat stations, and holiday discounts, while visiting with Santa in the Gazebo, storytime with Mrs. Claus in the WHB Library, and giveaways with local radio stations broadcasting live. The Christmas Tree and Menorah Lighting begins at 5:30 pm. Rain Date Saturday, December 8, 2012
Montauk Point Lighthouse Holiday Lights
Montauk Point Lighthouse
4:30pm
Free
The house will light up at 4:30pm and will remain lit until January 1, 2013.
Lots going on this weekend. There are a couple of concerts: Monkey Monkey Music is putting on a free concert at Buckley Day Camp, and there's a free Christmas concert at the Oyster Bay High School Performing Arts Center; there's a gingerbread competition at West Islip Library; Hallockville Farm is celebrating Christmas; and Cinderella's Christmas is playing at the NYCB Theatre at Westbury. Check our events calendar for more great activities and our guide to tree lightings for more holiday fun.
Saturday
ArtVentures -- Winter Wonders
Gallery North
Setauket
10:00am - 12:00pm
$50        
ArtVentures is back with a brand new teacher! Jerri Castillo, a Long Island native, is a multimedia visual artist and educator. She brings a fresh perspective and many fun ideas to engage her students in the arts. December 1st: Students will design a patterned felt pillow of a penguin or snowman and learn about the artist Takashi Murakami.
Free Family Concert
Buckley Day Camp
Roslyn
10:30am - 11:30am
Free      
Buckley Day Camp Presents: FREE concert by Monkey Monkey Music. Please RSVP for tickets to 516-365-7760. This concert is geared toward children ages 1-5 and is a family event, all are welcome to attend.
2nd Annual Gingerbread Competition - Sagtikos Manor Historical Society
West Islip Public Library
11:00am - 4:00pm
Free      
Sagtikos Manor Historical Society's is hosting its 2nd Annual Gingerbread Competition. Enter the competition and create the most interesting gingerbread house. Prizes will be awarded to winners in two age categories: children 8 - 16 and adults 17 and up. All winning houses will be displayed during Christmas at Sagtikos Manor December 8 & 9. Everything on the house must be edible. Judging will be by the public, "People's Choice," 11 am - 4 pm at the West Islip Public Library. All entries must be presented on a wooden base no larger than 16" X 20" and set up no later than 10:30 am. The competition is free, but you must send in your registration by 11/28. Download and print from our website: sagtikosmanor.com/events.html or call 631-321-6809 or e-mail phyllis@sagtikosmanor.com.
Holiday Winterfest in the Village with Tree and Menorah Lighting
Westhampton Beach Village
10:30am
Starting at 10:30 in the Hampton Arts Twin Cinema enjoy holiday movies for kids. Then, beginning at noon, enjoy a horse and buggy ride down Main Street. Come discover the year-round shops and restaurants as they host kids activity craft stations, holiday treat stations, and holiday discounts, while visiting with Santa in the Gazebo, storytime with Mrs. Claus in the WHB Library, and giveaways with local radio stations broadcasting live. The Christmas Tree and Menorah Lighting begins at 5:30 pm. Rain Date Saturday, December 8, 2012
Montauk Point Lighthouse Holiday Lights
Montauk Point Lighthouse
4:30pm
Free
The house will light up at 4:30pm and will remain lit until January 1, 2013.
Sunday
Christmas at Hallockville
Hallockville Museum Farm
Riverhead
12:00pm to 3:30pm
adults $8, children aged 6-12 $4, under 5 free, Family pass $18   
Experience a special time of year in a special place, complete with a visitor from the North Pole! Experience the sights, sounds and tastes of Christmases past in the Hallock Homestead, decorated in the Victorian style, and celebrate a 1930s Polish-Immigrant Christmas in the Cichanowicz Farmhouse. There will be Christmas greens for sale from local farmers and a Bake Shop and Cafe with all sorts of yummy goodies. Miss Ella's Gift Shop will have a wide selection of gifts for everyone on your list. Enjoy live caroling and holiday music, antique toy displays. Interactive crafts and baking for kids. Admission includes hot cider or cocoa and a mince tart or babka. 
Cinderella's Christmas
NYCB Theatre at Westbury
12pm
$11.50-$16.50   
Christmas is coming…the washing and waxing and scrubbing are done, but Cinderella's ball gown is ruined and her stepmother and stepsisters have already left for the ball! Will the fairy godmother arrive in time to get Cinderella to the Christmas Ball?
The mice seem to think so.
11th Annual HPS Network Christmas Concert
Oyster Bay High School Performing Arts Center
2pm
Free      
Now in its 11th year, the show will feature traditional Christmas carols, original Christmas music as well as modern Christmas classics. The band performing is known as J and is led by the brother and sister duo of vocalist/acoustic guitarist John DiGennaro and vocalist JoAnn Criblez. Admission is free and donations will be accepted for the HPS Network.
33rd Annual Holiday Festival
Stony Brook Village Center
1:00pm - 6:00pm
Featuring holiday windows, live music, the Promenade of Trees, a model train display, petting zoo, "Goat on a Boat" puppet shows, special performance of "Not Forgotten: Voices of Stony Brook's Past," a visit by SANTA . . . and much more!