Long Island Kids' Activities December 15 and 16: "Shrek the Musical," Breakfast with Santa, and "If You Really Love Polar Bears"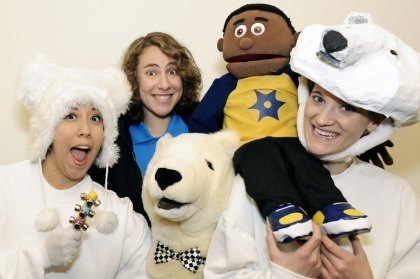 This weekend we got your holiday celebrations still going strong, as well as some secular fun. Shrek the Musical is playing at LIU Tilles Center in Greenvale, there's an adorable production at the Nassau County Museum of Art called "If You Really Love Polar Bears," kids can have breakfast with Santa at Cupcake Corner in Garden City, and of course, it wouldn't be the holidays without a production of The Nutcracker, by the Lynch Ballet Company at the Huntington High School auditorium.
Saturday
If You Really Love Polar Bears.....
Nassau County Museum of Art
Roslyn Harbor
11:30am, 2pm
Adult admission is $15 (members, $5), $5 for children; includes museum admission         
Meet Patchy…a little boy who is obsessed with polar bears! His daily routine is filled with activities that celebrate his favorite ice bear…but at what cost? Did you know that we can affect animals' habitats? While traveling on a magical journey into the past, present and future, Patchy learns firsthand how much of an impact he has on the planet. This interactive story is told through music, puppetry and physical comedy! Register at nassaumuseum.org/events. Weekends only there is a $2 parking fee (members, free).
Breakfast with Santa
The Cupcake Corner
Garden City
10:00am - 11:30am
$19.95  
Enjoy a continental breakfast of freshly baked goods, fresh fruit, yogurt, gourmet coffees and teas, while the children also make holiday crafts and take pictures with Santa. Reservations and prepayment required. Assigned seating - parties of less than 8 people will share a table.
ArtVentures -- Winter Wonders
Gallery North
Setauket
10:00am - 12:00pm
$50        
ArtVentures is back with a brand new teacher! Jerri Castillo, a Long Island native, is a multimedia visual artist and educator. She brings a fresh perspective and many fun ideas to engage her students in the arts. Students will design and create a 3-D winter scene inspired by the current exhibition in the gallery, "Deck the Halls: Original Art for Holiday Giving."
Sunday
Shrek the Musical
LIU Tilles Center for the Performing Arts
Greenvale
3:00pm
$50-$85               
A musical based on the Oscar-winning Dreamworks film, and featuring a terrific score of 19 all-new songs, big laughs, great dancing and breathtaking scenery.
ArtVentures--Holiday Crafts
Gallery North
Setauket
11:00am - 1:00pm
$60        
We have a guest teacher coming in to share some fun holiday crafts with our favorite young students! Sara Reinstein majored in art education at New Paltz and has lots of experience teaching art to kids. She is looking forward to sharing her love of holiday crafts with her students.  Students will create magical toys through their own imagination! They will use fabrics, buttons, and stuffing to invent their own new favorite toy or a gift for a friend or sibling!
Saturday and Sunday
Lynch Ballet Company's 4th Annual Nutcracker Production
Huntington High School Auditorium
December 15, 2012 at 2:00PM and 6:00PM; and Sunday, December 16, 2012 at 12:00 PM and 4:00PM
$25 Adults, $15 Children               
The renowned Lynch Ballet Company of Huntington, NY, presents its spectacular fourth annual Nutcracker production. The 2012 Lynch Ballet Company production promises to dazzle audiences young and old with its gifted dancers, timeless tale and beautiful costumes.