Long Island Sports Camps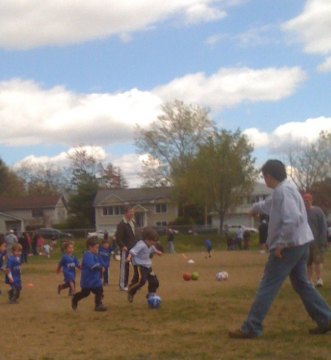 There are lots of summer camp options on Long Island and choosing among them might be dizzying. But if you have a budding athlete on your hands or one who is trying to improve their skills, you might want to consider a sports camp. We have rounded up a few choices for you to look into. In addition to the camps listed below, check out your local YMCA and your community center or township office for programs offered at very reasonable prices. And be sure to check out our Long Island Summer Camps Guide for more camps in the area.
LONG ISLAND PREMIERE SUMMER CAMPS (LIPSC)
44 Hastings Drive
Stony Brook, NY 11790
631-871-1765, sweem@optonline.net
Whether your kid is looking to swim better, faster, farther or a combination of all three, the coaches and staff at LIPSC can help. "Just Swim" gives kids a sense of excitement about swimming and a renewed sense of commitment to their training goals. 
Full-day: $300; half-day: $195
June 30–July 3 9am-3pm or 9am-12pm
August 11–August 14 9am-3pm or 9am-12pm
CENTER ISLAND SPORTS CAMPS & LONG ISLAND BASEBALL ACADEMY
101 Union Avenue
Ronkonkoma, NY 11779
631-366-4540
Your child has the option of the Sports Recreation Camp, which will expose him or her to a variety of sports and lots of activities with an emphasis on fun and exercise; or the Baseball Camp, which will focus on the fundamenals of the sport, including hitting, fielding, and pitching. Summer camps are located not only in the indoor Ronkonkoma facility but at locations throughout Suffolk County.
SPORTIME
1-888-NYTENNIS
Sportime offers a variety of multisport camp programs as well as Elite camps in tennis, volleyball, and roller hockey. It has locations across the Island, including Amagansett, Bethpage, Quogue, Roslyn, Kings Park, Massapequa, Syosset, Lynbrook, and East Hampton. 
ALL PRO SPORTS ACADEMY
990 Station Road
Bellport, NY 11713
631-286-5144
This baseball camp offers a low player-to-coach ratio with a professional staff, including former professional baseball player Paul Gibson, formerly of the New York Mets and New York Yankees, as well as former major leaguers John Habyan, Joe Valentine, and Neal Heaton. Locations include Yaphank, Bayport-Bluepoint, Hampton Bays, Sag Harbor, West Islip, Moriches, Mattituck, Montauk, and Mount Sinai.
FUTURE STARS
For more than 30 years Future Stars has been providing Long Island families with outstanding specialty day camp programs, offering baseball, basketball, diving, field hockey, football, golf, lacrosse, multisport, soccer, softball, swim, tennis, and volleyball camps. All participants benefit from concentrated drilling, instruction, and competitive play.  Future Stars encourages everyone to play with confidence, enthusiasm and a love of the game.
HOFSTRA UNIVERSITY SPORTS ACADEMY CAMPS
Hofstra camps offer a multitude of sports activities for your children. The sports academy camps are for the athlete who wishes to be immersed in their chosen sport for the full camp day. Kids are trained by division-one college coaching staff in the state-of-the-art David S. Mack Sports Complex, the University Field, Hofstra Recreation Center and the James M. Shuart Stadium/Howdy Meyers Pavilion. These programs are open for campers from grades 3-12.
Session 1: June 30 -  July 11
Session 2: July 14 - 25
Session 3: July 28 - August 8
Session 4: August 11 - 15
LONG ISLAND SPORTS ACADEMY
631-665-CAMP
This is the official sports camp of the Long Island Ducks professional baseball camp. The Academy provides children the opportunity to learn sports skills from an expert staff in a fun and nurturing environment. It offers youth baseball clinics for boys and girls ages 5-13 who are instructed exclusively by the professional coaches and players of the Long Island Ducks. It also offers softball camps and Baseball Tots, which teaches the basic motor skills related to baseball to your little ones. All instructors are physical-education teachers and are certified in CPR/AED/First Aid. There is also a guest appearance by the Long Island Ducks mascot, Quacker Jack. 
Locations are as follows: T
own of Babylon, Phelps Lane Complex
Town of Islip, Locust Ave. Complex
Town Hall West 40, Main Street
Little League of the Islip's Complex
Sayville Little League Complex
WINNERS EDGE SPORTS TRAINING
631-367-9378
Winner's Edge offers full- and half-day outdoor camps in Nassau and Suffolk counties as well as in its indoor facility in Huntington Station. Sports include baseball, soccer, softball, dodge ball, and lacrosse. 
Updated March 7, 2014