Volunteer Opportunities for Martin Luther King Day on Long Island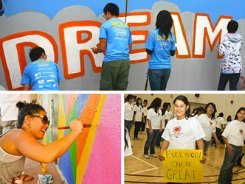 In 1994, Congress declared Dr. Martin Luther King Jr. Day a National Day of Service. It's a way to honor Dr. King's legacy not just by learning about all he did for our country, but by doing some good as well. We have also included a few service projects that are specifically focused on Dr. King, but since service projects abound all year-long be sure to check out our guide on getting kids involved in community service. You may also want to check in with your local church, synagogue or mosque, as many are looking for volunteers to assist with their soup kitchens. We hope no matter what you do, you take at least a moment to honor the magnificent legacy of Dr. Martin Luther King Jr. If you have another service project, feel free to use the comment page to spread the word. 
And you can also take a look at the many celebrations on Long Island to celebrate this holiday.
Long Island Volunteer Center
58 Hilton Avenue
Hempstead, NY 11550
516-564-5482
The Long Island Volunteer Center has a complete listing of organizations needing assistance all over Long Island from pet centers to the Long Island Children's museum. Take a look, you're bound to find something nearby for you and your family. 
United Way of Long Island
Children between the ages of 7 and 14 can volunteer for the United Way's collaboration with Long Island Care's Harry Chapin Food Bank: Students United Against Hunger. Children will not only help sort food and supplies that are delivered to Long Island Care's network of 560 community-based member agencies, they will also go through exercises that give each of them an opportunity to face the many challenges involved in being a person who suffers from hunger. For more information, contact Donna DeRiggi, 631-940-3700, dderiggi@unitedwayli.org.
Long Island Cares
You can also contact Long Island Cares directly for volunteer opportunities and donations. The organization is holding a food drive to help those still suffering from Superstorm Sandy.
The Ronald McDonald House of Long Island
The Ronald McDonald House of Long Island was organized with the intent to provide comfort and shelter to families of children who are ill and receiving treatment at hospitals and care facilities across Long Island. Considered a "home away from home," this organization offers families a place to call home while their children are receiving the treatment that they need.
Volunteers are at the root of this organization and children are welcome to offer their services. Their Little Hands Helping Little Hands was specifically designed for children between the ages of 6 and 16 to volunteer their time and offer help to those who are utilizing the services of The House. School groups and organizations come to the facility to bake treats for families who are staying here. This program fosters the importance of helping others at an early age in a hands-on way. To learn more, contact Betti McClellan at 516-775-5683 X 131 or at bmcclellan@rmhlongisland.org.
If you cannot donate any of your time, then how about giving some old blankets, newspapers or a new box of dog bones away to an animal shelter?  A donation in any denomination is also welcome. Call any of the following to see when you can drop items off:
North Shore Animal League, Port Washington, 516-883-7575
Last Hope Animal Shelter, Huntington 631-425-1884
Save-a-Pet, Port Jefferson, 631-473-6333
North Hempstead Animal Shelter, Port Washington, 516-785-5220
Kent Animal Shelter, Calverton, 631-727-5731
Town of Islip Animal Shelter, Bay Shore, 631-224-5660
These are just a few organizations that will gladly accept your time, energy and a gesture of kindness, no matter how small--and will instill the real meaning of this season of giving thanks to your children.  
Originally posted on January 15, 2013.