20 Great Mini Golf Courses On Long Island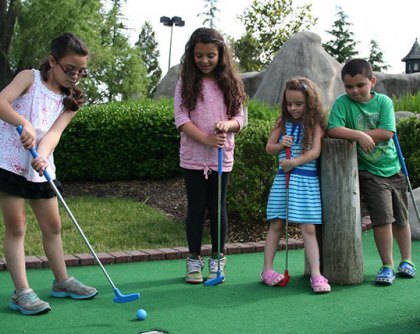 Miniature golf is one of those perfect outings that the entire family can enjoy. And mini golf on Long Island is not like any other typical game of golf, as our picturesque locations alone are worth the trip. Some miniature golf venues are part of larger amusement parks, which offer water slides and other kid-friendly fun. And for more seasonal fun, be sure to check out our Summer Fun Guide.
Skydrive Golf Center
1024 Broadhollow Road, Farmingdale
631-694-4666
This is a year round golfing center that offers 72 heated golfing stations, mini golf, and junior clinics. There are 18 holes of golfing enjoyment at the miniature golf station, which features a jungle theme. For those who want to play golf later in the evening, Skydrive Golf Center features lit golf stations.
Crow's Nest Mini Golf
741 S. Ocean Avenue, Freeport
516-223-0497
With more than 18 holes and a fun pirate-themed setting, Crow's Nest Mini Golf turns miniature golf into an adventure. This venue features several animated mini golf stations, and is part of Freeport's Nautical Mile. Where there, stroll the esplanade and go on the scenic pier for great views.
Harbor Links Miniature Golf Course
1 Fairway Drive, Port Washington
516-767-4816
The miniature golf course features 18 holes and is surrounded by beautiful sights, such as a tranquil waterfall, a huge water mill, and many varieties of plants and flowers. All of this turns the miniature golfing experience into a serene getaway. The golf course also offers lighting at night, which allows for playing until the sun goes down.
Puff 'N' Putt
659 Montauk Highway, Montauk
631-668-4473
This mini golf course is on the waterfront of Fort Pond, a 300-acre freshwater pond right in Montauk Village. The golf course features fiberglass creatures from pirates to roaring lions, which one must putt past, and a variety of fun and tricky challenges. Rentals of kayaks, sailboats, and paddle boats are available for exploring the lake or for taking lessons on how to use them. There is also a small arcade onsite.
The Whale's Tale
3 Ram Island Road, Shelter Island
631-749-1839
The Whale's Tale has a moderately tricky course that winds around three small water features, over little wooden bridges, and past jolly fiberglass figures of mermaids, turtles, and a water-spouting whale. Inside, there is a Hershey's ice cream parlor that offers savory snacks, along with a small arcade. There is a patio out front with small quarter-driven ride-on vehicles and shaded picnic tables. There's also WiFi for the adults, who can sit and enjoy themselves while the rest of their party plays golf. 
Tick Tock Miniature Golf
Route 25, Greenport
631-477-1334
For over 50 years, this mini golf course is a local favorite. The course is flat and small, and there are no elaborate waterfalls or caves, but it is charming nonetheless. Each hole features a tiny building to putt through. A favorite is putting the ball through the little schoolhouse, but there is also a lighthouse, a church, and a candy cane house. After the golf game, relax with some frozen custard or a hamburger and fries from the retro snack stand.
Monster Mini Golf
410 Commack Road, Deer Park
631-940-8900
Monster Mini Golf is just what it says, a gigantic, indoor mini golf course filled to the brim with fluorescent monsters, aliens, and evil clowns. Not recommended for small kids who are frightened by the theme and occasional scary noises. There are also a few animated props. On rainy summer days, there is a bit of a wait in the arcade section. But at least the claw machines here are the play-till-you-win variety.
Country Fair Park
3351 Route 112, Medford
631-732-0579
Tiny houses, bridges, and waterways make this course visually charming. There are two 18-hole courses that are quite similar to each other. There is not a great deal of variety in the landscape around each hole. The park also has the ubiquitous go karts, laser tag, and a batting cage.
Boomers
655 Long Island Avenue, Medford
631-475-1771
The crazy windmills and water features on this course are particular favorites. Boomers is another complete adventure park with go karts, bumper boats, rides, and an arcade.
Tiki Action Park
1878 Middle Country Road, Centereach
631-471-1267
Formerly Castle Mini Golf, Tiki Action Park has a tropical Hawaiian theme with waterfalls, caves, and meandering streams. Tiki Action Park is not heavy on fantasy elements, such as spear-wielding talking tiki heads, dinosaurs, or exploding volcanoes. The park also has go karts, a challenging laser maze, and an indoor arcade.
Cantiague Park
1 West John Street, Hicksville
516-571-7056
This course features some fun holes, including a challenging 5-foot putt into a coral reef. The park also has water slides.
Eisenhower Park
Merrick and Stewart Avenues, East Meadow
516-572-0327
There are two mini golf courses in the park. The mountainside course climbs up to the top of a waterfall and is the most challenging. The overlook course is also lovely. Neither offers any real tricks or unusual obstacles, but are pretty and moderately challenging. There are two gazebos, plenty of picnic tables and a playground nearby.
Jones Beach
1 Ocean Parkway, Wantagh
516-785-1600
The holes on this course are all named after state parks. It is a small, old-fashioned course with no dramatic themes, but it has some lovely views of the ocean. 
Bayville Adventure Park
8 Bayville Avenue, Bayville
516-624-7433
The golf game is a treasure hunt on a pirate-infested isle. Each hole has a different pirate scene, and many of the pirates talk, moan or sing. There is a full-scale replica sunken ship with a pirate crew, and a cave with a skeletal pirate that is very dark. There's also a cave beneath a waterfall where unhappy souls are imprisoned and tortured. The course is in a small beach side adventure park that also has a rope bridge climbing course, a small bumper boat pond, an arcade, an ice cream shop, and a haunted maze. Expect long lines in the summer.
Five Towns Mini Golf
570 Rockaway Turnpike, Lawrence
516-239-1743
The facility includes an arcade, target paintball, a batting cage and a Wiffle Ball cage. It's a little rundown and right off the turnpike, so not exactly a scenic destination, but it's a fun family outing.
Bethpage Mini Golf
130 Hicksville Road, Bethpage
516-731-2020
This beautiful 18 hole mini golf course can be enjoyed day or night. Baseball fans might also want to hit up the batting cages.
Sayville Falls Miniature Gold
30 Hanson Place, Sayville
631-218-6952
This 18-hole course features a hole in which you play through a double-sided waterfall and multiple holes that are surrounded by water, as well as an aquatic life viewing platform.
Heartland Golf Park
1 Executive Drive, Edgewood
631-352-2595
The miniature golf mountain boasts a complete 18 hole course with many challenging holes for all ages. Birthday Parties and group outings are always welcome. 
Bay Shore Mini Golf
500 East Main Street, Bayshore
631-665-2400
Long Island's largest mini golf park boasts three different courses (two 18 hole courses and one nine hole course), as well as new waterfalls, greens and obstacles.
Station Sports
25 Depot Road, Huntington Station
631-673-1830
This mini golf locale has water features and a theme course that is challenging, yet fun.
Originally published on 8/21/12; Updated on 8/25/15