Pick Your Own at Long Island's Fruit and Vegetable Farms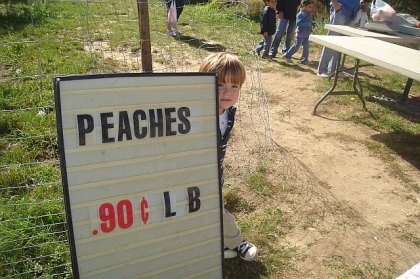 We recently brought you a round-up of Long Island Farmers' Markets sure to inspire even the pickiest eater to eat a crisp, fresh market veggie. The next stop on your kid's nutritious, culinary adventure is a visit to the actual farms where many of the fruits and veggies sold at the markets are grown. Many of these farms offer families the opportunity to "pick-your-own" fruits and vegetables which is yet another great way to inspire your kids to appreciate the delicious and nutritious fruits and veggies grown right here on Long Island.
We've rounded up farms that not only allow kids to dig in and get their hands dirty, but also provide fun activities on-site. Visiting farms is a great activity from late spring when strawberries are plentiful till pumpkin picking season in late October. It is very important to call locations that offer "pick-your-own" before visiting because weather and crop availability may cause regular "pick-your-own" days to be canceled. So pack some extra baby wipes for little fingers and mouths that are sure to get sticky from picking and tasting delicious fruits and be sure to leave the kids' "Sunday best" at home and get them dressed in some serious play clothes that can withstand some harvesting on the farm!   
Windy Acres
3810 Middle Country Rd., Calverton
631-727-4554
My family always stops at Windy Acres Farm stand first on our trips to the North Fork farms. Windy Acres offers wooden boats, houses and tractors for the kids to exercise both their bodies and their imaginations as well as large wooden "photo-op" boards for them to insert their little faces. Roasted corn is available when in season and mazes and pony rides are offered on weekends in the fall. Farm stand offers pies made on premises as well as fresh eggs, produce, hanging baskets and more.
Lewin Farms
812 Sound Ave., Calverton
Wednesday–Monday 9am–4:30pm
631-929-4327
 Lewin Farms offers families many opportunities to pick-your-own fresh fruits and vegetables. From strawberries in late May and peaches in July to apples in September, Lewin Farms will keep your fruit bowl full of healthy and delicious treats picked by your kids! Stop by the huge farm stand to restock the fridge with some fresh produce and if you hit Lewin Farms on the weekend, indulge in a buttery ear of roasted corn.
May's Farm
6361 Rte. 25a Wading River
Open daily 9am–6pm
631-929-6654
May's Farm grows many varieties of fresh fruits and vegetables, including strawberries, sweet corn, tomatoes, peppers, eggplants, melons, cucumbers, squash, string beans, pumpkins, and much more. All these delicious foods are sold at their farm stand seven days a week, as well as at the Port Jefferson and Patchogue farmers markets from July through October. In June, when harvest is plentiful, May's Farm opens their fields for strawberry and sweet pea picking. In October, Mays is a favorite spot for pumpkin picking and offers a corn maze, hayrides, pony rides and much more. They also have many delicious varieties of May's Farm jams and jellies and farm favorite, hot roasted sweet corn!
Davis Peach Farm
 Hulse Landing Rd., Wading River
Call for picking schedule
631-929-1115
The Davis family planted their first peach tree in 1910 in Mt. Sinai. Now in Wading River they are still growing more than 80 varieties of peaches along with apples, nectarines, apricots, plums, pluots, sweet and sour cherries, strawberries, blueberries, blackberries, raspberries,gooseberries, currants, figs, and much more. Pick your own fruits during scheduled hours (season typically runs the first week of July through the second or third week of October).
Garden of Eve
4558 Sound Ave., Riverhead
Open daily 10am–6pm (beginning Memorial Day)
631-722-8777
Eve and Chris Kaplan-Walbrecht are parents of two young children but also the farmers and owners of Garden of Eve Organic Farm in Riverhead. Garden of Eve operates 50 acres of farmland as sustainably as possible using no poisonous pesticides on the wide varieties of vegetables and herbs, rather, relying on both the plant's natural defense systems and ecological solutions to ward off pests. The farm offers great fun and educational summer programs for children including cooking classes, for ages 2–6 and 7–15, where kids will collect their own eggs and pick their own fruits and veggies. Click here for more information on classes. Garden of Eve also hosts drop-off summer playgroups on Tuesdays in July and August where kids will feed animals, play in flower fields and participate in a Waldorf-inspired "circle-time". Click here for information on summer playgroup. This Saturday, May 19, Garden of Eve is hosting a farm tour from 11am–1pm. Have a tour of farm while having the opportunity to sample some of their delicious, organic veggies. Farm to Table Buffet Lunch follows tour for an additional $12 per person. Call 631-722-8777 for reservations.
Harbes Family Farm
715 Sound Ave., Mattituck
Open daily 9am–6pm
631-298-0800
 Harbes' mission is to maintain their agricultural heritage by presenting farm fresh produce and country fun for everyone. The Mattituck Farms offers something for everyone in the family from a market with cut stems, annuals, hanging baskets, fruits and veggies and of course their legendary roasted corn beginning sometime in July. Kids of all ages can enjoy a Barnyard Adventure at Harbes which includes a new hedge maze, pig races (weekends, beginning Memorial Day weekend), rubber duck races, farm games (such as sack races and tug-of-war), animal exhibits, petting farm, honey bee observatory, playground and much more. Click here for pricing and scheduling. After all the barnyard fun, stop by Harbes' Country Cafe & Bakery, which will have its full assortment of cakes, pastries, fresh squeezed lemonade, cider donuts and other tasty treats beginning Memorial Day weekend. Harbes Family Farms has 2 other locations in addition to Mattituck. Jamesport, which opens in July, does not offer the same degree of family activities as Mattituck location but is still a great place to stop and shop for produce. The Riverhead location opens in the fall for apple and pumpkin picking and offers mazes, pony rides pumpkin picking and weekend festivals.
Pattie's Berries and Bunches
410 Sound Ave., Mattituck
Open daily 9am–6pm
631-298-4679
Patty's Berries and Bunches is a 20-acre farm with more than 24 different varieties of berries. Strawberries, blackberries, raspberries and blueberries grow alongside vibrant fields of beautiful flowers. The flower garden is not open for public picking like the berries but visitors are welcome to look around and stems are available for purchase. As with the other North Fork farms, Strawberry season will start the berry picking season in June. Check berry chart on farm's website to ensure that the berries are plentiful before you make the trip!
Wickham's Fruit Farm
28700 Rte. 25, Cutchogue
Monday–Saturday 9am–5pm
631-734-6441
Wickham's Fruit Farm will kick-off its "U-pick" season with strawberries in June followed by raspberries, cherries, blueberries and blackberries this July. In order to participate in U-Pick, you must join the U-Pick Club. Membership is $20 for a family of five. Families who joined last year need not renew their membership this year. Wickham's also offers cider donuts baked on premises as well as other delicious home baked goods, cheeses, oils, vinegars and of course, lots of fruits and vegetables. Wagon rides available on Saturdays in apple-picking season. If you are using a GPS to get to Wickham's, type in the nearest crossroad, Depot Lane and Route 25, Cutchogue, NY.