Spring Festivals on Long Island 2015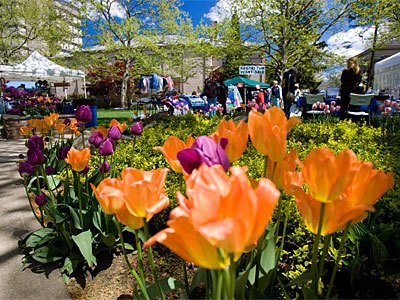 Have we ever been as excited to see spring arrive? Aside from the warmer weather, there are also an array of festivals taking place across Long Island to kick off the arrival of the season. So head outdoors to enjoy crafts, activities, science and family fun. You might also want to check out one of the many Easter Egg Hunts happening around the area, and of course, look at our Long Island Events Calendar for more kid-friendly fun.
Saturday, March 28
Spring Festival at The Common Ground
Gillette and Candee Avenues, Sayville
12pm-3pm
The Greater Sayville Chamber of Commerce presents the Spring Festival at The Common Ground. Rain or shine. Meet the Easter Bunny. Paint Ceramics, face painting, pony rides, petting zoo, magic show, treats and more.
Saturday, April 4
Spring Festival at Sweetbriar Nature Center
62 Eckernkamp Drive, Smithtown
12pm-4pm
$10 per child
All ages
Sweetbriar Nature Center welcomes the spring with a fun-filled day of face painting, games, stories, wildlife programs, animal presentations and even a guest appearance from the Easter Bunny. Call 631-979-6344 for details.
Saturday, April 11
Spring Family Freshwater Fishing Clinic
Belmont Lake State Park, North Babylon
10am-4pm
All ages
$8 parking fee
The whole family can enjoy a day of fishing at Belmont State Park. Loaner rods are available and techniques will be shared on how to catch then clean your fish. Call 631-321-3510 for more information.
Town of Oyster Bay Spring Festival
Syosset-Woodbury Park
1pm-4pm
All ages
Free
Arts & crafts, face painting, petting zoo, bounce houses and more.
Saturday, April 25
Cold Spring Harbor Fish Hatchery Spring Festival
Cold Spring Harbor Fish Hatchery and Aquarium
1660 Route 25A, Cold Spring Harbor
10am-4:30pm
All ages
Rain date: May 2
Adults $6, children under 12, $4
Join the folks at Cold Spring Harbor Fish Hatchery for a fun-filled day of family-friendly activities. Kids under 12 can fish for hungry trout with fishing gear provided by the Hatchery. Pony rides, live animal demonstrations and games are all included with paid admission. Call 516-692-6768.
Town of Oyster Bay Family Spring Festival
Unqua Road and Merrick Road, Massapequa
1pm-4pm
Free
Inflatables, games, prizes, crafts, petting zoo, refreshments and much more.
Saturday, April 25 and Sunday, April 26
Chick-A-Palooza
Garden of Eve Farm
4558 Sound Avenue, Riverhead
Learn everything you need to know to start your own garden, chicken coop or bee hive! Hands-on, do-it-yourself workshops throughout the day, and visits with friendly farm animals, including lambs, bunny, chickens, turkeys, music and crafts. Chicken showmanship event is new this year. Runs on Sunday, April 27, too.
Arbor Day Festival
Planting Fields Arboretum
1395 Planting Fields Road, Oyster Bay
The 2015 Arbor Day Family Festival features new and exciting performances. There will also be a kid's tree climb by Wonderland Tree Care, petting zoo, face painting, TR Sanctuary, caricaturist, new airbrush tattoos, plant clinics, tree planting with Smokey the Bear, free self-guided visits of Coe Hall and enjoy free admission to the new exhibition. The festival is a collaborative effort between Planting Fields Foundation and the New York State Office of Parks, Recreation and Historic Preservation. $20 per car; once inside the park all activities are free.
Sunday, May 3
May Day Festival
Benner's Farm
56 Gnarled Hollow Road, East Setauket
12pm-4pm
All ages
Children and adults of all ages are invited to dance around the thirty-foot traditional May Pole, and return to a simpler time enjoying an afternoon of storytelling by Chief Running Water, who brings local Native American traditions of springtime, crafts demonstrations, live old-time music, good food and more.
Tulip Festival
Heckscher Park, Huntington
12-5pm
Free
The free Tulip Festival will have children's activity booths, an art exhibit and live performances on the Chapin Rainbow stage, presented courtesy of the Huntington Arts Council. This year will include a Historic Children's Parade & Tulip Festival Hat Contest.
Saturday, May 9
Hofstra University Annual Dutch Festival
Hofstra University South Campus
11am-5pm
All ages
Admission is free
Hofstra's 31st Annual Dutch Festival has a lineup that is sure to please the whole family! The festival includes swinging jazz music, tulips in bloom (weather permitting), face-painting, craft vendors and authentic Dutch food and beverages. Children's activities include: Bounce House, Puppet Show, Face-Painting and Magic Show.
Saturday, June 20
Heckscher Festival
Heckscher State Park
Field 1, Heckscher Pkwy, East Islip
11am-4pm
All ages
Free admission; parking $8
A fun and educational day is in store for kids of all ages at Heckscher State Park. This event will feature outdoor sporting activities like biking and kayaking, in addition to our usual earth friendly exhibitors and vendors, pony rides, inflatables and more. Call 631-581-2100 for more information.
Photo Courtesy of Hofstra University
Originally published on 3/28/14