Suffolk County Summer Day Camps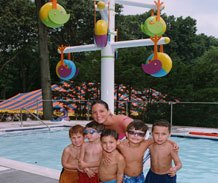 We profiled Nassau County day camps on Long Island, now we turn the spotlight camps in Suffolk County. From swimming and sports to arts and crafts, each camp offers plenty of activities and special events to keep the kids happy all summer. There are so many different camps to choose from all over the area, so be sure to check out our Long Island Summer Camps Guide.
Young People's Day Camps Of Suffolk County
June 30 - August 22
This ACA-accredited day camp offers a mix of activities including sports, hiking, swimming instruction, arts and crafts, music, drama, martial arts, and dance. Registration for more than two weeks gets you a discount in price. Fees include door-to-door transportation. For more information call (631) 476-3330.
Kenwal Day Camp

100 Drexel Ave.
, Melville

Pre-K through 12th grade
June 30 - August 22
This camp is huge and has an incredible mix of activities. It has six zip lines, sports fields, courts, a lake for boating, four pools (one with a giant slide), and playgrounds. It offers a full range of sports, swimming instruction, drama, music, arts and crafts, and a nature program. Children spend part of each day in general camp activities, and then have the choice of focusing on a particular interest or skill. For more information call (631) 694-3399. 
Red Robin East Day Camp
184 Main St., Center Moriches
Red Robin is a full-featured day camp with swimming instruction, sports, and arts & crafts. It also offers special off-site sports clinics. For more information call (631) 878-4773.
YMCA Of Long Island Summer Day Camps
The YMCA of Long Island offers both traditional day camps and a wide variety of specialty camps. It also offers a wide range of programs and classes for children throughout the summer. This is one of the largest day camp programs in the country. Membership to the YMCA is required for all camps.  
Crestwood Country Day Camp
313 Round Swamp Rd., Melville
Preschool through 10th grade
Offers a range of sports and activities, including swimming, gymnastics, soccer, volleyball, arts and crafts, dance, a mini zoo, a zip line, paddle boats, super slides, and carnivals. For more information call (631) 692-6361.
The Knox School Summer Adventures
541 Long Beach Rd., St. James
Kindergarten through 10th grade
June 30 - August 22, 9am-3:30pm
Full-featured day camp with a beach. It offers swimming, kayaking, field sports, tennis, horseback riding, science, drama, music, dance, fine arts, crafts, and chess. It also offers a travel program for children entering 7th through 9th grades. For more information call (631) 686-1600.
Laurel Hill School Summer Camps
201 Old Town Rd., East Setauket
Pre-K through 8th grade
This camp offers a number of summer programs and day camps. Specialty camps include sports, drama, science, and academic enrichment. For more information call (631) 751-1154.
Camp Quinipet Day Camp
99 Shore Rd., Shelter Island
Ages 2-13 years
July 7 - August 15
Camp Quinipet sits on a large partially wooded peninsula with wonderful water views from almost everywhere on the property. There is no swimming pool, but there is a sandy beach and a dock with all sorts of watercraft. The camp offers a sleep away program, a day camp, and a sailing school. Quinipet is more rustic than fancy. It doesn't have huge air-conditioned classrooms or pools with fountains and water slides. But it does have comfortable lodgings, up-to-date facilities, and is situated in one of the most beautiful places on Long island. The staff are wonderfully friendly and very professional. The camp is owned and operated by the United Methodist Congregation and includes some progressive Christian programming, but children of all faiths are welcome. Campers register by the week. There is a half day (morning or afternoon) program, along with a full day program, which includes a hot lunch. For more information call (631) 749-0430.
Updated March 11, 2014