The Most Spectacular Holiday Light Displays on Long Island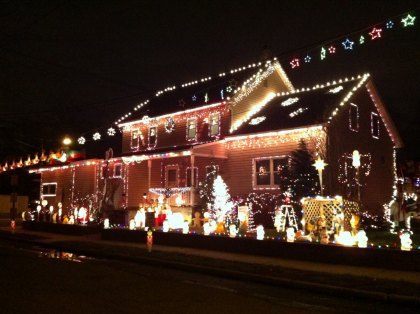 Watch your little ones' faces light up as they see the glow coming off these spectacular holiday light shows across Long Island. That's not all! Most are full-on destination stops with hot cocoa, ice skating and photo ops with Santa and more.
And don't forget to also check out some of the Long Island homes with awesome holiday lights displays, as well as our Long Island Holiday Fun Guide.
Holiday Lights Spectacular at Jones Beach
Jones Beach, Wantagh
Nov. 20, 2015-Jan. 3, 2016 (Closed: Nov. 23, 24, 30, Dec. 1, 7, 8, 14, 31)
Sunday - Thursday, 5-10pm
Friday and Saturday 5-11pm
Tickets: Monday-Thursday: $20/car, Friday-Sunday & Holidays: $25/car.School bus: $50, Tuesdays second time through is free.
New and expanded holiday village. More than 150 displays and animated displayed synced to holiday music. Pictures with Santa, holiday scenery, holiday music and movie vendors, special school choir performances on select nights, Pet night every Wednesday night, hot beverages and snacks, make your own s'mores firepit.
Bayville Winter Wonderland
8 Bayville Ave, Bayville
Weekends Nov. 27, 2015 - January 3, 2016
Fridays 6pm-10pm, Saturdays 12pm-10pm and Sundays 12pm-9pm
Check the website for select weeknight openings.
516-628-TOYS
Captain Bay's Yo-Ho Holiday Light Show
Beginning at 4pm, this pirate-themed light show tells the story of the pirates first Christmas. If you've been to the golf course before, there's not that much new to see here beside some lighted pirates, parrots and Santa atop a sleigh pulled by his reindeer, visible from the outside. The golf course though is filled with gruesome looking pirates and a very cool looking ship.
Santa's Toy Factory Fun House
This fun house is unlike any other I've ever seen. The brightly florescent colored walls can be seen in 3-D with glasses.  Wander around through a hall of mirrors, very tricky if you keep you glasses on, and then onto Santa's workshop as you listen to the sounds from the north pole.
Blizzard Bay's Arctic Skating Adventure
They've slapped down a slab of plastic here, on which you can skate. Skating alone will cost you $8. but if you've purchased a ticket skates are included. I was told they often have marshmallows that you can roast on a hearth but they were out when we visited. The nice thing about the plastic is that you can walk on it with shoes, if you choose not to skate. I saw some parents helping kids with skates on, in sneakers or boots. Since I had an infant with me, I knew skating wasn't going to be an option for my older two, but they had a lot of fun racing around the "rink" in their shoes. 
The Holiday Express Train Ride
This train is dressed up for the holidays. Enjoy a ride as you travel through a tunnel filled with holiday lights and loop the skating rink twice.
Magical Meeting with Santa
Have a visit with Santa and tell him all your heart desires. This is one of the nicest Santa's I've seen, he's got the ho-ho-ho down really great, and the package includes an actual visit. You get to spend a few minutes with Santa while he chats with you and gives the kids a candy cane. Pictures with Santa are an additional charge but ours came out really nice.
Huntington Harbor of Lights Holiday Boat Parade 
November 27, 2015, 6pm
The Huntington Harbor Boat Parade of Lights moves through Huntington Harbor and can be viewed from almost any place on the shore for free. All proceeds from the event benefit the Huntington Lighthouse.
Festival of Lights
Woodcleft Ave., Freeport
December 11, 2015, 7pm
Shop, dine and enjoy the Nautical Mile Holiday Boat Parade. Cost: Free.
Boardwalk Lights
Long Beach Boardwalk from Long Beach Blvd to Magnolia Blvd
December 2015 to Mid-January 2016
From 5pm on
516-431-1000
Boardwalk Lights is a holiday nautical themed light show display on the boardwalk. The six week-long event will be highlighted with special evenings featuring visits from Santa Claus, holiday music, caroling and more. Cost: Free.
Girl Scout Camp Edey's Holiday Light Show
600 Lakeview Ave., Bayport
631-543-6622
Dec. 11 - 23, 2015, 5pm-9pm Monday-Thursday Friday-Sunday Tickets must be purchased in advance.
The Girl Scouts of Suffolk County are putting on their ninth annual holiday light show, Long Island's largest drive-through display: a mile-long trail illuminated with more than 10 miles of lights and holiday vignettes. Note: The holiday village area will not be open this year.
Originally published December 3, 2012.