The Nutcracker on Long Island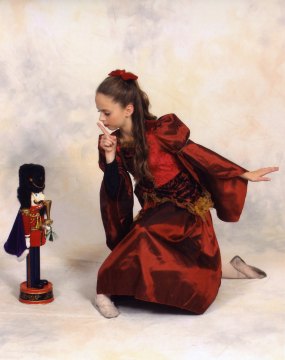 One of the most beloved stories ever told would have to be The Nutcracker, which is typically your child's first introduction to classical ballet. It is a fairy-tale about the beauty and magic of Christmas and the ways that love and joy can transform dreams into reality. This Tchaikovsky work of art is a lovely way to familiarize children to the delights of great theater and there's no need to travel far to experience this wonderful and much loved Christmas story. Here is a list of upcoming The Nutcracker performances on Long Island in 2014. And be sure to take a look at our Long Island Holiday Fun Guide.
The Nutcracker Act II
Show Times: December 10th at 10am, 11am and 12:15pm 
The Nutcracker  (hour-long version)
Show Times: December 12th at 7pm; and December 13th at 1pm, 3pm, 7pm; December 14th at 1pm & 3pm
Ballet Long Island
1863 Pond Road, Ronkonkoma
631-737-1964
Ballet Long Island's trained performers and fascinating students in The Nutcracker are guaranteed to leave you with a sense of warmth and precious memories that will last a lifetime. 
The Nutcracker Suite
Performed by Ovations Repertory Dance Company
Patchogue Theatre for the Performing Arts
71 E. Main St., Patchogue
Show Times: December 13th at 1pm and 7pm,  December 14th at 1pm and 6pm.
Tickets: $14 and up
New York Dance Theater
Presented at the John Cranford Adams Playhouse (campus of Hofstra University)
118 Hofstra University
Hempstead, NY 11550
For 30 years, Frank Ohman's New York Dance Theatre, together with the Ohman School of Ballet, has presented The Nutcracker story ballet every December. This is a full production ballet with guest artists from New York City Ballet and a cast of 80 children, semi-professional and professional dancers. It's the largest production of The Nutcracker on Long Island and the only one performed in the tradition of George Balanchine's New York City Ballet production.
Show Times: December 19th at 2pm and 7pm, December 20th and December 21st at 12pm and 5pm.
Tickets: $20-$40
Hampton Ballet Theatre
Guild Hall
158 Main St., East Hampton
631-324-4050
Hampton Ballet Theatre School Presents their fourth annual production of Tchaikovsky's Nutcracker at Guild Hall. The ballet is choreographed by the director of HBTS, Sara Jo Strickland and will include elaborate costumes designed and hand sewn by Yuka Silvera and lighting designed by Sebastian Paczynski. The performance will showcase the students of the Hampton Ballet Theatre School along with some parents and local actors. The production will include special guest artists dancing as the Sugar Plum and Cavalier Grand Pa De Deux. Perfect for all ages, the students of HBTS will show a land where angels, snowflakes and flowers dance and Clara saves the Nutcracker Prince from the evil Mouse King.
Show Times: December 12th at 7pm, December 13th at 1pm and  7pm, and December 14th at 2pm
Tickets: In advance are $25 for adults and $20 for children under 12 years of age for orchestra seating. The day of the performance tickets will be $30 for adults and $25 children under 12. Premium orchestra, box seats and group rates are also available. 
Long Island University Tilles Center for the Performing Arts
720 Northern Boulevard, Greenvale
The Eglevsky Ballet performs its production of Laszlo Berdo's The Nutcracker. This holiday favorite unites new choreography with Tchaikovsky's score.
Show Times: December 20th at 4pm, December 21st at 12pm and 4pm, and December 22nd at 1pm.
Tickets: $30-$83; discounts available. 
Lynch Ballet Company
Huntington High School Auditorium
188 Oakwood Road, Huntington
The Lynch Ballet Company of Huntington presents its fourth annual Nutcracker production. The Lynch Ballet Company production promises to dazzle audiences young and old with its gifted dancers, timeless tale and beautiful costumes. Show Times: December 20th at 2pm and 6pm and  December 21st at 12pm and 4pm.
Originally posted on December 5, 2012; Updated on 12/9/2014