Cut-Your-Own-Christmas-Tree Farms on Long Island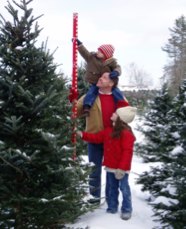 Grab your gloves, your ropes, and your coat and go find the perfect Christmas tree! An expedition to a Christmas tree farm is fun for the whole family. Never done it before? Don't worry, most of the farms will cheerfully lend you a helping hand every step of the way. 
The farms in this roundup have a wide selection of trees, but it is always wise to call ahead to be sure inclement weather or unexpected crowds have not depleted the stock. This is especially important if you want a tree more than eight feet tall, if you are looking for a particular type of conifer, or if you are shopping close to Christmas.
And for more fun and family-friendly activities this month, be sure to check out our Long Island Holiday Fun Guide. 
If you are new to this tradition, here are some things you should know:
Tough washable or disposable GLOVES are essential for handling your prickly, possibly sap-covered, tree
 
 Bring ROPE or bungee cords to tie your tree to your roof. Some farms provide this, but they can run out. Other farms assume you have your own. 
 
INSPECT your tree for residents. Spiders and field mice may consider your tree home. Shaking your tree vigorously after cutting will dislodge them. Some farms have mechanical SHAKERS, which do the job for you and are very amusing to watch.
 
CUT your tree as close to the ground as possible. You will want a long trunk so that you can make a second fresh cut when you get your tree home.
 
Bring CASH or checks; most if not all of these farms will not accept credit cards.
 
Unless noted, all of the farms had at least one chemical toilet.
Shamrock Christmas Tree Farm
20685 Main Road

, Mattituck

631-298-4619
Open daily 9am–5pm November 27–December 24
Santa visits Saturdays and Sundays 12pm–5pm (weather permitting)
Shamrock Farm is delightful and well-run with plenty of friendly helpers. You can borrow a saw and cut your own 4' to 10' Douglas Firs and Hybrid Balsams or choose and they will cut it for you at no extra charge. Or select from the precut Fraser Firs. You and your tree will be brought back to the entrance in a tractor-drawn wagon. Your tree will be placed on a mechanical shaker to fluff it and remove any unwanted critters. Then they'll wrap it up and help you tie it to your car. The farm also offers a refreshment stand, an antique sleigh collection, and a shop with holiday greens and a wide array of Christmas tree ornaments.
On weekends, there is an oyster and raw bar, as well as wine tastings, from 12pm-4pm. 
Zuhoski Farm
11825 Oregon Road, Cutchogue
631-734-5036 or 631-872-3269
Saturdays and Sundays 9am until dusk (call first)
This relaxed and friendly multigenerational family-run farm, tucked away amidst the fields just north of Route 48, has an abundance of healthy Douglas Fir and Blue Spruce trees. You can cut your own with your saw or theirs, or they will be happy to help you every step of the way from field to car. Transportation around the farm is by tractor-pulled hayride. After cutting your tree, relax in a chair or swing around their cheerfully blazing fire pit with a free cup of hot chocolate or cider and some popcorn or a candy cane. Dogs on leashes are welcome. The farm also sells fresh wreaths, centerpieces and kissing balls, as well as other greenery and garlands. Live trees and precut trees are available from the farm's roadside stand on Route 48 just east of Cox Lane. Field Douglas Fir trees are $60 up to 10 feet and Blue Spruce Trees are $75. 
Santa's Christmas Tree Farm

30105 Main Road
, Cutchogue

631-734-8641
Open daily from 9am–5pm
Run by the Edson family since 1979, this farm has a variety of trees. Santa Claus begins 11am to 4pm on weekends. There's also hay rides, pony rides, live reindeer (you can feed them, too!), and a large retail store filled with gifts, fresh wreaths, custom bows, etc. A food truck will be on premise. Hot cocoa and cider will be available. 
Darts Christmas Tree Farm

2355 Main Bayview Road

, Southold

631-765-4148

Open daily 9am–5pm from day after Thanksgiving until December 24th
Santa visits Saturday and Sunday 12pm to 4pm
This three-generation family farm is well-known on the East End, and the staff is very friendly on the phone. It offers cut-your-own Fraser and Douglas Firs for $95 regardless of height, and there is a coupon for $5 available on the website. It also sells decorative wreaths and garlands and abundant refreshments. Like most of the farms in this roundup, the staff will help you cut, shake and carry your tree to your car. On Saturdays and Sundays, there are free hay rides. Dogs are welcome.
Lewin Farm

812 Sound Avenue
, Wading River

631-929-4327

The tree farm is located 1 ½ miles further east at the Baiting Hollow Nursery on Fresh Pond Avenue
Open daily 9am-4pm from day after Thanksgiving until December 24th
Cars park all along Fresh Pond Avenue as families gather to take advantage of Lewin Farm's low prices.There is a $5 deposit for hand saws. Large tractor-drawn wagons carry families and their cut trees from field to entrance where the trees are wrapped. However, you do have to carry your tree along the road to your car yourself and this could be quite tiring. There are no free refreshments, but hot chocolate, popcorn, pretzels, soda and hot dogs may be purchased on site.  
Mike's Christmas Tree Farm

323 Weeks Avenue
, Manorville

631-874-3551
Open daily 8am–4:30pm day after Thanksgiving until December 24th

This is a small farm stand nestled in acres of lovely Christmas trees. There are no refreshments or a Santa on site, but Christmas carols are played and the staff will give you and your tree a ride around the farm in a tractor-drawn wagon. You can also borrow a saw or let them cut your tree for you. They will then wrap it and help tie it to your car. Mike's also sells live trees, wreaths, garlands, gloves and hand saws for making that fresh cut at home. CASH only. Dogs on leashes are welcome.
Elwood Christmas Tree Farm

1500 East Jericho Turnpike, 
Huntington

631-368-8626
 or 631-766-0485
Cut your own: Monday through Friday 3pm to 7pm
Precut tree lot: Daily 3pm–7pm
Saturday & Sunday, 10am–7pm
This farm is the westernmost cut-your-own tree farm on Long Island and thus ideal for families from the city who dread a long four-hour-plus round trip to the East End. The farm grows Norway and White and Blue Spruce, Douglas Fir, Fraser and Scotch Pine. If you have a saw, bring it to avoid waiting in line to borrow one. Otherwise, you can choose a tree and they will cut it, wrap it, and get it onto your car for you. The farm also sells live trees and pre-cut trees, as well as holiday wreaths and garlands. The farm does not provide refreshments or restrooms, but there are plenty of shops and restaurants on Route 25. If these hours don't suit your needs, the owner says to call him at anytime and he'll be onsite right away.
Carter Christmas Tree Farm
123 N. Country Road, Miller Place
631-331-4699
Saturdays and Sundays 9am–4:30pm, November 21 until December 19, 2015
You choose and cut your own; saws are provided on site. Douglas Fir, Norway Spruce and Scotch Pine are available. 
Tilden Lane Farm
48 Wyckoff Street, Greenlawn
631-261-6392
Open only Saturdays and Sundays November 28 and 29, December 5 and 6, and December 12 and 13, 9am–3pm.
This 200+-year old family farm has Blue, White, and Norway Spruce trees available for cutting, as well as Fraser and Concolor Firs. It's got saws available for lending, and the helpful staff will tie the tree to your car for you. Keep in mind, there are no restrooms on site.
Originally published 11/2012; updated 11/2015