Easter Egg Hunts for Long Island Kids & Families 2015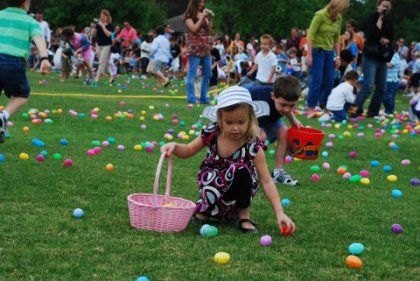 Easter will be here soon, and the Easter Bunny will be busy hopping through Long Island hiding thousands of colorful, treat-filled eggs. We've rounded up egg hunts and bunny visits in some of our favorite spots. We're glad to see so many venues have scheduled hunts by age to give both little kids and big kids a fair shot at filling their baskets. Remember to bring a basket (or a bag) for the kids to use to hold their collected treasures and pack your camera for Easter Bunny photo-ops. (If there's the threat of rain, be sure to give a call first.) And for more kid-friendly fun, be sure to check out our Long Island Events Calendar.
Annual Egg-stravaganza
Theodore Roosevelt Sanctuary and Audobon Center
134 Cove Rd, Oyster Bay
Saturday, March 21, 2015
Session 1: 10:30am-11:30am;(toddlers only)
Session 2: 12:30pm-1:30pm (kids 4-10)
Session 3: 2:30pm-3:30pm (kids 4-10)
Cost: Members $6 per child/Nonmembers $10 per child Adults - $2
The birds are acting odd this year… with feathered friends laying eggs in all the wrong places. Create your own basket, visit some egg-laying friends, and collect these strange eggs—you take home whatever is inside! Registration required; call 516-922-3200.
Spring Eggstravaganza
Long Island Children's Museum
11 Davis Dr., Garden City
Saturday, March 21, 2015
6-9pm
Cost: $10 or $14 for admission + show
Meet Peter Cottontail, explore egg decorating and enjoy egg relays and face painting. Create spring themed crafts. Decorate your own sweet treat and collect eggs as you bounce from activity to activity. *PLUS: Performers from National Circus Project will be in the LICM Theater  showing off their "eggcellent" clowning, juggling, spinning and balancing skills. Showtimes are 6:15, 7:00 and 7:45 p.m. 
Easter Egg Hunt
Old Mill Nurseries
1862 Newbridge Rd., Bellmore, NY
March 28, 2105
12pm
Cost: Free
Egg hunt, prizes, goodie bags, pictures with Easter Bunny. Bring your own camera. 
Breakfast With the Easter Bunny Egg Hunt
Pump It Up Great Neck
225 Community Dr., Great Neck
Sundays, March 22, 29 and Saturday, April 4, 2015
9am-11a.m.
Cost: $19.95/child. $3.95 optional food add on option per person
Kids will have 80 minutes to bounce, play, search and collect exactly 6 Easter Eggs hidden around the arenas and inside the gigantic inflatables. This event is $19.95 per child.
White Post Farms Spring Spectacular
White Post Farms
250 Old Country Road, Melville
March 28-31, April 1-5, 2015
10am-5pm
You want the traditional pic of the kids on the Easter Bunny's lap, but bringing them to the mall on a weekend is crazy busy, right? Fear not! White Post Farms has got it covered. For the next couple of weekends, snap a photo of your darling on the Easter Bunny's lap with your own camera, participate in egg hunts throughout the day, and then spend the day visiting the animals of the farm, playing in the large playground, and enjoying a puppet show. If the weather cooperates, the bouncers will be ready are included with paid admission! Easter craft activities, food to feed the animals, pony rides, and train rides are available at an additional fee. Don't leave home without printing coupons from website; flashing your smartphone won't work here and neither will your credit card. Bring cash.
Spring Eggstravaganza
Fraser Park, Fraser Avenue, Merrick
Saturday, March 28, 2015
11am
Cost: Suggested donation of $1/child.
The Egg Hunt will begin at 11am sharp and will be followed by a Matzos Beach Ball Toss. Don't forget to bring your own basket to bring your goodies home.
The Mad Hatter Egg Hunt
Children's Museum of the East End, Bridgehampton
631-537-8250
Saturday, March 28, 2015
10:30am-2:30pm
$10/child (members free)
This egg hunt, sponsored by Dan's Papers, will be held both inside and outside of the museum. Healthy egg treats and crafts.
Eggcellent Adventure
Connect Church
2658 Corner Lane, Bellmore
Saturday, March 28, 2015
1pm-3pm
Cost: Free
Egg hunt, bouncers, video game truck, DJ, food, face painting, 10,000 filled eggs.
Easter Egg Hunt at Safari Adventure
1074 Pulaski Street, Riverhead
Sunday, March 29, 2015
10am-12pm
With regular admission, children will enjoy an egg hunt and make some craft projects to take home! The children will be searching for color-specific eggs for their age group (under 3 years old; 3-4 years old; 5-7 years old). Be sure to bring your cameras because the Easter Bunny will be making a special appearance.
Easter Egg Hunt
Walt Whitman Shops
160 Walt Whitman Rd., Huntington
Saturday, March 28, 2015
Registration at 8:30am; hunt begins at 9am
Cost: $8 per child (tickets required) All proceeds will go to the Simon Youth Foundation.
Ages 9 and under
Children can search for 1,000 multicolored plastic Easter eggs filled with candy and toys. After the hunt, kids will be treated to an appearance by the Easter Bunny, face painting, balloon creations, and temporary tattoos. Tickets are available for purchase at Simon Guest Services. Families are encouraged to bring a nonperishable food item for donation to Long Island Cares. The event is limited to 100 children. For more information about the event, call Guest Services at 631-271-1746.
Spring Egg Hunt
Orient Beach State Park, Route 25, Orient
Saturday, March 28, 2015
11am
Free egg hunt with prizes and refreshments. Parking fee.
Egg Hunt at Wood Kingdom
11 Milbar Blvd., Farmingdale
Thursday, April 2 and Saturday, April 4, 2015
$15/child
Prizes, raffles, pizza and drinks are included at this egg hunt. Only at the Farmingdale Wood Kingdom location. Reservations are required.
Spring Egg Hunt
Cold Spring Harbor Fish Hatchery
1660 Route 25A, Cold Spring Harbor
Saturday, April 4, 2015
10:30am-12:30 pm
All ages
Free with paid admission
Kids of all ages are invited to the Cold Spring Harbor Fish Hatchery for an egg hunt. Bring your own basket and collect eggs filled with both treats for kids and treats for the fish. Call 516-692-6768 for information.
Annual Spring Egg Hunt
Deepwell Farm County Park
Rte. 25A, Moriches Road, St. James
Saturday, April 4, 2015
1pm
Free
Children 10 and under
The hunt goes off at 1pm on the front lawn. Bring a basket and your camera. Canceled if inclement weather.
Easter Brunch Buffet & Egg Hunt
Woodbury Country Club
884 Jericho Turnpike, Woodbury
Sunday, April 5, 2015
12pm-3pm
Cost: Adults $55 +tax, Children 5-10 $25 +tax, Children under age 4 are free.
Easter egg hunt, petting zoo, Easter Bunny and brunch (cold table, waffle station, omelet station, breakfast buffet, Italian station, salad bar, carving station, Coney Island Kids station and dessert station. First mimosa or bloody Mary is free. Complimentary coffee and tea. Reservations required.
Egg Hunt at Eisenhower Park
Eisenhower Park, East Meadow
Saturday, March 28, 2015
Hunt begins at 9am, Registration begins at 8:30am
KJOY Long Island is hosting this free egg hunt along with Nassau County. There will be an egg hunt, bouncy rides, a magician, face painters, local team mascot appearances, live entertainment and pictures with the Easter Bunny.Egg hunts are at different times for different age groups.
Benner's Farm
56 Gnarled Hollow Road, East Setauket
Saturday, April 4 and Sunday, April 5
12-4pm
Cost: $6/children, $8/adult
The farm offers egg hunts for three age groups; 1pm, 2:30pm  and 3:45pm. Ages separated at each time.  Petting zoo included. Bring along your own basket so that your kids can store the eggs they collect.
Easter Parade and Egg Hunt
412 Main St., Port Jefferson Village
12pm
Ages 2–8
Sunday, April 5, 2015
Free
Old-fashion Easter bonnet walking parade. All walkers welcome to wear Easter best. Starts In front of Theatre Three and will finish at the Port Jefferson Village Center down at the Harbor. Easter egg hunt held on the great lawn at Harborfront and Children's Park at 12:30pm., open to children ages ages 2-5 and 6-8. All children will receive a treat.
Penguin Easter Brunch
Long Island Aquarium
431 East Main St., Riverhead
Sunday, April 5, 2015
10am
Cost: Children 3-12: $21.95 (Members: $19.95) Adults (13+): $39.95 (Members: $36.95) Children 2 & Under: Free
Enjoy a delicious buffet breakfast in the waterfront Sea Star Ballroom, the chance to make a special take-home holiday craft, and then leave time to enjoy the Aquarium, where the Penguin Egg Hunt takes place from 10am-1pm. Reservations required.