Long Island Restaurants Open for Thanksgiving 2015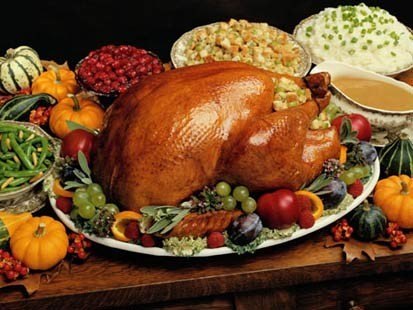 Thanksgiving is a feast usually prepared and served in our homes. But sometimes it is really lovely to take a break from the hot kitchen and let someone else do the cooking, cleaning and moving furniture around. Drop the day-long prep for Thanksgiving and head out to one to these Long Island restaurants that are serving up a turkey dinner. This way, you can maybe enjoy a Thanksgiving run, volunteer for those in need or (gasp!) relax a little.
Just be sure to call ahead for reservations and have a happy Thanksgiving! And for more tips and activities this season, check out our Long Island Holiday Guide.
​Brasserie Americana Restaurant, Bar and Lounge
30 Cutter Mill Road, Great Neck
516-773-2000
Families can enjoy a Thanksgiving buffet at this French bistro, including a carving station, hot entrees and an assortment of desserts. Everything is made with fresh ingredients
$42.95 Per Person. Children under 10, half-price.
The Capital Grille
630 Old Country Road, Garden City
516-746-1675
Alongside its full menu, the restaurant will also be offering its Executive Chef's take on Thanksgiving favorites. 
Marco's Waterfront Grill
45 Orchard Beach Blvd, Port Washington
516-883-5600
​This waterfront establishment is offering a Thanksgiving buffet with two seating times: 12:30pm-3pm & 3:30pm-6pm $36.95 per person ($18 per child 12 & under). 
Mill Pond House
437 E Main St, Centerport
631-261-7663
Enjoy a full Thanksgiving dinner near the water at this 100 year old home turned restaurant.
Revel Restaurant and Bar
835 Franklin Ave, Garden City
516-246-9111
Revel is offering its ala carte menu on Thanksgiving Day from 12pm-7 pm. There is also a turkey dinner with all the trimmings & its famous pumpkin pie.
Ristegios
​641 Medford Avenue, North Patchogue
631-731-3663
Four seatings to choose from at this American-fare restaurant: 1pm, 3pm, 5pm and 7pm. $44 per person, Kids under 10 yrs half-price, as well as half-price on any bottle of wine. 
Seasons 52
630 Old Country Rd, Suite L102, Garden City
516-248-5252
Located in Roosevelt Field, family can enjoy a farm-to-table Thanksgiving. The Plainville Farms Turkey is never ever given antibiotics and is served alongside all the trimmings. $26.90 per person, $12.90 per child
Taste 99
99 Quaker Meeting House Rd, Farmingdale
516-501-9700
Feast at Carlyle on the Green at Bethpage State Park on Thanksgiving Day.Traditional Buffet Dinner: $55 adults/$25 kids 12 & under; Seatings at 12:30pm, 1:30pm, 3pm, 4pm
Thyme
8 Tower Pl, Roslyn
516-625-2566
Thyme will serve a special holiday prix fixe dinner menu from 1pm-7pm. $62 adults / $25 children under 10 yrs. 
Union Prime Steak & Sushi 
661 Northern Blvd, Roslyn
516-487-9200
Union will be serving Thanksgiving dinner from 3pm-8pm.
Volpe Ristorante
7725 Jericho Turnpike, Woodbury
516-802-7501
Located in the Fox Hollow, Volpe will be serving Thanksgiving dinner between 12pm-6pm. There is also a children's menu.