Long Island Restaurants Open for Thanksgiving 2014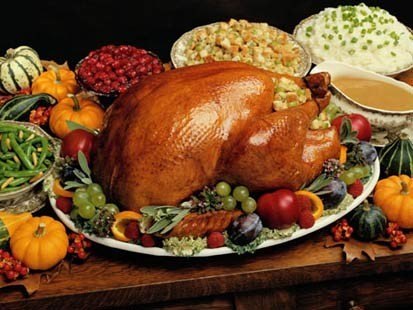 Thanksgiving is a feast usually prepared and served in our homes. But sometimes it is really lovely to take a break from the hot kitchen and let someone else do the cooking, cleaning and moving furniture around. Drop the day-long prep for Thanksgiving and head out to one to these Long Island restaurants that are serving up a turkey dinner. This way, you can maybe enjoy a Thanksgiving run, volunteer for those in need or (gasp!) relax a little.
Just be sure to call ahead for reservations and have a happy Thanksgiving! And for more tips and activities this season, check out our Long Island Holiday Guide.
Waterview Dining:
The Seawater Grille at Gurney's Inn
290 Old Montauk Hwy, Montauk
631-668-2660
Gurney's Inn, a friendly seaside Montauk institution, offers a three-course prix fixe menu with many choices, including lobster. It also offers a "Little Pilgrims" menu with turkey or prime rib. Cost is $28 to $38 for adults, depending on choice of entree, and $20 for children. Traditional turkey dinner - for a minimum of 6 people - is offered for $35/person. The bird is carved tableside. Seatings are from 1pm - 9pm. Reservations required.
The Soundview Restaurant
58775 Rte. 48, Greenport
631-477-0666
The Soundview Restaurant has a magnificent view of Long Island Sound and serves a traditional Thanksgiving prix fixe meal. The Town Beach, just west up the road, has a divine all ages swing set that looks out to the sea. Costs are $34.50 adults and $18.95 children. Seatings are from 1pm-7pm on the hour.
Prime: An American Kitchen & Bar
117 New York Avenue, Huntington
631-385-1515
Enjoy Thanksgiving dinner overlooking the harbor in Huntington, or order a full Thanksgiving meal to take home. Reservations are required for the a la carte dinner, which is served from 1pm-8pm. An a la carte menu includes $12 Butternut Squash Soup, $40 traditional Thanksgiving dinner and two dessert options for $11/each. A full take-home dinner serving 10-12 people is $299.
View
3 Consuelo Pl., Oakdale
631-589-2694
A dinner buffet is being served for $41.95/adult, $19.95/children ages 12 and younger. Includes a carving station with roasted turkey, prime rib, Virginia ham, and pork loin, plus salmon, crab legs, shrimp and more.
Enjoy American History:
The American Hotel
49 Main St., Sag Harbor
631-725-3535
Celebrate in the historic whaling town of Sag Harbor and stroll past the windmill or the town dock afterwards. The American Hotel, built in 1846, offers a four-course prix fixe Thanksgiving dinner with many options and complimentary non-alcoholic beverages. Costs are $75 for adults, $35 for children. Open from 12pm-8pm.
Southampton Publick House
40 Bowden Square, Southampton
631-283-2800
This charming and historic microbrewery, in business since the 1800's, offers a traditional three-course prix fixe menu. Seatings are hourly from 1pm-7pm. It also offers their prix fixe menu in house. Costs are $29.95 for adults and $14.95 for children under 10. Take out is also available.
Jamesport Manor Inn
370 Manor Lane, Jamesport
631-722-0500
This reconstructed 1850's Victorian mansion on the North Fork offers a three-course prix fixe Thanksgiving dinner beginning at noon, featuring local and organic ingredients, with a special children's menu. Costs are $60 for adults and $30 for children under age 12.
Experience the Good Life:
Glen Cove Mansion
200 Dosaris Lane, Glen Cove
516-674-2955
Dine in Georgian-style splendor, then explore 55 acres of landscaped gardens and grounds at this magnificent 1910 mansion designed by James Adams Plat. It offers a grand buffet with options for every palate inspired by historic menus of the Gold Coast era. Seatings are at 1pm and 4pm. Cost is $55 for adults, including a glass of champagne or a mimosa, and $27.50 for children ages 4-12. Children 3 and under are free. Spend the night for a special rate of $199.
Volpe Ristorante at Fox Hollow
7725 Jericho Tpk., Woodbury
516-921-1415
A la carte dining with offerings from $9-57. Children's menu is $22 with three options.
Carltun On the Park
Eisenhower Park, East Meadow
516-542-0700 ext 1
The Carltun, right in Eisenhower Park, has multiple Thanksgiving offerings. The Carltun also features a well-respected and extensive wine list. Seatings for the Ballroom and Drawing Room start at noon and costs are $46 for adults and $25 for children ages 3-10, with a special four-course children's menu. Costs for the a la carte menu in the Palm Court, Gold Coast and Gatsby Rooms are $59 for adults and $30 for children ages 3-10. Vegetarian options available.
Polo Steakhouse at the Garden City Hotel
45 Seventh St., Garden City
516-877-9385
The Polo Steakhouse, a well known venue for families in Garden City, offers a four-course prix fixe Thanksgiving feast. Costs are $101.13 for adults and half-price for children ages 12 and under. Reservations must be pre-paid. Children ages 2 and under dine free.
East Wind Hotel, Grand Ballroom
5720 Route 25A, Wading River
631-929-6585
The East Wind Hotel offers a hearty Thanksgiving buffet in its opulent Grand Ballroom from 12:30pm - 5:30pm. Costs are $39.95 for adults, $22.95 for children ages 3 to 10. A deposit is required for parties of 10 or more. Take home meals are available for $189 and serves 8-10 people.
Hearty and Simple:
Ben's Delicatessens
140 Wheatley Plaza, Greenvale, 516-621-3340
7971 Jericho Turnpike, Woodbury, 516-496-4354
County Glen Shopping Center, 59 Old Country Road, Carle Place, 516-742-3354
These down-to-earth classic Kosher Delis are offering takeout or eat-in prix fixe Thanksgiving menus with a "Kids Turkey Feast" option. Seatings are offered at 1pm, 2:30pm, 5pm and 7:15pm. Costs are $24.95 for adults and $9.99 for children. Take-home dinner is also available for $219 an serves 10 people.